With so many household and personal gadgets requiring batteries, there are ways to save money and the charge. This guide is about getting more life from batteries.
Ad
---
Solutions: Getting More Life from Batteries
Read and rate the best solutions below by giving them a "thumbs up".
I have several watches. Some for good, some for everyday. When I am not wearing the watches, I pull out the stem and that makes them stop working. This saves on the life of the battery and won't wear them down when they aren't being worn.
By dwedenoja from New Creek, WV
Although I always try to use rechargeable batteries, once in a while, I have none charged for my camera and need to buy some for going to an event. I have found that when these batteries die out for the camera, they still work just fine in a less energy demanding item, such as a clock or remote control. I have used some of these batteries in clocks for up to a year.
I store my batteries in Ziplock bags in the fridge. It's simple enough to just have a different bag for each size. They are easy to access, and supposedly storing them in the fridge will give them longer life! I mostly store them there because then I know where they are!
By Pam T. from Storm Lake, IA
I have a battery powered drill. The batteries for it cost over $11 each and it takes 2 batteries. I only use the drill a few times a year. A friend told me that if I stored the batteries in their boxes instead of in the drill, they would last longer. It works! Sometimes the batteries need to be recharged before the drill will run if it hasn't been used for a long time, but I always check the night before.
Now I always take the batteries out of anything - camera, walkman tape player, radio, etc. - when I know I won't be using it for a long time. This will also keep you from being surprised by leaking, crusty batteries that have been sitting for far too long.
By DeBushe [18]
When the batteries in my remotes stop working, I open the remote and roll them around. They will work for a long time yet. I even do it a few times more and they will work again. It sure saves on buying batteries.
By Betty from Fond du Lac, WI
I have a preventative tip to avoid those times when it's difficult to remove the dead batteries from electronics equipment. Whenever I need to replace batteries in anything, I put a long strip of tape around each battery, leaving a "tail" hanging. When it comes time to replace the batteries, I simply pull on the tape "tail" around the battery which easily removes the battery. This is quite a frustration saver for remotes, PDAs, CD players or anything else that uses batteries.

By Mary
In regards to your tip about putting flashlight batteries in backwards to prevent accidental discharge, many designs of flashlights will allow them to operate even if both batteries are reversed. Also, even one battery reversed will allow discharge if accidentally switched on. The best thing to do is:

A) Remove batteries, especially if not being used for extended periods of time (to prevent leakage).

or

B) Place a piece of masking or similar tape on one of the battery terminals. This electrically isolates the batteries from the flashlight. Simply remove tape to use.

By Jeff from Norco, CA
Household batteries include both single-use and rechargeable dry cell batteries used to power toys, cameras, radios, flashlights, hearing aids, and many other portable products. Nearly all households produce waste batteries, in fact Americans use and discard about 3 billion batteries every year. That adds up to 125,000 tons of battery garbage. This waste may contain heavy metals that can find their way into the environment if the batteries are not disposed of properly. By reducing battery use, recharging reusable batteries, and recycling, you can cut down on the effect your battery use has on the environment.
Reduce
Evaluate purchasing battery powered items. Items that require a plug-in or manual operation may work as well or better than battery operated items.
Avoid purchasing batteries containing mercury. Shop for batteries that contain no added mercury.
Recharge
Reduce overall waste by using rechargeable batteries. Ni-Cd batteries can be recharged and reused up to 1,000 times before you need to replace them and rechargeable alkaline manganese batteries can be reused up to 25 times before needing to be replaced.
Using rechargeable batteries will save you money in the long run. Instead of continuously buying new batteries you'll simply keep recharging the old ones. The initial investment of rechargeable batteries and a charger will quickly pay for itself, as well as generating far less waste.
Recycle
Rechargeable Ni-Cd and Sealed Lead Acid (SLA) batteries contain nickel, cadmium and/or lead that can be recycled at household hazardous waste collection sites.
Button batteries contain mercury and silver that can be recycled. These batteries should also be brought to a household hazardous waste collection site.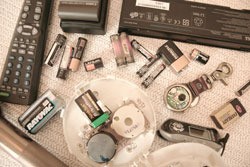 Nearly all households produce waste batteries, in fact Americans use and discard about 3 billion batteries every year.
Household Battery Do's:
Do use rechargeable batteries whenever possible and recycled the Ni-Cd and SLA rechargeable batteries when they have been exhausted.
Do recycle button batteries by taking them to a household hazardous waste collection site.
Do buy "no-mercury added" batteries.
Do remove batteries from items you plan to store for prolonged periods of time so they don't corrode, leak and ruin your equipment.
Do purchase batteries just before you need them because batteries do have a limited life.
Do remove the hidden batteries in disposable toys, cards, watches and calculators before throwing those items away.
Household Battery Don'ts:
Don't mix new batteries with old batteries. This draws more power from the new battery, shortening its life.
Don't place batteries or battery-powered equipment in hot areas (like the back window of a car). Heat accelerates chemical reactions inside of batteries and shortens their life.
Don't store or mix loose batteries with metal objects. Batteries may short-circuit, cause sparks or generate temperatures hot enough to start a fire.
Don't mix different types of batteries within the same device (e.g. rechargeable Ni-Cd and alkaline rechargeable). This can reduce battery life or even ruin your equipment.
| | | | |
| --- | --- | --- | --- |
| Battery Type | Common Name | Common Use | Proper Disposal |
| Alkaline. Manganese | Coppertop, Alkaline, Energizer | Flashlights, calculators, toys, clocks, smoke alarms, remote controls | Place in trash |
| Button | Mercuric Oxide, Silver Oxide, Lithium, Alkaline, Zinc-air | Watches, hearing aids, toys, greeting cards, remote control | Bring to household hazardous waste collection site |
| Carbon Zinc | "Classic," Heavy Duty, General Purpose, All Purpose, Power Cell | Flashlights, calculators, toys, clocks, smoke alarms, remote controls, transistor radios, garage door openers | Place in trash |
| Lithium | Usually states "Lithium" on the label | Cameras, calculators, computer memory back-up, tennis shoes | Place in trash |
| | Usually unlabeled or labeled "Ni-Cd" | Flashlights, toys, cellular phones, power tools, computer packs | Bring to household hazardous waste collection site |
| Reusable Alkaline Manganese (Rechargeable) | Renewal | Flashlights, calculators, toys, clocks, radios, remote controls | Place in trash |
| Sealed Lead Acid (Rechargeable) | "Gel," VRB, AGM, Cyclone, Dynasty, El Power, Gates, Lithonia, Saft, Panasonic, Yuasa | Video Cameras, power tools, wheelchairs, ATV's cameras, metal detectors, clocks | Bring to household hazardous waste collection site |
By Ellen Brown
Give a "thumbs up" to the solution that worked the best! Do you have a better solution? Click here to share it!
Questions
Here are questions related to Getting More Life from Batteries.
Remote Control Batteries
We find the TV remote controls take a lot of battery power. After a few months, the remotes won't respond to changing the channel, etc. However, those same used batteries are still powerful enough to operate stereo headsets for some time!
By D. Heil
Store Batteries in the Fridge?
One very common tip is to store batteries in the refrigerator or freezer to make them last longer. Both Energizer and Duracell claim this has no impact on battery life and recommend storing batteries in a cool, dry place. One point all battery manufacturers seem to agree on is that batteries shouldn't be stored in extreme heat.
IKEA Batteries
If you live near an IKEA, buy your AA batteries there. They are only $1.95 for a pack of 10 and they perform just as well as the expensive name brands!
By Erin
Bulk Batteries
I buy batteries in bulk and save a bundle over buying the little packages at the grocery store. Costco and I believe Sam's Club both sell large packages of Duracells for a good price.
By Joe
Pencil Eraser
If you take a pencil eraser and rub both ends of the battery, it will make them last a little longer!
By Michelle
Batteries for Toys
On toys, because kids will only play with a toy for a little while then move on, buy the cheapest batteries you can find. Wal-Mart sells some batteries for 96 cents. If you find they use the toy a lot, start using better batteries.
By BrookesMommy
Remove Batteries
Remove batteries from electronics that aren't being used for an extended period of time.
By Rinky
Rechargable Batteries
I use the rechargeable batteries by Rayovac (AA and AAA) in everything and I can say they are worth their weight in gold. I have recharged them literally 100's of times and they just keep working. I have saved hundreds of dollars in battery money. I have 8 batteries and the charger holds 4 and they get switched almost daily. They are more expensive to invest in but over the long haul the difference is unreal.
The only problem I have is the kids use them and sometimes misplace them so now I have them exchange their drained batteries for recharged ones. If they get caught stealing them, they have to buy their own and replace mine. I am tough about that but they cost $10 for 4 batteries. After charging them 100's of times they are worth the price.
The charger was about $20 but it has lasted over 2 years and been dropped, so it is a tough little thing. I really think very highly of these and I am a total critic about where my money goes. I still have the original 8 batteries going and use them in my headphones daily.
By H.J.
Rechargables For Your Camera
Use rechargeable batteries. I bought them for my digital camera and now use them for everything.
By T. BURNS
Make Sure You Get The Right Batteries
Be sure the buy the batteries recommended in your digital camera manual or batteries which specifically state that they can be used in digital cameras. Most digital cameras will work a lot longer with high-end disposable batteries. Lower end batteries may only give you 10 minutes of operation time.
By Fisher
Get To Know Your Batteries
When using a cell phone or cordless phone, learn about the type of battery you have. Some are designed to last longer if continually charged and some will last longer if left to go dead in between charges. Save on the pocket book, and the irritation of battery failure, by getting to know your batteries.
By Barbie
NiCad's
A common battery in cordless phones and computers is nickel-cadmium. Ever wonder why your nickel-cadmium (NiCad's) don't last as long as they should? You may be overcharging them. Most people's tendency is to put the phone back on the charger between uses, or to use their laptop plugged-in instead of running down the battery, never letting the battery run down too far. Over time this will reduce the amount of charge your battery can hold.
To help condition your batteries, let your phone or computer batteries run down once a month to the point that the battery is nearly out of life. Then charge it fully. This will prolong the life of the battery and maintain the length of charge you expect for longer.
Flashlights that Don't Require Batteries
Keep a flashlight in your house that doesn't require batteries. You can buy flashlights that can be charged by winding them up or shaking them. If you run out of batteries, you won't be left in the dark if there is a power outage.
Also See:
Do you have any more tips for saving money on batteries? Please post them below.
Ad
---
---
Most Recent Answer

By Loi (Guest Post)06/16/2008
Don't throw used AA or AAA batteries. I usually keep them and use them if my wall clocks' (I have seven wall clocks at home) batteries no longer work.
My question is... Does putting batteries in the freezer extend their life? I have been told that it does. Can someone answer this question. Thank you,

Mary
Ad
---
---
Most Recent Answer

By Rob [1]03/10/2009
Freezing batteries usually kills them. I accidentally left some out in our garage for a few days - the air temperature was around -15 'C (A home freezer should be about -18 'C). When I tried them, they were all dead.
How long should a battery in a cordless phone last? Mine is just 2 years old and says low battery and will not hold a charge for more than 5 minutes. A new battery for this phone is $26.00. How do you take care of a cordless phone to make the batteries last longer? Is there a way to extend this batteries life? Is there such a thing as a generic phone battery? Thanks for reading and I will appreciate any and all advice.

Helen from Sassy
---
Most Recent Answer

By Cricket [201]05/09/2009
I've also gotten batteries from Batterydepot.com and they are great! I've gotten batteries from there that I never would have thought replacement batteries were made for! And the prices are extremely reasonable. Especially when you consider the cost of replacing the item.

But it does sound like your battery is defective. Plus, as Mary T said, keeping it on the charger all the time when it's not in use will cause the battery life to be shortened big time. I let mine run down completely about once a month. Then give it a full charge. So far it's done great.
Can a watch battery go dead with the stem pulled out? I replaced a bunch of watch batteries and left the stem out on all of them. They went dead after 2 years. How long should they last with stem out? I kind of forgot about them, so was surprised when they were all dead!
By Carol from St. Joseph, MO
---
Most Recent Answer

By Carol [4]06/16/2013
Some watches disconnect the power with the stem out, some don't possible. We buy batteries real, real cheap at the flea market.
Archives
Thrifty Fun has been around so long that many of our pages have been reset several times. Archives are older versions of the page and the feedback that was provided then.
Would it help my watch battery last longer if I pulled the pin at night so it didn't run for that period of time? I have 2 watches and they always go dead about the same time.
Sandy from Baltimore
---
RE: Making a Watch Battery Last Longer
Yes, most definitely a watch battery will last longer if the stem of the watch is pulled out when not being worn. That is, if you can remember to do it. I have too many watches , of course, mostly inexpensive ones that serve also as jewelry you might say. I switch off watches depending on my outfit and mood. Usually I just don't remember to pull the stem out but when I have done it, the battery has lasted longer. Also, when you pull the stem out, it means having to take a second or two to reset the watch. I guess I usually just don't take the time to mess around with the watches and just take them off and put them on and hope for the best on the battery. By the way, I get my watch batteries changed at Wal-Mart where it is less than $3. That is quite a bit cheaper than having it done at a jeweler. (07/13/2006)
By Debbie52
RE: Making a Watch Battery Last Longer
I have a lot of watches and one day took 8 watches to Walmart to get the batteries replaced and it was $17. That was a lot to spend on batteries at one time, so now I pull the stem every time I take a watch off and it only takes a second to reset it next time you wear it. That was before Christmas and none of the batteries have went out yet! (08/24/2006)
By suzi_homemaker01
As soon as I return home from work, I take my watch off. I always pull the pin out to stop the time and therefore save on battery usage. It only takes a second in the morning to set the time and I won't have to replace the battery as often.
By Kathy from Houston, TX
---
RE: Making a Watch Battery Last Longer
My mornings are busy and I would forget to push it back in. I have never had to replace a battery in any of my watches. By the time they go dead, I am ready for a new style. My watches usually last 3 or more years! Of course my watches don't cost much because I am rough on watches. (05/21/2010)
By Teresa Kay
RE: Making a Watch Battery Last Longer
I have very good watches. My oldest is around 25 years old. Batteries don't go dead so often that I would ever think to save money this way. They usually last YEARS for an $8 investment. (05/21/2010)
By Beth
RE: Making a Watch Battery Last Longer
I would be worried that pushing/pulling the pin daily would shorten the life of the watch. Considering batteries last five or more years, I am not sure I would risk my watch this way. If you are not going to wear it for a period of time, it sounds like a good idea. (05/22/2010)
By Jilson