Getting Rid of Slugs or Snails in the House
It is upsetting to encounter these slimy creatures in your home. This guide is about getting rid of slugs and snails in the house.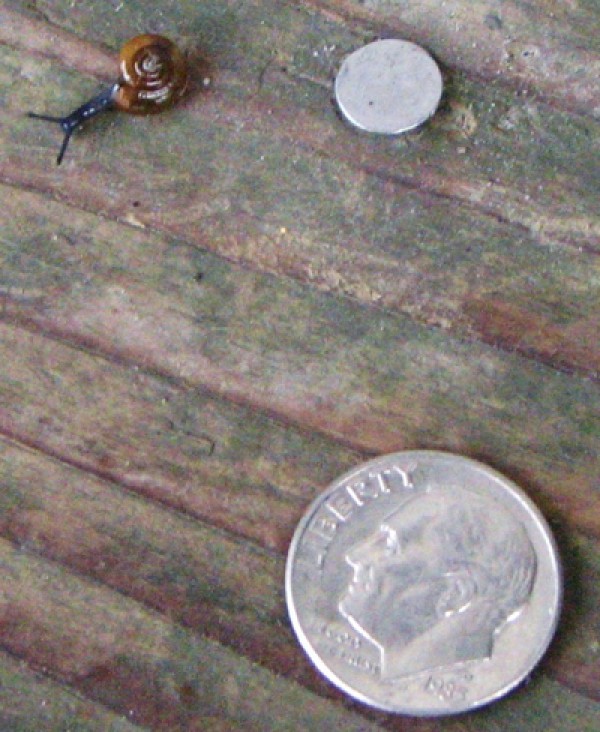 Filter

: All Articles
Sort

: Relevance
How do I stop snails from getting into my house?
August 23, 2016
0

found this helpful
To snails your house, yard, etc., are just part of the snails' world so they simply continue on their journeys, house or not. The best way to prevent them from entering your house is to keep all outside access doors closed at all times and check for any holes, etc., snails may find to slide into your house.
Snails cannot hurt you! When you find them inside, please simply handle them gently, take them outside and place them on soil under a bush.
Slugs are getting in through a hole in the kitchen floor. I told my parents, but they don't seem too concerned. It was just one maybe every 4 weeks. I went in my kitchen earlier and found four of the slimy things. I am very squeamish and they have caused me to not eat in days. I can't walk through my own home without wearing my ACU boots. Can some one give a way to get rid of them?
By Dave from Seattle, WA
July 16, 2016
0

found this helpful
Snails get in the house. What to do to get rid of them?
August 21, 2016
1

found this helpful
Follow the slime find the hole and block it with something!
September 16, 2016
0

found this helpful
I found them in my tub and in my kitchen sink
How can I get rid of slugs? They come in my living room every night and climb over everything and leave their awful slime. I got one the other night so thought that would be the end of it, but no. There must be loads of them! I need some help on this, the slime is driving me mad.
By Rosie931 from UK
September 14, 2010
0

found this helpful
Hi I don't even know how they are getting inside back kitchen! Looking at drain pipes outside no holes around them, solid concrete floor, no gap under back door now, please how are they getting in, any answers?
July 16, 2015
0

found this helpful
I have been using salt but they are still getting in my home. It doesn't help that my home is severely damp & my landlord says it's just condensation which it's not, he's not damp proofed the house or had the re-pointing done among other repairs that need doing.
Any way I found slugs on my worktops, drawers, cupboards, kitchen sink, bathroom walls, ceiling, in the sitting room, coming up the stairs etc. I have found that spraying everywhere with domestos bleach spray works a treat if sprayed every night xx
October 16, 2015
0

found this helpful
I do this every night, i put salt round the edges of my carpet but they still seem to slime there way round my living room and dining room, i wont walk around my house without hard bottom slippers on incase i come toe to toe with one of the little horrors! Im at the end of my rope as i have 2 dogs and a cat so firstly the fact they could eat them is scarey but then i have to find ways to get rid of them without harming the pooches! Nightmare!
Do slugs' slimy trails cause any health problems for humans? They have been coming into my home for a couple of months now. I am at my wits end; I do have a dog as well. Thanks.
By Rita
August 30, 2014
0

found this helpful
Pour salt all around where the slugs are coming into your home. It will dry them out and they'll die. I don't think the trails are harmful to you or your pets, but it would be unpleasant having them in the house. Good luck!
September 11, 2014
0

found this helpful
I hate slugs, I've been getting them in my kitchen for the past few months and they're driving me mad. I'm terrified that my elderly dog might accidentally eat them, because although they may not be harmful to humans, they are VERY dangerous to dogs. If a dog eats them they can get lung worm which can be fatal.
I just can't understand where they're getting in, there are no holes around the pipes and the kitchen doesn't open directly into the garden, you have to go through either the utility room or conservatory to get outside, so a slug would have to crawl for several feet in order to reach the kitchen, yet there are no visible trails in either the utility room or the conservatory, so WHERE are they coming from ?
September 29, 2015
1

found this helpful
I had similar problem,I have an absolute phobia of these ugly things.......just to realize that my dog (lhasa apso bichon frise mix) and cats use to go out sit or lay down and the crafty slimys would hitch a lift back through the flap and into the house...!?.....I use to find them in the dog/cat bowl....
Recently I've been encountering these creatures in and around my bedroom bin. I could see the trails and it seems like it makes quite a few around to it, but doesn't leave a trail of where it comes and goes. I've chucked them away twice and today there were two of them. They come out snuggishly when it's quiet in the room. Is it my bin, or due to a spillage of beet in my bin?
It's just annoying.
By Nikesh from London
April 19, 2014
0

found this helpful
Sandi, a bin is a garbage can, although I surely don't know why there would be beets in it. I suppose it could be some sort of storage place as well, but I doubt it. Anyway, to answer the question regarding slugs, I think a thorough cleaning of the bin and the surrounding area - likely the whole bedroom, would be in order. And are these slugs - which are grey slimy creatures, like snails without a shell, or are they perhaps, maggots, which are small and white, fly larva, that feed on decaying matter, especially decaying meat. I have never heard of slugs in a house, but maggots can be anywhere. But whatever they truly are, clean the room and the bin using lots of soap and hot water!
April 7, 2015
0

found this helpful
I know this is an old post but I recently came across the little slime trails left by a SLUG not a maggot. They come out during times when it's wet, damp and are found in homes. Has nothing to do with cleanliness of your home but the moisture around or underneath your home. I have no problem treating for them I just would like to know where they hide? I work nights and I guess it or "they" come out when I'm not around but the trail isn't much help, I just would feel better if I knew it wasn't still in the house or it will die after so long? If so I won't look in every inch of the house I'll just treat for anymore incoming slugs?
July 18, 2016
0

found this helpful
Us Brit's don't have garbage cans. We can have bins throughout the house! I'm curious though as I also thought Beets was a US name for beetroot. Why on earth do you think someone might be confusing slugs with totally different horrid things and question that they get in the house after comments by everyone on this thread?
Please help. A week or 2 ago I woke up to find snail trails on my front room carpet. I have put dishes with salt and beer (Carling), but they just went around the dish. Then I put salt down around the dishes, that didn't work. I have a dog and 2 cats and don't wanna put poison done in case it harms them. I woke up this morning to find it's trail leading to the back of my TV but I've looked everywhere and no sign. I'm getting pretty fed up :-(
By Kerry
June 30, 2013
0

found this helpful
Can you find a way to keep your pets out of the room for a few days while you put out some slug traps? The sticky "mouse traps" would work if you put them around where you see the trails. Kind of gross, but they catch and hold everything that crawls over them. They are not poisonous but stick really well to pet fur!
August 27, 2013
0

found this helpful
Just to make people who are not aware of how dangerous slugs are when it comes to your pet dog. It's not just the horrid nasty looking trail it leaves around your house, but they are so dangerous; it can kill your dog.
October 19, 2013
0

found this helpful
Slugs, snails and ants will not cross a chalk line so put a chalk line across your doorways, windows and check for any other possible entry holes and chalk them.
I have slugs in my kitchen. I don't just want to kill them - I want to be rid of them. How do I do this? They climb up into my silverware drawer, my cupboard where I keep my pots and pans and now they are bold enough to be on my back door.
Read More...
Related
© 1997-2016 by Cumuli, Inc. All Rights Reserved. Published by
ThriftyFun
.
Page
generated on September 23, 2016 at 7:15:10 PM on 10.0.1.197 in 4 seconds. Use of this web site constitutes acceptance of ThriftyFun's
Disclaimer
and
Privacy Policy
. If you have any problems or suggestions feel free to
Contact Us
.