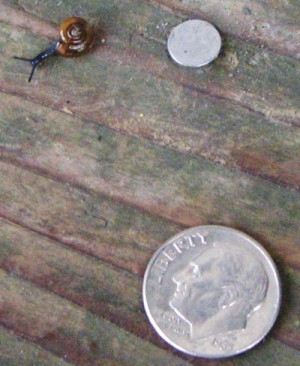 It is upsetting to encounter these slimy creatures in your home. This guide is about getting rid of slugs and snails in the house.
Questions
Here are questions related to Getting Rid of Slugs or Snails in the House.
Slugs are getting in through a hole in the kitchen floor. I told my parents, but they don't seem too concerned. It was just one maybe every 4 weeks. I went in my kitchen earlier and found four of the slimy things. I am very squeamish and they have caused me to not eat in days. I can't walk through my own home without wearing my ACU boots. Can some one give a way to get rid of them?
By Dave from Seattle, WA
---
Most Recent Answer

By Susan T.04/30/2014
We have slugs come into our kitchen. We just pick them gently up with a tissue and place them back outside. Simple! No need to harm anything and it only will take a few seconds out of your life. The slug has come in due to damp and this is a big mistake on it's part as a lot of people are cruel enough to just kill them. Be a better person and direct to the outside.
How can I get rid of slugs? They come in my living room every night and climb over everything and leave their awful slime. I got one the other night so thought that would be the end of it, but no. There must be loads of them! I need some help on this, the slime is driving me mad.
By Rosie931 from UK
---
Most Recent Answer

By steve [3]09/14/2010
Hi I don't even know how they are getting inside back kitchen! Looking at drain pipes outside no holes around them, solid concrete floor, no gap under back door now, please how are they getting in, any answers?
There is a slug/snail in my porch. It has been lurking around for a few months, I have tried over and over again to find it, but I can't. Is there anything I can put down to try and get rid of them?
By Shirley J from Scunthorpe
Do slugs' slimy trails cause any health problems for humans? They have been coming into my home for a couple of months now. I am at my wits end; I do have a dog as well. Thanks.
By Rita
---
Most Recent Answer

By Pauline E.09/11/2014
I hate slugs, I've been getting them in my kitchen for the past few months and they're driving me mad. I'm terrified that my elderly dog might accidentally eat them, because although they may not be harmful to humans, they are VERY dangerous to dogs. If a dog eats them they can get lung worm which can be fatal.
I just can't understand where they're getting in, there are no holes around the pipes and the kitchen doesn't open directly into the garden, you have to go through either the utility room or conservatory to get outside, so a slug would have to crawl for several feet in order to reach the kitchen, yet there are no visible trails in either the utility room or the conservatory, so WHERE are they coming from ?
Recently I've been encountering these creatures in and around my bedroom bin. I could see the trails and it seems like it makes quite a few around to it, but doesn't leave a trail of where it comes and goes. I've chucked them away twice and today there were two of them. They come out snuggishly when it's quiet in the room. Is it my bin, or due to a spillage of beet in my bin?
It's just annoying.
By Nikesh from London
---
Most Recent Answer

By Louise B. [5]04/19/2014
Sandi, a bin is a garbage can, although I surely don't know why there would be beets in it. I suppose it could be some sort of storage place as well, but I doubt it. Anyway, to answer the question regarding slugs, I think a thorough cleaning of the bin and the surrounding area - likely the whole bedroom, would be in order. And are these slugs - which are grey slimy creatures, like snails without a shell, or are they perhaps, maggots, which are small and white, fly larva, that feed on decaying matter, especially decaying meat. I have never heard of slugs in a house, but maggots can be anywhere. But whatever they truly are, clean the room and the bin using lots of soap and hot water!

I would like to know what can I use to clean my bathroom wall. I'm working and we are a family of 6 so time for is limited and I don't have a lot of energy, as I'm the only woman in the house. The small snails come from the joints between the gaps of the wall and the bath. I tried to close them, but the snails came again. I have a feeling I may need to break the wall and see where they coming from.
By Mavis M.
---
Most Recent Answer
By Sandi [391]09/08/2013
Put down the hammer and get some foam insulation in a gun. It's called touch and seal and you need a caulking gun but for smaller jobs, you can get the cans with a straw like attachment. Find the hole, seal it and nothing will get in not even air.
If you leak is too hard to get to, you may have to open the back of the wall outside.
Try keeping rock salt which doesn't melt around the affected area. I hope that helps.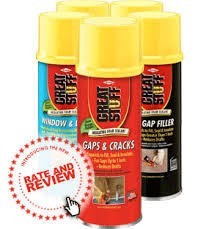 Please help. A week or 2 ago I woke up to find snail trails on my front room carpet. I have put dishes with salt and beer (Carling), but they just went around the dish. Then I put salt down around the dishes, that didn't work. I have a dog and 2 cats and don't wanna put poison done in case it harms them. I woke up this morning to find it's trail leading to the back of my TV but I've looked everywhere and no sign. I'm getting pretty fed up :-(
By Kerry
---
Most Recent Answer

By Russell L.10/19/2013
Slugs, snails and ants will not cross a chalk line so put a chalk line across your doorways, windows and check for any other possible entry holes and chalk them.
I am in a rented property that has a slug problem in the lounge. Will the slugs harm my furniture? I have a leather sofa, wood furniture, and soft furnishings.
By Gail
---
Most Recent Answer

By Marie [5]06/20/2013
My answer in my garden was to place saucers or paper plates with beer in it the slugs love beer and it kills them. it is messy but it is fatal.
Every morning when I get up there are these snot-like trails on my living room carpet. It's easy to wipe off, but I have an eighteen month old grand daughter that plays on that carpet and I am worried that she could catch something from what the snot might leave behind, even when cleaned off. If someone could tell me what to do, for instance is there a spray or something that will deter whatever it is slug or snail, I would be very grateful.
By Stuart .G
---
Most Recent Answer

By Carol Swanson [17]06/16/2012
Snails like places that are damp and shady. I'd be asking myself if the flooring in my home were too wet or not. In my basement family room, I run a dehumidifier, but an air conditioner would work too.

I think the best way to get rid of insects or animals is to remove their food source or conditions necessary for life.

Good luck
I live in a ground floor apartment and have a dog, so salt in my carpet is out of the question. I find them in my kitchen and I know they are harmless, just gross. My complex can't figure it out and the bug man can't either. Any suggestions that won't harm my dog? (He's just a puppy.)
By Laura from Charlotte, NC
---
Most Recent Answer

By joan [3]11/15/2011
A gardening specialist said that altho beer works, it also attracts slugs from a broader area.
I have slugs in my kitchen. I don't just want to kill them - I want to be rid of them. How do I do this? They climb up into my silverware drawer, my cupboard where I keep my pots and pans and now they are bold enough to be on my back door. I live in a very moist area due to the fact that I am near the water, a lot of mold and moisture. How do get rid of these disgusting creatures?

pms6474
---
Most Recent Answer

By loli197310/30/2009
I can't tell were they come from what ever I try!
My mission is on.
First attempt-Day one: I am traking the beast by attaching(as gently as possible)a piece of string to it and with piece of white paper at the other end of the string, will see tomorow if I can locate them!
Will let you know...
Meanwile, Tell me why they attracted to my house, the damp? is it a sign that my house structure is geting old? any answer?
Solutions: Getting Rid of Slugs or Snails in the House
Do you have knowledge about this guide topic? Feel free to share a solution!
Archives
Thrifty Fun has been around so long that many of our pages have been reset several times. Archives are older versions of the page and the feedback that was provided then.
We have been finding slugs in the sitting room by the settee and by the fire in the morning. We can't find out where they're coming from. We have recently put wooden flooring down. Where could they be coming in from? Please help.
Chris
---
RE: Slugs Inside My House
I have had the disgusting little things in my kitchen and by my back deck. My sons were quite amazed as we had a little science experiment watching what happens when you put salt on them. A note to people having trouble locating where they are coming from- I noticed that they were coming from under a newly replaced dishwasher, and once we noticed that, we realized that we had a leak in our sink pipes- could be a clue to a problem. (10/27/2008)
By faithbreeze
Slugs are gross.
We have recurring slugs in our kitchen (the first one I found was on a clean dish in the sink- I named him Horatio)... And about 10 minutes ago, I found one crawling under my clothes dryer and by the time I got prepped with rubber gloves and toilet paper to take care of him, he had vanished under it. I proceeded to throw salt at him but don't know if it did any good.
We have constant slugs in our house, but it's about 40 degrees outside and Halloween (and yes, it was a spooky surprise)! I didn't know they could endure cold and my mom is less than enthused about the beer technique, but the salt doesn't seem to be working that well. At what store can I find copper tape?
Thanks to everyone and it makes me feel tons better to know that other non-nasty people have slugs in their houses, too. HAPPY HALLOWEEN! :) (10/31/2008)
By Rosealicious
RE: Slugs Inside My House
Oh I'm thrilled I am not the only one. I found a slug in my living room a week ago and then we found slug trails today, it seems to be coming in through the heater. I am going to try using salt but we'll see. (11/13/2008)
By Madi
RE: Slugs Inside My House
My daughter found a slug in her room. Poor thing almost passed out. We have a water leak in our bathroom and it was raining for three days. I will tell my landlord and try some of the sluggestions, lol. (11/15/2008)
By grossedout
RE: Slugs Inside My House
I have the slug problem. Got rid of 3 big ones a few months ago and thought the problem had gone away. Then came down stairs the other night and found 8 smaller ones. The temp outside is approx -2 so can't understand how they can survive that? Is it possible they could already be in the house and just come out for food at night, as I seriously can't work out where they are getting in. Think I will have to stay up one night to do some spy work! (12/12/2008)
By Hollie
RE: Slugs Inside My House
Nasty, nasty slugs. I have found them on my kitchen floor many times, but when I walked in the kitchen last evening and found one on my stove top that did it for me, and the nasty critter was eating away on a recipe I had printed out to use. Makes me feel like my house is dirty. I was embarrassed to tell anyone about this problem, but clearly I am not alone. They are definitely unwelcome guests. (12/12/2008)
By L. Rutt
RE: Slugs Inside My House
I have a concrete driveway so I don't understand where these slugs are coming from. They are always on the inside of the front door or on the floor, eeww!
It seems only at winter and late evening night they appear. They are quite big and grey in colour with dark spots. I kill them with salt, it's like they burn and bubble and die. Then I get my husband to clean them out. (12/21/2008)
By sabrina
RE: Slugs Inside My House
I get slugs in cupboard under the sink. This is where I keep the cat and dog food. Don't find them everyday but when I pick up the food to feed them in the morning they are stuck to the bottom of the bags. This morning I found one in the bag eating away. I read a few people are saying they're attracted to the food. I think I'll put the food in plastic containers. Hopefully that will solve the problem and if not, I usually have beer around the house. I'm afraid it will attract them, like a drunk slug party, instead of deterring them. Anyone have ideas? (01/09/2009)
By Tracy
RE: Slugs Inside My House
I had hoped for a solution to my slug problem but I have tried all these suggestions without success. I find trails that start and end on the carpet but they are always starting from a point on the carpet and meander around and then end, again on the carpet. Surely there must be a powder that can be applied to the carpet that will eliminate them. (01/14/2009)
By Stuart
RE: Slugs Inside My House
They are coming in from potatoes. Every time I buy potatoes, even if I put them in water, I find snails. It makes me not want to eat potatoes because I wonder how they are in them. (02/21/2009)
By KATHRYN