Homemade Cat Repellents
There are many areas of the home and garden that you may want to keep the cats out of. This guide is about homemade cat repellents.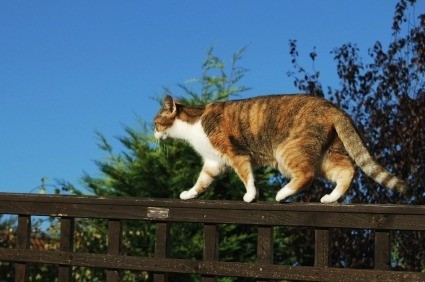 Filter

: All Articles
Sort

: Relevance
There are 2 cats in particular. They urinate on my front and back doors. I have a big enclosure connected to my house as I am a responsible pet owner and don't wish to annoy neighbours.
I've read a few suggestions, one I was keen on was a cayenne pepper and water spray? I can't see a recipe. Any ideas would be great, also if anyone has tried lavender or other oils, I would love feedback.
June 1, 2016
0

found this helpful
No skunks in Australia. Lol
Going to try lemon, there's a tree out front so. Thx
June 17, 2016
0

found this helpful
Cats hate cayenne pepper and they don't like moth balls. Pepper get in their paws, burns their eyes and bothers their nostrils.
I have 8 (yes 8) citrus trees in my back yard and the miserable cats lounge in the shade under them, right beside the lemons, oranges, grapefruit, and limes that are near the ground. I have even seen them climbing in the citrus trees after the humming birds, woodpeckers and other birds.
I need a deterrent to keep cats out of my yard. They are male strays that come over and fight at night and during the days they chase my dogs.
Hardiness Zone: 8a
By Ethel from Boyd, TX
January 8, 2011
1

found this helpful
Best Answer
Pet shops, and possibly hardware stores, have different kinds of repellents to keep animals away from areas of your yard. I used to sprinkle hot, peppery types of spices around, but then someone on this forum told me it could hurt the animals' noses. So I guess it's smarter just to get something made for the job.
September 13, 2016
0

found this helpful
Mothballs are poisonous to cats and dogs. Please to not use them.
I need to know how to make a homemade cat repellent for house plants.

Joe from Tecumseh, NE
September 8, 2008
0

found this helpful
Best Answer
What I do is use the mesh bags that onions come in and spread them on the top of the soil in your plants. The cats don't like it because the mesh gets caught in their claws.
August 31, 2016
0

found this helpful
how to avoid cats in home
I know there is a spray that you spray around your house where you don't want dogs to go. Is there also a spray to keep cats away? There are tons of cats around my house and you can smell cats when you leave the house.

Jamish from Tribune, KS
March 15, 2009
1

found this helpful
Best Answer
Cats don't like a citrus smell, and so spreading orange or lemon peels will help. What I used when I had a stray cat spraying the front of my house was lemon scented Mr. Clean. I doused the sprayed spot with this, and this seemed to discourage the stray cat.
I have used pellets to spread on the ground that I got from a hardware store, but they had an odd smell that I found disturbing. The cats didn't like it either, but I prefer the Mr. Clean idea. The pellets had to be reapplied after every rain.
NOTE: One thing not to use is moth balls. They keep the cats away all right, but they smell much worse than the cat smell. Besides, they are toxic to many other things, including people.
February 17, 2016
0

found this helpful
What a cruel human being to use hot sauce. There are other options. Cats would be afraid and scatter if you screamed but I think because this is an annoying issue revenge was what you wanted. How about TNR to help reduce tha cat population?
There are about 5 stray cats on my street. The neighbor next door feeds them and then they come to my lawn to pee, poop, and throw up. What homemade remedy can I use?
By Susan
February 28, 2015
1

found this helpful
I agree with the poster who said to skip mothballs. They are terribly poisonous to everything, including people, and the stench from them is as bad as or worse than the cat urine. I have purchased a cat repellant from Walmart that worked quite well. It also had a smell, but not obnoxious, and it had to be replaced every time it rained, but it worked. It kept my own cats from pooping on the front lawn. You might also try citrus peels, as those are not too unsightly and won't be a horrible smell. I kept stray cats from spraying the front of my house by splashing lemon scented Mr. Clean over the urine spots. This would work on fence posts, or tree trunks.
April 11, 2016
1

found this helpful
maybe in your city, they have caretakers, for feral cats, etc. so my neighbor now is under that program, they feed, somewhat of a shelter, and the city will make they shots and are healthy, one thing, which hope to make part of the program is "the caretakers also provide a place to poop!! start by getting with animal control , see if there is a program.. if they are sick, etc there is help,
What household products can I use to keep cats off my property?
By Ray D
May 17, 2011
0

found this helpful
Best Answer
There is a product called Indoor No. It's a spray and can probably be found in pet stores. Also, I've read that citrus works well.
July 28, 2016
0

found this helpful
remedy to keep cats away from yard
I have a cat that keeps coming to our front door and poops. What can I use to keep her away so she stops doing this?
By EF
July 16, 2016
0

found this helpful
Wouldn't the orange & lemon attract bees? We've got a major bee problem too..
August 5, 2016
0

found this helpful
She may hope you will be her family. Can you adopt her? You might find her to be a sweet and loyal friend.
I'm really scared of cats. Someone told me to sprinkle cayenne pepper around to keep them out of my yard. Is this a good idea? I just wanna keep them away with no harm.
Read More...
Related
© 1997-2016 by Cumuli, Inc. All Rights Reserved. Published by
ThriftyFun
.
Page
generated on September 21, 2016 at 12:19:53 PM on 10.0.2.230 in 5 seconds. Use of this web site constitutes acceptance of ThriftyFun's
Disclaimer
and
Privacy Policy
. If you have any problems or suggestions feel free to
Contact Us
.