Marking Hard Boiled Eggs
We recently decided to boil the majority of a carton of eggs. Since there wasn't an extra carton laying around, we decided to mark the boiled ones with a Sharpie so that we knew which eggs were which.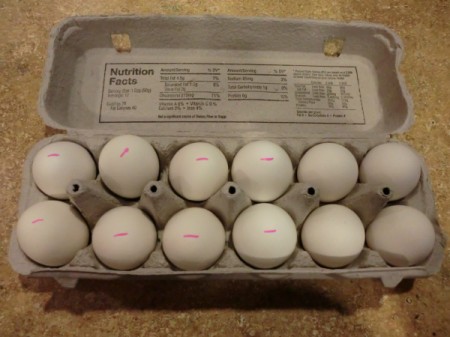 By lalala...
Feedback
Read feedback for this post below. Click here to post feedback.

By
10/17/2012
You're right, Jeanette1940--but it's nice to have a way to tell at a glance, as well as a reminder in case you (or someone else!) forget that some of them are cooked.

Another way to do it is to write "HB" on the end of each egg in pencil. I learned that one from a mother of five, many years ago.

By
10/17/2012
You do NOT have to mark eggs to tell if they are cooked. Just give them a spin-raw eggs wobble. Cooked eggs will spin nicely
Post Feedback
Add your voice to the conversation.