Middle Eastern Recipes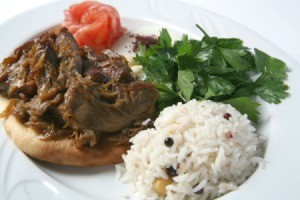 This is a guide about
middle eastern recipes
. Many American favorite foods come from the healthy grains and beans that these cultures embrace.
Solutions
Share on ThriftyFunThis guide contains the following solutions. Have something to add? Please share your solution!
This was my first favorite salad, as far as I can remember. I used to beg my mum to make it for me as a young girl. In Iran, it's popular as a summer salad but I make it year round. It's very healthy and absolutely delicious! Try it next to a protein and/or rice. When the juices from this salad mix with your other foods, it's heavenly!
Ingredients:
2 Tbsp. oil
1/2 cup fresh lime juice (lemon juice is fine, too)
1 tsp. cumin (I like cumin seeds better - if you can find them, use them!)
1 bunch fresh mint, finely chopped
4 Tbsp. flat-leaf parsley, finely chopped
5 Persian cucumbers or 2 English "Hot House" cucumbers, cut into 1/8 inch cubes. Basically you want seedless cucumbers with a thin skin)
4 tomatoes, cut into 1/8 inch cubes
1/2 a small red onion, cut into 1/8 inch cubes
salt and pepper to taste
*It's not traditional, but I use one bell pepper (of any color) in mine. It gives it a fantastic new dimension!
Directions:
Whisk together oil and lime juice. Add cumin, mint, parsley, cucumbers, tomatoes, and red onion then toss to combine. And salt and pepper to taste. Serve chilled.
By attosa from Los Angeles, CA
Delicious and healthy, too. I usually double the dressing ingredients. You can use parsley or fresh mint instead of cilantro. You can also add some well drained, diced cucumber to the salad.
Read More...
Ingredients:
3/4 cup bulgar *
2 cups boiling water
3/4 cup red onion, finely chopped
1 tsp. salt
1/2 tsp. ground allspice
1 cup seeded cucumber, diced
1 cup seeded tomato, diced
1/2 cup fresh basil, minced
1/2 cup fresh parsley, minced
1/2 cup green onions, chopped
1/4 cup fresh mint, minced
1/4 cup lemon juice
* Look for bulgar in the cereal, rice, or organic food isle of your grocery store.
Directions:
Rinse and drain bulgar; place in a bowl. Stir in the boiling water. Cover and let stand for 1 hour or until liquid is absorbed. Meanwhile, in a large bowl, combine the onion, salt, and allspice; let stand 30 minutes. Drain bulgar and squeeze dry; add bulgar and remaining ingredients to onion mixture. Toss gently to combine. Serve or refrigerate.
Source: E. Lewis
By Raymonde from North Bay, Ontario
This simple recipe is full of flavor and is perfect as a dip for crackers or toasted bread.
Ingredients:
1 med. eggplant
2 1/2 Tbsp. lemon juice
1 tsp. salt, (or to taste)
1 diced Roma tomato
1/2 diced green pepper
1/2 diced medium onion
olive oil to taste.
Directions:
Peel and dice eggplant into (approx) 1 inch pieces. Place in microwaveable casserole dish. Add lemon juice. Microwave on high 7 minutes. Stir and continue to microwave on high for 7 additional minutes. Let rest, covered 5 - 10 minutes.
Mash eggplant to slightly lumpy pulp. Add all other ingredients and mix well. Serve as side dish, or with chips, crackers or toast points.
By Doggy from TX
You can use on wholewheat biscuits or on toast.
Ingredients:
250 gram chickpeas (soak overnight)
5 ml salt
3 ml ground pepper
3 cloves garlic
90 ml lemon juice
45 ml sesame seeds(toasted and crushed)
Directions:
Rinse the chick peas and add enough water and boil for 3 hours or till done
Drain and cool. In a food processor add all the ingredients and chick peas and grind till smooth.
Serve with tortillas, wholewheat biscuits or toast.
Source: from a friend
By Dorty from SA
Claire Bush
0

found this helpful
This Middle Eastern side dish looks elegant, but is very simple to prepare. Use the smaller amount of oil for a lowfat, but still flavorful, version. Good with lamb chops or barbecued chicken.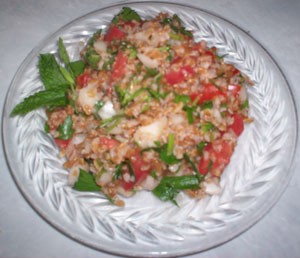 Read More...
October 3, 2005
0

found this helpful
In a skillet coated with nonstick spray coating, cook the chicken pieces over medium heat, turning frequently, until they begin to brown
Read More...
Related Content