Canned yams have many uses in the kitchen, from casseroles, to cakes, and more. This page contains recipes using canned yams.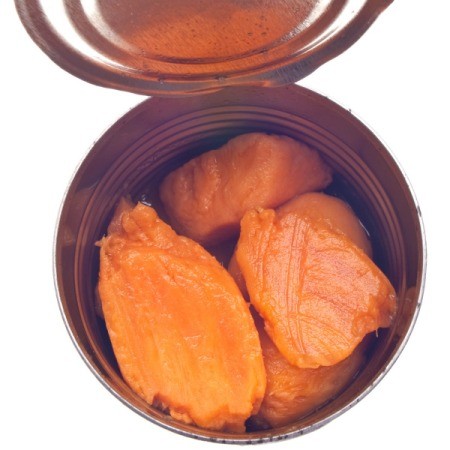 By Aliesha 1
I have so many cans of yams. Can you tell me some different recipes for preparing them? Please.
By Aliesha from TN
---
Best Answers
December 2, 2010
If your family likes pumpkin pie, pumpkin bread, or pumpkin cookies. Use the sweet potatoes or yams the same as you would pumpkin. It turns out great! You can also heat, drain, mash with butter add salt and pepper and serve instead of white mashed potatoes.
---
December 5, 2010
In my opinion there is nothing better than traditional southern candied yams. To one large can, add one cup brown sugar, one stick butter and bake until they start to brown on top. To make them even better add pecans and/or one small can crushed pineapple. Or you can mash them, add one small can of crushed pineapple and put marshmallows on top to toast. Or you can just mash them and add butter and salt.
---
By vicki hood 4 563 Flag
December 5, 2010
Healthy meal for your dog. Yams, little sweet butter, canned mackerel, whatever veggies like broccoli, green beans, carrots, peas. No corn. Corn is not good for dogs in that it messes with their immune system. Causes bad skin and organ problems. It is almost always the first ingredient in grocery store dog kibble and canned foods also. It is so easy to prepare meals in bulk for your dog. Brown rice, oatmeal, and farm eggs (if available). Yams are a very preferred food for dogs and they love them. You will find yams in specialty canned dog foods.
---
Ingredients
2 (16 ozs.) canned yams, drained and cut into 1/2 inch pieces
2 Medium ripe bananas, sliced horizontally
1/3 cup margarine
1/4 tsp. salt
1/3 cup light corn syrup
2 Tbsp. orange juice
1/2 cup flaked coconut
Directions
Alternate layers of yams and banana slices in a 1 Qt. baking dish, ending with yams on top. Melt margarine. Stir in salt, syrup, and orange juice. Pour over yams and bananas. Cover and bake 375 degrees F for 30 minutes.
Remove from oven. Carefully pour off some margarine mixture in a cup. Pour over yams and bananas to baste. Sprinkle with coconut. Bake uncovered, to toast coconut, for about 10 minutes. Serve hot. Serves 6.
By Terri from NV
Ingredients:
1 (20-oz.) can sliced pineapple
1 Tbsp. cornstarch
1/4 tsp. salt
3 Tbsp. fresh lemon juice
2 (1 pound) cans yams, drained
Oil
4 scallions, sliced
1 small green pepper, cut into small chunks
1/2 cup diagonally sliced celery
Directions:
Drain pineapple, reserve juice.
Combine reserved juice, cornstarch, and salt in saucepan; blend well. Bring to a boil over medium heat; cook until thickened, stirring constantly. Stir in lemon juice.
Place pineapple and yams in casserole; pour sauce over. Bake in oven, covered at 350 degrees F for 30 minutes, until hot. Heat small amount of oil in skillet, saute scallions, pepper and celery until just tender but still crisp. Stir carefully into yam mixture. Serve immediately.
Can be eaten with chicken and rice.
Source: A friend Linda
By Raymonde G. from North Bay, Ontario
By Robin 5,893 29
Ingredients
1 can pineapple slices (20 oz.)
2 cans yams, drained (17 oz.)
1/4 cup flour
3 Tbsp. brown sugar
1/2 tsp. cinnamon
1/8 tsp. salt
3 Tbsp. margarine
1/4 cup chopped nuts
1 cup mini marshmallows or 10 large
Directions
Drain pineapple, reserving 1/4 cup syrup. line sides of 10x6 inch baking dish with pineapple slightly overlapping; arrange yams in center. Pour pineapple syrup over yams. Combine flour, brown sugar, cinnamon and salt. Cut in margarine until mixture resembles coarse crumbs; stir in nuts. Sprinkle over yams. Bake at 350 for 25 minutes. Top with marshmallows. Broil until lightly browned. Makes 6-8 servings.
By Robin from Washington, IA
By Robin 5,893 29
Ingredients
2 cups sugar
1 1/2 cup butter, softened
1 1/2 tsp. vanilla
5 eggs
16 oz. can yams, drained, reserving 1 Tbsp. of liquid
3 cup flour
2 tsp. baking powder
2 tsp. soda
1 tsp. salt
2 tsp. cinnamon
2 1/2 tsp. nutmeg
1 cup chopped pecans
1 cup raisins
1 can crushed pineapple, well drained, reserving 1/4 cup liquid
Frosting
1/2 cup firmly packed brown sugar
Dash salt
1/4 cup butter
1/4 cup reserved pineapple liquid
2 Tbsp. milk
1 Tbsp. reserved yam liquid
3/4 cup powdered sugar
1 tsp. vanilla
8 pecan halves
Directions
Heat oven to 325 degrees F. Grease and flour 10 inch tube pan. In large bowl, cream sugar, 1 1/2 cup butter and 1 1/2 tsp. vanilla until light and fluffy. Add eggs, one at a time, beating well after each.
Cut up yams; add to creamed mixture, beating until well mixed. Lightly spoon flour into measuring cup; level off. Add flour, baking powder, soda, salt, cinnamon, and nutmeg; mix well. By hand, fold in pecans, raisins, and drained pineapple.
Spoon batter into prepared pan; spread evenly. Bake at 325 degrees F for 65-75 minutes or until toothpick inserted in center comes out clean. Cool upright in pan 10 minutes. Invert onto serving plate. Cool completely.
In medium saucepan, combine brown sugar, dash salt, 1/4 cup butter, reserved 1/4 cup pineapple liquid, milk and reserved 1 Tbsp. yam liquid. Bring to a boil; boil 3 minutes, stirring constantly. Remove from heat; beat in powdered sugar and 1 tsp. vanilla until smooth.
Cool about 10 minutes to allow frosting to thicken slightly, beating occasionally to maintain smooth consistency. Beat well; quickly spoon over cake, allowing some to run down sides. Garnish with pecan halves. Makes 20 servings.
Note: 1 1/4 cup mashed, cooked sweet potatoes can be substituted for yams.
By Robin from Washington, IA