There are often leftovers after a roast dinner. This page contains recipes using leftover roast.
Filter

: All Articles
Sort

: Relevance
What can I do with leftover pork?
By robinski41671 from Herkimer, NY
Answer
Was this helpful?
Helpful?
Yes
I never have pork roast left overs because sooner then I can get to use it it is gone on pork sandwiches. LOL!
Reply
Was this helpful?
Helpful?
Yes
Read More Answers...
No one at my home likes dark meat or leftovers for that matter. I learned to get around that by taking leftover dark meat, or any leftover vegetables from a roast, and throwing them in the food processor. This is a great way to "fool" the family, and add flavor at the same time. I often add grated carrot, chicken or beef stock, and this to brown rice, for example. It really is good, and so cheap.
By nunley10 from Huntington, WV
Can I use leftover pork roast to make stroganoff?

Jim from El Dorado Hills, CA
Answer
Was this helpful?
Helpful?
Yes
By guest (Guest Post)
Flag
It is so good-but I make the original pot roast with lots of wine (red and Marsala) and beef stock so there is a lot of gravy left over. I defat it some then add some more beef broth along with plenty of fresh mushrooms. Add a little flour to thicken then the last 10 min or so add sour cream to desired color and creaminess-you can ajust the amount or whether you use lo fat fat free or regular. Delicious over noodles!
Reply
Was this helpful?
Helpful?
Yes
Read More Answers...
When making Sunday roast, buy one large enough to make roast beef sandwiches with the leftovers. On another night make roast beef soup with leftover vegetables. Have it all the same week or freeze and save it for another time.
By Cathy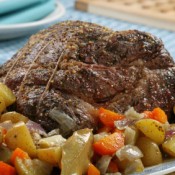 I buy roast on sale and then cook it New England style, for one meal. The next day I make soup, chili or enchiladas for the next day or freezer. It gives us lunches and dinners for nearly a week that way. (Not all in one week however.)

By Nicole
An idea for a leftover pot roast is one that my grandmother, mother, and now I use: Cut up or shred some of the beef and save it for the next day along with some potatoes and carrots (as little or as much as you like). Grandma calls it "hash".

Cut 2 slices of bread into small squares, melt a little margarine in a large skillet. Lightly brown the bread, add the beef, cut up potatoes, and carrots, and anything else you'd like to throw in. While this is heating through, beat 2 eggs in a bowl then add it to the skillet. Cook 'til the eggs are done. It may not sound great, but it sure is delicious. Stretch the recipe a bit with some throw-in ideas: green beans, corn, peppers, onions. Enjoy!

By Lori
Comment
Was this helpful?
Helpful?
Yes
I need some really good recipes for leftover pork roast. Thanks.
Amy
---
Recipes for Leftover Pork Roast
I'd make Pork BBQ for sandwiches. Pull the meat apart, toss in a pan, pour in your favorite BBQ sauce, heat and serve on buns. Quick and simple family pleasing dinner.

Marla
(03/13/2005)

Recipes for Leftover Pork Roast
Pork and Rice:
Chop up leftover roast pork or pork chops. Heat up in a pan with a little oil, water, and soy sauce. Cook rice and serve the pork on top. Add vegetables to it if you like that. Tastes wonderful and is very simply done.
(03/13/2005)

By Anonymous
Recipes for Leftover Pork Roast
Cut up the left over pork roast. Cook some diced potatoes and carrots, and a can of green beans.
Mix together with some left over gravy. Put in a casserole dish with biscuits on top. Bake until biscuits are done this is very good dish. Bake at 350 degrees. (03/14/2005)
Recipes for Leftover Pork Roast
Shred it up and make enchiladas, tacos, burritos, or taco salad. (03/16/2005)

By badwater
Comment
Was this helpful?
Helpful?
Yes