Armpit odor is not only embarrassing, but may be difficult to get under control. This is a guide about remedies for armpit odor.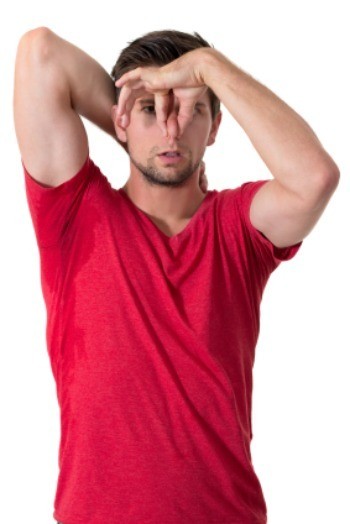 Filter

: All Articles
Sort

: Relevance
My underarms always smell a little bit bad after showering, no matter what I've used. I've used so many different showering gels, cloths, and sponges. None work. The smell isn't terrible, but it's never fully clean. I'm also on quite a tight budget. :/ Please help.
By Terri M.
February 27, 2014
0

found this helpful
Best Answer
I had the same problem so solved the problem. I exfoliated underarms with a paste made of baking soda and cornmeal, no more odor. We have dead skin under armpits. It works, try it
March 7, 2014
0

found this helpful
Best Answer
I found out from the People's Pharmacy website that baby diaper cream works best. I have been using it about twice a week after my shower instead of ANY deodorant for about six months and it really works. I use Boudreaux's Butt Paste brand that has a slight balsam smell, but you can shop around.
Read More Answers...
Well everyday I go to school by walking, but I sweat even before getting to school. Sometimes I feel like going back home and showering but it's too late.
Many people talk about me and they say I never shower. I don't understand even when I'm showering routinely it happens. Why do my armpits smell so bad when I'm playing, but others don't smell. What can I do? And why me only?
April 27, 2016
0

found this helpful
Do you have excessive perspiration? This can also be a problem, as well as smelliness. My son had this problem, and used a product called "Drysol" (I think that was the name -- I hope it was! We found the name by googling on the net, and then discussed this with our druggist, who had the product on the shelves.) This worked well for him. As well, he used Mitchem antiperspirant, as that was the most effective brand. I would also suggest wearing clothes made from cotton, as polyester shirts are more prone to smelliness than cotton ones. You could try these things first, as they are pretty low cost, and don't require a doctor's visit. However, if the perspiration is not excessive, Drysol is not for you; it is not for just odor.
June 17, 2016
0

found this helpful
Why do my daughter's armpits smell so bad no matter what we use; So if you can I need the best solution.. Thanks
Read More Answers...
I have tried everything from lime to baking soda to milk of magnesia. I try to remove all the bacteria as much as possible with methylated spirit. I use a men's deodorant now and nothing seems to be working. I am a teenager. It is very embarrassing because I am a leader in many groups and a lot of people talk bad about me. Please help.
By Camun D
April 21, 2015
0

found this helpful
Best Answer
You should take 1 chllorophyll tablet twice a day , Also wipe underarms with lemon juice[can use the stuff that comes in the bottle] - rinse and dry.then put deodorant on , You will still sweat but you won't have a bad odor , make sure you are not allergic to grass [chlorophyll] or green plants before you take the chlorophll , was with a good deodorant soap or a peppermint soap . . should help
April 23, 2015
0

found this helpful
Mom of 4 boys .. The ONLY thing that worked for them and various friends that spent the night is Fels Naptha. LOL I have had more than one mom call me and ask what the heck got rid of the boy stink. Boys tend to have almost an oily sweat and it just absorbs into the skin or something.
It's old fashioned laundry soap, like Nana would have made. It's yellow long bar and in the laundry aisle in the grocery store.
Open the wrapper and let it air out. Then wash using it like regular soap.
It's been used in my home for over 35 years. Also works on old lady/man smell. Things that did not work or work well - Dawn, shampoos, alcohol scrubs, vinegar afterwards.
Read More Answers...
I am a 15 year old and I have really bad body odor. I sweat a lot which does not help at all. It's usually when I sweat that the odor starts and people are reporting me to the health aid and making fun of me before class starts. It's really upsetting me so much that I never want to be in class because I am so embarrassed. It mainly only happens at school, when I get home the sweating stops and so does the body odor so I am really confused. I don't know what to do. I don't know how much more I can take the teasing. It hurts so much and I am always embarrassed to be around other people at school because I don't want to be made fun of. Someone please help me I don't know what to do.
February 9, 2016
0

found this helpful
Definitely start with your doctor
June 26, 2016
0

found this helpful
I learned in my anatomy class in college that stress sweat is smellier than "regular" sweat. It seems to me that you might be super stressed throughly school and it's causing you to have major BO. Unfortunaltely I don't know any remedies I can suggest you try... I'm actually looking for something too lol
Read More Answers...
Hand sanitizer worked like a charm for me when I developed a sudden, strong underarm odor that no amount of bathing, traditional remedy, nor deodorant would control. Four physicians dismissed the problem as normal, even though I'm a middle aged woman who has never had a body odor and have never had to use deodorant.
After many months of this embarrassing problem, I got the idea to try hand sanitizer. Not only did the sanitizer stop the odor immediately, after a week's use the odor has not returned. I'm assuming the cause was bacterial and that the sanitizer killed whatever bacteria was lurking there. At any rate, it's a cheap, safe solution to try.
Since my first child I've had the problem of arm pit odor. I'm thinking it has something to do with my hormone levels changing, but haven't had it checked yet. What have you tried, I've tried practically all the brands of deodorants including some men's brands, crystals, alcohol, and apple cider vinegar to no avail. irislynn777
May 7, 2013
0

found this helpful
If you have odor problems, you should really try Lavilin. It is an unbelievable product that can eliminate odors for 1 week! In extreme cases, several applications per week should be more than sufficient. I have been a happy customer for 10 years!
April 16, 2015
0

found this helpful
More than 30 years ago, I contracted a staph infection in my left arm pit. After that, I couldn't tolerate any deodorant/antiperspirants with aluminum without getting a terrible arm pit rash. I was left with stinky pits all the time and tried every cure out there. Eventually, I read on line about using milk of magnesia. This has been the best treatment I've ever found for smelly arm pits!
I buy the generic brand, shake the bottle and apply daily anywhere on my body that I think might smell and offend other people, especially in the summer months. I've read it kills the bacteria that cause odor, so I smell good all the time now. The best thing is the low, low cost of this treatment. I never have the rash any more which was extremely uncomfortable and embarrassing. I take a small container on trips.
Read More Answers...
I am in college now, but still I can't cure my underarm problem. It's not the sweat, it's the smell. I've tried everything, but none of it worked. Some students was making fun of me and that's not really good. It's bringing down my confidence and I don't know what to do. I'm so hopeless for now, I feel so down. I don't wanna be the same girl anymore. I wanna express myself, but I can't because this thing keeps holding me back. I'm so tired of being teased. What should I do?
By Mikaela
June 18, 2013
0

found this helpful
Buy Mitchum deodorant and go to your doctor about this problem as they can give you something to take that will help you I believe. My sweat glands [like yours] where also going over board and my doctor told me about Mitchum deoderant. It worked for me and I pray for your sake that it will work for you too. Keep us [your on line family] informed on what happens to you ok?
December 15, 2013
0

found this helpful
Maybe too much info but here it goes. In my personal experience deodorant just made things worst! I smelled like funk and flowers! :( I have given up the deodorant for good and only use baby powder to keep me dry a little longer. What I do now is I carry spare t-shirts in my purse at all times. I usually wash my underarms 2-3 times a day and change my shirt about 2-3 day & shower every night. I personally would love to go see a MD but I have no insurance or money so this is my remedy, I hope it helped in some way. Just know you aren't the only one struggling with this! I hope you find a solution! Best of luck!
Read More Answers...
I am 25 years old male and have seriously excessive foul smelling sweating, just from my underarms. I have tried several antiperspirants, however none seem to help. The sweating is not throughout the day, but usually random 10-15 minutes sweat bursts from specifically the underarms. No deodorant or perfume has been able to mask the smell.
I have tried everything from changing several shirts during the daytime, to daily showering using anti bacterial soaps. Nothing seems to work and this can be really terrible if occurs during a meeting or at my workspace. Wondering if someone is facing similar problems. Thanks
By Dimitry
November 30, 2014
0

found this helpful
There are over the counter "super strength" antiperspirants that you can get. My son as a teenager had a perspiration problem. Go to your local drugstore and ask the pharmacist what they have. I have forgotten what the name of the product was, but it worked well. You could do a general google search for this topic as well, and that might give you the name of several products. The best (in terms of being strong) regular antiperspirant is Mitchum (I don't believe I've spelled this correctly), but this other product is for people with excessive sweating.
November 30, 2014
0

found this helpful
Botox is often used for this. I don't know how expensive it is.
Read More Answers...
I was using Rexona soap for 3 months. After that I developed an odor coming from my armpits. I even remove the hair from my armpits, but it does not help. It is very noticeable even in winter. I tried Lifebuoy and Dove soap, but there is no change. Can anyone please give me solution?
By Mani from Ap
February 4, 2013
0

found this helpful
Dr. A. Weil recomends that you use rubbing alcohol as a deodorant. It will kill the organism that causes the odor. I put the alcohol in a spray bottle, and use it that way.
December 13, 2013
0

found this helpful
Try using milk of magnesia, it works for me after the long search! Hope it will work for you too!
Read More Answers...
I've never had smelly armpits. I do sweat, but it was always the salty-like smell; never a bad smell. About a month ago i noticed the change in odor. I thought it was this new perfume my roommate got for me which I stopped using immediately. Nothing changed. No deodorant helps, makes it instead worse.
I increased my number of showers from twice daily to three or four. Nothing changed. Am I sick? I really need help.
By Relinda
February 25, 2015
0

found this helpful
Armpit odor is caused by a bacteria, usually it is transfered from another person if you borrowed their shirts, or if they used your deodorant. I don't think it ever goes away, never let your children wear clothes from someone else, that is how it starts.
February 25, 2015
0

found this helpful
Try a gel hand sanitizer under your arms. Works for me. Many things can affect underarm odor. Stress, age, hormones, what you are eating and drinking. Think about what changed in your life before this began. Good luck.
Read More Answers...
It's a bit long winded so please bare with me on this. I shower every morning before work around 6am. I always use deodorant and aftershave. For a good few hours or so I smell great and feel fresh.
The office where I work doesn't have air conditioning and I find that by mid morning (say 10am) I start to develop an underarm odor. It's not terrible, you can just about make out the smell of my shower gel, but it just smells a bit off.
I also wear white t-shirts underneath my work shirts really just to prevent any embarrassing sweat stains appearing on my shirts. I've wondered whether this off smell might be coming from the t-shirts which in turn affects the smell from under my arms.
It's started to make me paranoid at work as I have overheard people talking about me in the office. It makes me feel useless because I'm aware of the slightly off smell.
Is there anything I can do to stop this slightly off odor I develop whilst at work? Any help would be really appreciated.
By JakeP
October 22, 2014
0

found this helpful
The best thing I've found for underarm odor is Milk of Magnesia. Buy the generic kind and put some in a small bottle with a twist cap or a small jar with a screw-on lid. After bathing, put a small amount on your finger and rub it on your arm pit. It works all day for me. I am super sensitive to deodorants with aluminum salts, but this works wonders! This can be used anywhere on your body for odor control.
October 27, 2014
0

found this helpful
I find that if one wears natural fibres -- ie, cotton , rather than polyester or a poly/cotton blend, you will find that your clothes smell less. Just about everyone who wears polyester shirts or blouses will have smelly armpits by the end of the workday. Switch to cotton, and you will have less of a problem. If you wear a cotton undershirt, I believe you will have fewer odor problems, even if your dress shirts are part polyester, which is preferable, because they don't require ironing!! You should also consider changing brands of antiperspirant, and being sure that you have the fragrance free kind, as the perfumes in some brands are smelly in combination with personal chemistry.
Read More Answers...
I have a strange odor emanating from my body. It's not a "BO" odor, and there doesn't seem to be any rhyme or reason for when it starts. At first I thought it was some medication I was taking and which I stopped taking, but the odor continues.