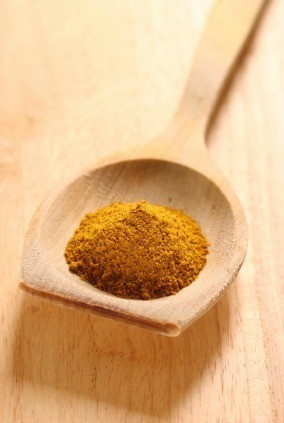 Curry stains can be difficult to remove from clothing and other fabrics. This is a guide about removing curry stains.
Ad
---
Questions
Here are questions related to Removing Curry Stains.
How do I remove curry stains? The curry stain is on a jacket.
By Lyn
Ad
---
---
Most Recent Answer

By Frugal Sunnie [11]01/24/2012
It depends on the fabric the jacket is made of.

I've been lucky that the drips I've had to cope with were sorted by my pouring straight washing up liquid (dishwashing liquid) on the stain, leaving it overnight and then washing it in the hottest possible water the fabric was labelled as able to withstand.

I just saved an acrylic jersey that way, the spot was about the size of a 20p (or just a bit smaller than a $.25USD) coin, and was so yellow-orange on that ivory coloured jersey!

I washed it the next day, air dried the jersey, and the spot was completely gone. I don't know if drying the garment in a tumble dryer would make a difference, you might want to consider air drying anything that's had curry, saffron, butter, and similar spots successfully cleaned out. It's possible the heat of the dryer would cause any residue you can't see after washing to set and be prominent.
I have curry sauce spilled on my carpet and can't remove it. Any ideas on home remedies?

Sharon from Airdrie, Scotland
Ad
---
---
Most Recent Answer

By Erica (Guest Post)09/21/2007
Oxy Clean! I had a major spill all over my work pants and work's carpet. It works wonders!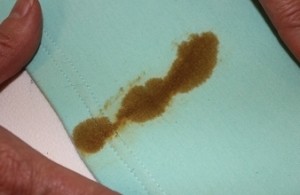 I got a curry stain on my blue capris. How do I get it out?
By Serena M
---
Most Recent Answer

By Lewissan [39]07/02/2014
First, don't dry the shirt until the stain is removed. Start by running water through the stain to remove as much of the excess curry as possible. Then apply a stain remover like Resolve or something similar. Spray it until saturates the entire stain. Then use a toothbrush to work the stain remover into the stain a bit. Wash the shirt with a load of laundry on a long setting. Check the shirt before drying, if there is a still a faint stain there, repeat the steps above.
I need to remove a curry stain off of a new white/black patterned blouse.
By Hilary bull from Tipton, England
---
Most Recent Answer

By pam munro [523]11/09/2010
Turneric/curry powder are really hard to get out of clothing! You will have to try to bleach the spot out - if it goes onto the black part of the check, maybe you can restore the black after you bleach it. Hydrogen peroxide is a good mild bleach & you can make it stronger by ironing the spot made wet with the peroxide. This may take several applications.
Good luck.
How can I get a curry stain out of jeans? I have tried stain remover; it didn't work.
By Sharron from England
---
Most Recent Answer

By PENNY K [15]08/28/2010
Well, sorry to hear that. A main ingredient in curry is
turmeric, which is a lovely yellow natural dye. Regular peroxide in water that's near simmer bleaches a lot of stuff, but it might also bleach the other part of the jean that's in the water. Perhaps you could test an old square of denim by staining it with curry and then try to remove it. If that works put couple of inches in crock pot, bring to near simmer, throw in 8 oz peroxide/brown bottle, 3 percent, let reheat for a minute, and dip in part of jean with stain.
How do I remove a curry stain from laminated or Pergo type flooring?
By Cathy from Henrico, VA
Solutions: Removing Curry Stains
Do you have knowledge about this guide topic? Feel free to share a solution!
Archives
Thrifty Fun has been around so long that many of our pages have been reset several times. Archives are older versions of the page and the feedback that was provided then.
Ever had your clothes stained by curry or turmeric and find it impossible to get out? It's actually quite simple, set your stained clothes outside in the sun. It will naturally bleach out the stain and this way you don't have to use detergents to get it out. :)
By abrupt_silence from Seattle, WA
---
RE: Removing Curry and Tumeric Stains From Clothing
This removes just about anything! But mustard (turmeric) is about the worst. I saved an eyelet jacket (white) and a favorite ivory sweater with coffee and spaghetti stains with the sun. (06/24/2010)
By italianswede