Removing Iron Burn Marks on Clothing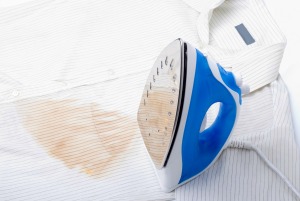 A too hot iron can leave scorch marks on clothing. This is a guide about
removing iron burn marks on clothing
.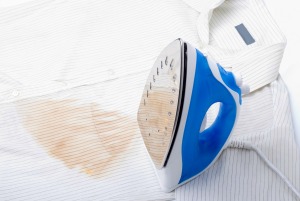 Questions
Ask a QuestionHere are the questions asked by community members. Read on to see the answers provided by the ThriftyFun community or ask a new question.
My friend left her hot straightener on my denim jeans and it left a mark, is there anyway I can remove the mark?
March 16, 2017
0

found this helpful
From howtocleanstuff.net
Steps to Remove the Marks:
If the scorch mark is fresh, soak it immediately in cold water for at least 24 hours. ...
Wet the scorch mark with hydrogen peroxide. ...
Wet the clean white cloth with peroxide, then place it over the scorched fabric.
Iron lightly.
March 16, 2017
0

found this helpful
I never had this happen to me. If it did, I would personally distress the jeans.
This article should can help:
March 17, 2017
0

found this helpful
is it a scorch mark or did it actually burn (blacken)m the fabric? Can you redye the jeans?
March 18, 2017
0

found this helpful
You can try placing your jeans in a very sunny area and just keep wetting them. The sun does a very good job of drawing out this sort of mark. You may have to leave them out for several days - the dew will wet them and that helps also. Wet the whole pair of jeans, not just the mark.
I have used an iron which was too hot on a black and cream dress. The black from the dress has gone onto the cream and it will not come off. Is there anything I can use to remove the marks please?
February 21, 2017
0

found this helpful
Here is some advice from this website:https://www.ref s-e9400bcae37d6a
It's hard to know if it will work because the mark isn't fresh and you didn't say what material your dress was made of.
Related Content
(article continues below)
February 22, 2017
0

found this helpful
As Judy said, you haven't specified the material or if the stain has been set for a while.
One of your options is to buy fabric paint, another (if you're good at sewing) is to replace the cream portion (with any colour you like).
February 23, 2017
0

found this helpful
The type of material means a lot in a question like this but I do not think you are describing scorch marks (?).
I would recommend you take this dress to a reliable dry cleaners and ask if there is anyway to remove this mark.
February 27, 2017
0

found this helpful
if you have actually managed to terminally scorch your dress, especially if you have a more synthetic fabric, there's not much you can do, unfortunately. But a dry cleaner and other fabric expert can provide ideas on what to do.
Read More Answers
How do I get an iron print out of knit pants from using too hot of an iron?
By Virginia May from Hot Springs, VA
April 18, 2011
0

found this helpful
I am so sorry but you can't :-( Is the burn mark on a portion where you might be able to dress it up with a cute patch or some embroidery? Or lower on the leg where you can turn the slacks in to a pair of shorts or a pair of capris?
April 19, 2011
0

found this helpful
You will have burned and melted the fibers. This is not something that you can fix, except to cover it up. You could check in the archives here on Thriftyfun, as some maintain they can get a scorch mark out if it isn't very bad. I wouldn't get my hopes up, unfortunately.
I was wondering if anyone knows how to repair a polyester disco shirt? I slightly scorch it using an iron. I know that I should have not have done so. Or maybe the iron was hot. Anyways I "totally love" the shirt and paid a lot for the shirt, it's vintage and as you all know it's one of a kind. I know it's almost impossible for me to get another. It now has a medium hole in the lower area of the shirt.
How can I remove an iron impression from a nylon blend fabric?
Is there a way to remove a burn from the iron from a white dress shirt?

Tina from Bristol, CT
June 13, 2008
0

found this helpful
If it's a "scorch" mark from an iron that was too hot & didn't really penetrate the fabric, you can bleach it out using hydrogen peroxide and a press cloth! It's a gentle bleaching process that can be repeated until the stain is removed.
By guest (Guest Post)
Flag
June 14, 2008
0

found this helpful
Try hanging the shirt in the sun for a day. Good Luck!
December 28, 2016
0

found this helpful
The burn is on a black pair of pants that is 95% polyester and 5% spandex. Just want to be clear abouth the bleaching with hydrogen peroxide.
I tried to iron nylon today and it turned red. Is there anyway to fix the scorch marks?
By Ag
How do I repair a scorched spot on a nylon shirt?
By CM
September 6, 2011
0

found this helpful
Well depending where it is and/or how big it is-you could embellish it with a pin or button design or patchwork & embroidery with lace, buttons, sequins,etc. Or store bought patches: flowers, butterfly's, birds, etc. I don't know how to get rid of it or even if you can. I've saved a few things with this method from holes, and pulls in fabric & stains.
My solution is to cover them up. If it is in a strange spot like in the middle, put a scattered pattern on it (1 here,1 there) to make it even & balanced & no one will know. You will most likely end up with something you really like, & it's a chance to be creative. If you don't want to do this you can try "Ask Helowise " (I think at : Good Housekeeping.com or Ladies Home Journal.com). I hope this helps. : )
I burnt a black cotton dress with a too hot iron, can I fix it? Help!

Maureen from Harrison, NJ
February 12, 2008
0

found this helpful
You didn't mention where the burn mark was. Maybe you can purchase a decorative patch in the sewing dept. of a store and sew it on the burn mark giving the dress a new look.
October 28, 2009
0

found this helpful
Put an iron on patch on it from fabric store, good luck.
An iron was put on a wool sweater and left a mark which has the wool flat and is slightly noticeable. Could anyone advise if ther is anything I could do to get the wool back to normal.

Betty Halifax
May 18, 2005
1

found this helpful
Hello Betty,
It's quite unlikely to totally restore iron marks on wool but if there was any scorch on the wool, use an emery board to gently rub it away.
Also, if it's a bit flat- try cutting a potato in half and leaving one half on the mark overnight. Next morning remove it and try to buff up the pile.
If this doesn't work, there isn't much else you can do i'm afraid, but i hope i am proven wrong!
Best of luck.
Monique x
October 14, 2016
0

found this helpful
Monique your tip of removing light scorch mark on woolen jumper worked so well actually i used a glass emery board so no mess either !!!
In This Guide
Categories
Guides
More
Categories
© 1997-2017 by Cumuli, Inc. All Rights Reserved. Published by
ThriftyFun
.
Page
generated on March 21, 2017 at 7:22:48 AM on 10.0.2.167 in 3 seconds. Use of this web site constitutes acceptance of ThriftyFun's
Disclaimer
and
Privacy Policy
. If you have any problems or suggestions feel free to
Contact Us
.