Removing Pet Urine Stains from Hardwood Floors
When you have pets accidents happen, even on your beautiful hardwood flooring. This is a guide about removing pet urine stains from hardwood floors.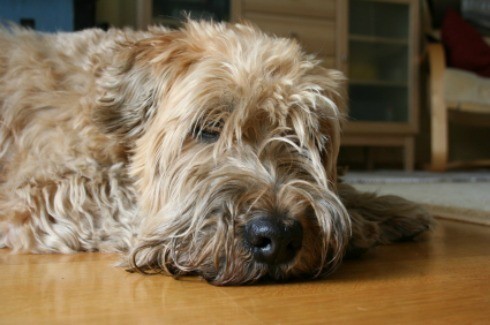 Filter

: All Articles
Sort

: Relevance
My 14 year old Schnoodle who has always been well trained to use the bathroom outside started peeing and pooping on a small rug (27 x 45) in our living room. There are also stains on the hardwood floor. I tried removing the smell from the rug, but he keeps going back to it. I'm thinking of throwing the rug out, but the floor doesn't look good with the stains on it and I can't get the stains out. Please help and give me your ideas. Thanks.
September 2, 2016
0

found this helpful
I Used TIDE powder laundry soap and mixed liquid bleach in. Than I used a 1 gallon yard sprayer and sprayed it on my floors than scrubbed it with a brush and it removed 95% of the stain and all the odor is gone
September 22, 2016
0

found this helpful
Black stain from dog urine on hardwood floor.
I have two Dachshunds that have made it their business to ruin me. I don't have the money to replace these parquet tiles and knowing the maintenance of my building they will charge me three times what it's really worth. How can you clean up and get out dog urine stains and odors from this type of flooring. I'm desperate! Please someone help!
By Jbgnyc
May 12, 2016
1

found this helpful
Hi joy, I too have tried so many tricks including vinegar water mixture to remove the dog urine stains and odor from the hardwood floor of our 30 year old home. Finally it was my husband who bought me a Hoover FloorMate Cleaner 64oz from the nearby shop here in Canada. It really worked well. You too may try once.
July 15, 2016
0

found this helpful
What chemical did use in the Hoover? I have one and want to try it.
The best idea for soaking pet urine from the cracks in the wooden floor is to sprinkle baking soda on the boards where needed. Leave it for an hour or two and you will actually see the urine sucked up like a straw. You must repeat this a few times.
By Susan
I just pulled out the carpeting and padding from our rental house bedrooms and living room and I have tons of large urine spots on the hardwood floor. I'm sick about it. Please help. i don't have any idea where to start.
Looking forward to your reply.
Thanks.
By Mary Ann F.
February 29, 2016
0

found this helpful
use hydrogen peroxide spray the area let dry then spray again it removes the dark areas on your hardwood floors
August 5, 2016
0

found this helpful
What type of finish is good on old style wood floors after I removed carpet and fixing urine stains??
I'm getting a new puppy and have all hardwood. It is an old house so the hardwood is real wood not the new laminate they have. Will urine cause any stains on the floor? Even if I should get it up quickly? I can't potty train her for another month because she is only 2 months old. Thanks.
By Cindy
July 29, 2009
0

found this helpful
I just wanted to thank everyone for their imput on urine staining hardwood floors. I've had my puppy since the 27th. Today is the 29th and I've already succeeded in her pottying on these puppy pads. She is doing pretty good considering it has only been 3 days. I'm going to eventually put one in a cat litter box without the cat liter and hopefully she will by then know that is where she is to go. I purchased a bell from this company where you can use their paw to pat the bell, then take them outside so they can associate and eventually do it without having to coax them. She is only 1 1/2 pounds and so little right now i just want to keep training her with the pads and then maybe if she gets big enough use the bell. She will only get to be 4 pounds. Anyway, thanks so much for all your responses.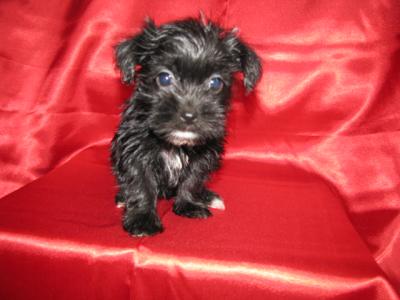 August 5, 2009
1

found this helpful
Every time that your dog goes into the yard and does the deed, immediately hand her/him a treat. This only takes four or five times. I broke two in a week with this. You can pick up underpads in the incontinence section of discount stores and place them by the door if you don't get there in time, and in a crate so you don't have to wash as much. They have them in pet stores, but the are twice the price.
I have a pool table on floorboards, but I put felt under the legs to prevent scratches. My cat has peed on it and left a big stain. Can anyone please tell me how to get the stain off? Thank you.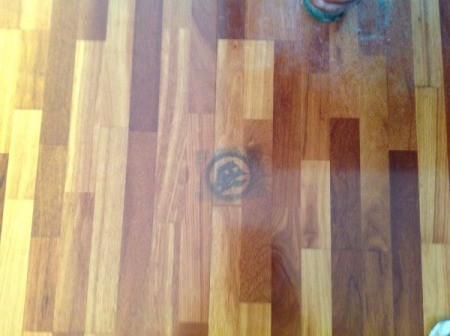 February 9, 2016
0

found this helpful
3% peroxide ,put in a spray bottle and let it set about an hour. Repeat over a few days and you should see a difference .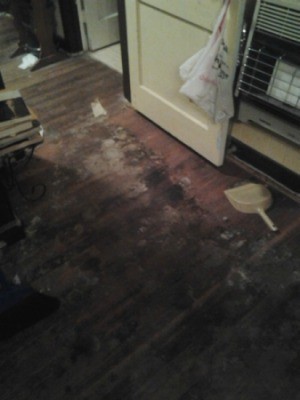 I pulled up the carpet in my living room today and I had black spots on the floor that smelt like pee. I need a solution to kill the smell take the black spots away.
By Nakita from Morehead City, NC
October 8, 2013
0

found this helpful
I had this when we bought our home too. There is a bottle of cleaning solution that you can buy at Lowes (probably home dept too) I can't remember the name of it, it comes in a black jug. It has a I skull on it and it had "40" in the name. Anyway its a very strong cleaning solution but the smell is very mild, pour it on your floors with very hot water and take a deck scrubbing brush to it as it will take the stickiness and most of the stain up. to get rid of it completely you will have to sand and refinish. your floors.
Just remember to dry your floors quickly with a towel when finished. you don't want your floors absorbing that water.
Hope this helps! Good luck.
I have a old home and am trying to do work on the floor. It has a whole lot of pet stains. I want to keep the floor. How do I get it out? Please help. No work on them has been done for 25 years.
By Anna M.J
March 13, 2015
0

found this helpful
We had a similar problem in a new to us 50 year old house that we only saw on summer days with all doors open. Upon moving in, we found that the previous owner's dog left dark stains that smelled very bad and were all over the house. There were also older stains. After many valiant tries to clean out the stains and odor using all types of cleaners, all failed as the stains and especially the odor had seeped down into the wood. We finally replaced the entire oak floor. We filed against the previous owner who eventually reimbursed the replacement costs. Good Luck!
About 2 months ago we paid a lot to have our hardwood floors refinished. Now I have a black stain on the floor from cat urine. Is there any way of getting the cat urine black stain off the wood floor without ruining the finish? Thank you for any help.
December 2, 2013
0

found this helpful
If the cat is not using the litter box, take it to the vet. It probably has a UTI. If this is an old odor attracting your cat, you must get rid of the odor. I would try Nature's Miracle enzyme cleaner. Spray liberally onto the stain. Keep it wet. At first it may smell worse, but after a few days, it should completely remove the smell and most of the stain. After initial application, wet clean cloth with Nature's Miracle and keep it over the stain. This will help keep the application from drying out. Then, if your floors are oiled instead of polyurethane, it will be an easy fix. If not, you may have to sand and redo that area. You must make sure all urine is gone first! A black light will tell you.
Related
© 1997-2016 by Cumuli, Inc. All Rights Reserved. Published by
ThriftyFun
.
Page
generated on September 24, 2016 at 6:05:11 PM on 10.0.2.170 in 5 seconds. Use of this web site constitutes acceptance of ThriftyFun's
Disclaimer
and
Privacy Policy
. If you have any problems or suggestions feel free to
Contact Us
.