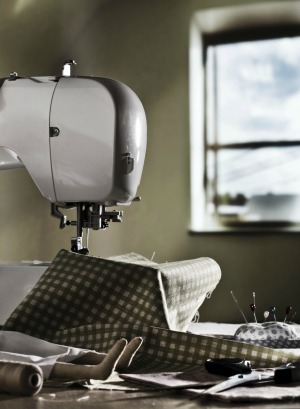 Some problems that you may experience with your sewing machine can be repaired or adjusted at home, others will need to be looked at by a repair person. This is a guide about repairing a Singer sewing machine.
Ad
---
Questions
Here are questions related to Repairing a Singer Sewing Machine.
I have a Singer Esteem II and it was sewing fine and then slowed way down as if in slow motion, then stopped. I was able to lift the foot and at that point the needle was up, so I got my project out. But the hand crank was almost impossible to move. I did get it to move a bit, but now the needle is down into the needle plate and will not move at all now. I have re-threaded the bobbin and checked the bobbin area for lint. I have checked the parts of the machine I can get to, to see if lint is the problem.
I took it to a service guy, who said he didn't see anything that looked wrong, and was confident he could oil and clean it and it would be fine, for a mere $90! Well I am a mom of 4, and only paid a $100 for the machine new. He said I should consider buying one of his machines and proceeded into his pitch.
Please, I need this thing to work. I have tried to Google Singer Esteem II hand crank froze, but I am not finding anything. I am hoping some of you crafty, intelligent sewers will have advice for this very frustrated mom.
Ad
---
---
Most Recent Answer

By Frugal Sunnie [11]05/15/2015
After 50 years in the US, I now live in Scotland where I teach total newbies sewing - they frequently bring me vintage machines like yours for refurb-repair. It sounds to me as though you had a very unfortunate experience with a repair tech who should have known immediately the problem is a worn-broken bobbin gear. He acted unethically by not telling you that and instead saying he couldn't find a problem but for $90USD would clean and oil your machine (usually costs around $35-50USD - however, the proper repair, parts and labour plus the servicing would cost you right at $100USD if you'd found an honest repair tech).

Adding to the unethical bit is that he didn't explain to you why he and I and many other repair techs try to steer vintage machine owners to new under warranty machines - here's the reason.

Vintage machines (and yours is) of any make are wonders, gracious beauties that clothed our grans, mums, and children from cradle to wedding, and made our homes more cosy and gracious (oh, the number of tablecloths and napkins I blind hemmed growing up!).

But they were built (from about the mid-late 60s) with more and more and more plastic and silicone parts, and those parts DO dry out and break, dry out and crumble, and dry out and fail. Later rather than sooner those parts do fail even though those machines were built (usually) to last, and when those parts fail it's been harder and harder for repair techs to find 'new-milled' parts - we're stuck using 'salvage parts' with sketchy previous owner histories (meaning we've no real clue what conditions that part laboured under on the machine we/the parts seller salvaged them from). So we can't guarantee the longevity of those parts even if/when we can find them.

A reputable repair tech would have explained this to you, and a reputable tech would have told you it's 99.9% surely the bobbin gear (because trust me, it usually is with the symptoms you describe). And then he/she (I'm a pushing-60yo woman:) would have tried...

To steer you to a new modern under warranty machine for several years of trouble free sewing. Especially because your beautiful (and should be retired) vintage Singer has reached the point of becoming a money pit - once the bobbin gear goes, the machine goes on to have several other parts fail, usually within a year of the bobbin gear 'dying'.

I'm so sorry you had the experience you did because it makes it harder for those of us who are more, em, caring towards our students/repair customers - we're so in love with sewing and our machines we'll go on for pages and hours explaining or trying to help sewers resolve a problem. If money is a factor we'll try to get you sewing by 'duct tape and bubble-gum' or find you a little newer vintage (read inexpensive but working) machine until you can afford a new modern.

The guy you talked to just wanted to get the hours in for his paycheque or get your machine in his workshop to 'clean' (then tell you, 'Oops, it's dead, I'll give you $10 for it' so he could use it for salvage parts), or BONUS (for him): get you to buy one of the machines he's flogging. Not. Cool.

I wish I could give you better news, but I hope at least I've helped you understand that even an ethical repair tech would have charged what seems a large sum - although that price should have included a 'new' bobbin gear, the labour to switch it out, and his/her version of what I'm saying in this reply - and encouraged you to buy a new modern instead of beginning the slide into MoneyPitVille.

If you decide to avoid money pits and can swing the cost of a new modern with warranty, user guide, and good features you won't outgrow any time soon, I would recommend a top drop-in bobbin Singer (currently around $99-$150 depending on model and store you shop, and if you have the $150 or so I highly recommend the Talent 3323 (one-step buttonhole) or the slightly less expensive Talent 3321 (4-step buttonhole). Janome also make a couple models of 'basic' sewing machines at roughly the same cost.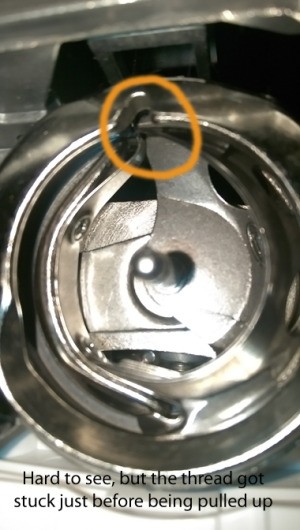 I just bought a new Singer Simple 3229 as my first sewing machine. The thread would jam in the bobbin area very frequently, making it virtually unusable (due to frustration and having to re-sew the area over and over). So, I opened my machine up to see what was happening. I followed the procedure to pull the bobbin thread up, and noticed that the top thread gets caught slightly on the front above the bobbin. Also, the same thread gets caught at the very end just before it would pull the bobbin thread up with it. Is there any way to fix this? I am getting pretty frustrated with it.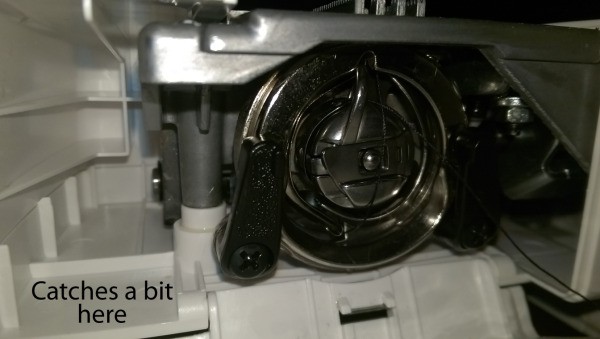 By Jason
Ad
---
---
Most Recent Answer

By Frugal Sunnie [11]01/15/2015
May I just add that if you do go for a return-refund, and are looking for a good entry level Singer you won't outgrow too soon, the Talent 3321 is a good one to look at - lots of nice stitches, handles most fabrics well (two layers of medium weight denim but no more than that), and best of all - features the jam proof 'top drop-in' bobbin style. The user guide leaves a lot to be desired for beginners but the Simplicity or Singer sewing step-by-step books are really helpful for sewers of all levels.

Also a good first machines are the simple Janome top drop-ins, again, the user guide is not the greatest.

Don't give up. Sewing is beyond fab for creative outlets and money saving.
I have a Singer Merritt, model 4552. It was sewing fine last week. Everything is in place, but it won't stitch at all. I don't know what to do and I have to get this skirt made now. I guess I will have to do it by hand then.
---
Most Recent Answer

By Frugal Sunnie [11]04/27/2015
Hoping by now (I'm posting this reply on the 27th of April) you've been able to finish your garment, and have taken your vintage machine to a reliable repair tech - your machine probably has a worn or broken part. Other reasons for your described issue include thread fluff and lint in spots you can't see or reach, broken wires in the connection point for the foot or knee control, and a few other things.

The best person to figure all this out and do the repairs is a sewing machine repair tech - he/she will have the knowledge and tools for the work.

The only thing wrong with electric vintage sewing machines is that the parts do wear out - Singer began using plastics including silicone to form gear teeth (on the bobbin gear for example) and those do wear out eventually. There are other parts on a vintage machine that wear out as well - some vintage Singers as recently as the late 70s - early 80s were using belts inside and those wear out after several years.

Hope your machine is back up and running for you soon!
I bought a brand new Singer Patchwork. I brought it home and got it out of the box, set it up, and read the manual. Then I grabbed my quilting scraps. I'm ready to test it out, but when I do I notice it sews the stitches on the bottom side of the work rather than the topside. So I rethread and try again, same thing. I run through every notch of tension, same thing. I re-read the manual and there isn't anything indicating that this machine should do this regularly. So are there any other suggestions for this brand new Patchwork machine? I would love more than anything to be able to start using it for quilting =), but am needing to know if the pattern from stitches is going to be on top or bottom. It is pretty important. Thanks in advance if there is help out there.
By Shannon C.
---
Most Recent Answer

By Dinah Ackerson [2]03/18/2015
Suggest you contact the store where purchased or the manufacturer's customer help site for assistance.
The hand wheel of my Singer 7465 sewing machine popped right off and flew across the room. Will I be able to get it back on myself? It looks like it's a bit tricky. Thanks.
By Georgie
---
Most Recent Answer

By Frugal Sunnie [11]03/18/2015
Oh yikes! Yes, this is tricky and not a job for the home sewing machine user without training. There are two or three parts to the hand wheel (depends on model year) and aside from the wheel these are very small parts you may not have noticed when the hand wheel flew off.

Too, for the hand wheel to have come off and flown across room there had to have been considerable force from inside the machine, indication a very serious part(s) failure.

Gather up everything you can find from the hand wheel explosion and take it all including the machine to a qualified Singer repair tech - look through your local telephone directory or online search results (using a search term that includes your locale and Singer sewing machine repair); be sure to check only the adverts clearly stating 'qualified' or 'factory authorised', and to telephone or visit to get an estimate that includes a servicing (oiling and cleaning plus a complete check over in addition to repairing the hand wheel crisis).

Please believe me that this is not a job for the home sewer without training. I do vintage repairs here in Scotland for my sewing students, and can promise you there is so much 'tricky' to repairing a sewing machine it's not worth risking the machine to try a home repair.
My Singer 237 runs "fast" only. What is the least costly, but effective, way to solve this problem? It works fine other than the non variable speed.
The power cord looks to be plugged in to the machine, but cannot be pulled out.
By jmjtucker
---
Most Recent Answer

By Frugal Sunnie [11]02/15/2015
Do not try to use this machine! You have a very serious electrical problem - the connections have short-circuited and burnt to the point of fusing the connection to the inside of the machine.

Take your machine to a qualified Singer repair tech, or replace the machine completely - this machine is dangerous and a fire waiting to happen!
We purchased a vintage Singer 201. This cute little machine with the potted motor was Singer's darling at one time. Our machine motor runs just fine, when disingaged from the head. You can manually turn the wheel with difficulty. The machine will run efficiently if you turn it over on its side! As soon as my husband tips it back up, it starts to slow then stops like it's catching. Any ideas? I have taken it apart carefully and I can't find a thing wrong with it. Thanks.
By MAW
---
Most Recent Answer

By Dinah Ackerson [2]01/17/2015
Well, you could take the machine to a repair shop? With rather old machines, there could be many possibilities and who knows what the last owner and repair shop did to "fix" the machine.
On a Singer sewing machine 179502, there is a rattle coming from rocker arm that drives the hook assembly. The noise is where the rocker arm connects to the drive shaft from the motor. There is about 1/64" play. Should there be a bushing there to take up slack?
By Bob J.
---
Most Recent Answer

By Frugal Sunnie [11]01/06/2015
Can you post a photo of the machine, and another of the area where you think the bushing should be?

This isn't a model I'm familiar with but I know most antique and vintage Singer machines didn't have a bushing near the hook assembly. Is this an industrial machine?

I have a link for a service manual free download for 66 and 99 treadle and hand crank machines I can post for you if that will help you - post me a message (click on my screenname to access the message system) and I'll get the link posted.