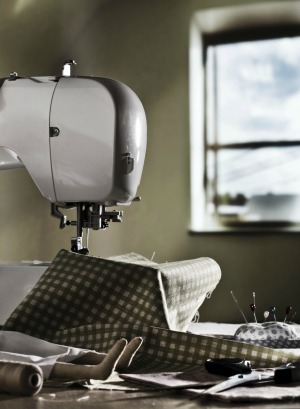 Some problems that you may experience with your sewing machine can be repaired or adjusted at home, others will need to be looked at by a repair person. This is a guide about repairing a Singer sewing machine.
Questions
Here are questions related to Repairing a Singer Sewing Machine.
My old Singer 6268 machine died. Does anyone know if the problem is the motherboard and if so, where can I purchase a motherboard?
By Clare
I had to replace a needle in my Singer 3116 today. After properly replacing the needle, the handwheel will not turn "at all" and needle not moving as a result. I opened up my machine to clear out any dust or threads, checked the bobbin, and ran through the trouble-shooting steps in the manual. Still no luck. Now what?
By jlp
I bought a new bobbin case (verified for the correct one) for my Singer 6104. When I hold it in with my finger it sews fine, but when I put the lever over it that holds it in place it locks up.
What is the problem?
By Gloria
---
Most Recent Answer

By Frugal Sunnie [11]10/30/2014
The packaging for the new case was labelled incorrectly - take the part back to the shop along with your machine and show them it's not the right one. If you bought the case online, take pictures of the part in the machine, and email the company.

And if you ordered this directly from SingerCo, you need to let them know this part and the lot it came in with is mislabelled. They'll take care of the problem for you but it may take a few weeks - be sure to keep a note of the lot number on the incorrect part so that you can check the next one before you even open the package.

The reason it works when you press on it with your finger but not when the lever is closed is because it's the wrong one - the weight of your finger compensates for the incorrect size but when the lever is closed and the case 'seated', it doesn't really seat. A millimetre difference is enough to cause the problem you're having.

You need to find a Singer trained repair tech in a sewing centre - he/she will be able to source the correct part, and will keep at it until it's right.
My Singer sewing machine keeps on tangling up my thread.
I have tried everything. Please help!
By Grace from Jackson NJ
---
Most Recent Answer

By Frugal Sunnie [11]10/13/2014
You don't give a lot of information in your question - how old and what model is your Singer, for starters.

However, tangling thread often means one of a couple of problems:

Are you using the correct thread, needle size, and settings for your fabric?

Are your feed dogs set correctly for the fabric you're using?

Have you followed your user guide instructions for setting the tension?

Are you taking care to hold the starting threads firmly about six inches back from the starting line whilst making the first few stitches?

If none of that helps, depending on the age of your machine it may mean your bobbin gear has worn to the point where you can still pick it up with the top thread but it won't advance the threads any further. Time for a visit to a qualified repair tech!
The stitches knob is stuck, it won't turn.
By Suzy
---
Most Recent Answer

By Frugal Sunnie [11]08/25/2014
Take the machine to a sewing centre for a qualified repair tech to fix - your problem could be anything from lint build-up to a broken/worn gear, and as you don't say what model and age your machine is, only a professional with the physical machine in front of him/her can figure out the trouble.

I repair and restore Singers of all ages here in Scotland - a visit to my workshop would start at around £40 and go higher if I needed to find parts to repair your machine. You would get back a clean, serviced and repaired (if needed) fully functional sewing machine, and this is something you can expect from a good repair tech no matter what country and currency - your machine should be serviced including checking for all problems (or ones about to happen)+the original problem sorted too.
I'm looking for a replacement for the metal "arm" that holds the light on my Singer 316G. Any ideas would be appreciated. I have been looking everywhere for a bit now. Thanks.
---
Most Recent Answer

By Frugal Sunnie [11]03/17/2014
Have you tried: http://www.tandtrepair.com/

If he doesn't have the part he'll either know where it is, or that the part is simply unavailable anywhere (doubtful, I'd be shocked if he doesn't have it!).

He is extremely reliable, honest, and beyond helpful - no, lol, I'm not him nor am I related in any way - I don't even live in the same country anymore. I just know several vintage Singer sewing machine lovers in the US who couldn't manage without him:)
I have a Singer Featherweight machine that sews a beautiful stitch; however, when I depress the foot pedal, sometimes I have to turn the flywheel to get it going. Then it sews like a dream. Is this a problem with the foot pedal or something else?
By Barb from Rockford, MI
---
Most Recent Answer

By Frugal Sunnie [11]03/17/2014
Depending on the age of your particular Featherweight, it sounds like the belt OR gear inside the machine (right next to the handwheel, inside the machine) is slipping.

These belts/gears do wear over time but are easily replaced - the manual for your model will show step-by-step for where your belt is and how to replace it. Having it done professionally shouldn't be terribly expensive but if you do have a repair tech do the work, splash out a bit extra and have the machine serviced at the same time.
My friend has a Singer 1030 Creative Fashion sewing machine and the bobbin or case isn't moving at all?
By Christine
---
Most Recent Answer

By Frugal Sunnie [11]06/03/2013
I'm including a link to the owner's manual for that machine-your friend should look at page 66 for where and how to clean the bobbing housing. There is probably lint or a piece of thread caught in the area just behind the drop-in. A small paint brush or sewing machine lint brush will fit in there and knock the lint, etc, forward so that it can be removed-refer to the illustration on page 66:

http://www.singerco.com/uploads/dow ... 84202f0a5dff0eca37036c41dc3cb14f.pdf

Be patient, that manual is the slowest loading one I've seen yet on the Singer download page. And then scrolling through it is a pain too, she might want to print it out to make using it a lot easier!

If that doesn't help, then something is wrong inside the machine (usually the bobbin gear) and should be looked at by a technician who understands these vintage Singers.

If the link takes your friend to the 'download page' instead of straight to the pdf, all she has to do is read down the list until she finds her model and the free download link; if it takes her to the search page, just key in '1030' and the download page will come up.

I usually print the manuals out and put them into a three ring binder for easier use.
I have a Singer sewing machine, model 6104. I can't sew. I have changed the needle, re-threaded a thousand times, changed thread, and turned the bobbin around. I think I fixed the timing. Now the needle picks up thread and goes around bobbin, but it does not sew. Please help. This is an old simple machine, but will cost me more to repair than a possible new machine.
By sarayaker from Miami, FL
---
Most Recent Answer

By Frugal Sunnie [11]04/16/2013
Did the problem start after you think you fixed the timing? It's entirely possible that you reversed a part when putting the machine back together. Next time, take before pictures, that's always a help to me when I take apart a machine. If it makes you feel any better, reversing parts is easy to do even with before pics-ask me how I know this lol! And interestingly, I learned that on a Singer 6103, the previous model to yours.

At this point you're best off taking the machine to a professional, the repair and a 'tune-up should cost you less than $100USD. The professional will be able to look at the inside of the machine and fix the problem in a very short amount of time, plus he/she will be able check for any other problems and should have new-milled parts for your machine in his/her workshop.

In the meantime, have a look through your machine manual, there may be something in there that will help you. The link should take you to the pdf which is free to download from the Singer Company (be patient, the download takes a while):

http://www.singerco.com/uploads/download/1301_6104.pdf

The Singer 6104 (and the Singer 6103 which I love, it's the only vintage electric machine I'll fool with nowadays) is a really nice vintage machine, very reliable and hard to 'kill'. It makes an incredible straight and zig-zag stitch, just really nice look to the stitches. Usually a vintage zig-zag machine will not sew a perfectly straight line in straight stitch mode but the 6100 series machines were well known for being one of the very few machines that did manage both type of stitches.

The cost to having a professional fix and do the tune-up is well worth it, you have a really great machine that should still be able to give you years of sewing performance.

Please update when you find out what the problem was!
I took it apart for cleaning and oiling and after putting it back together I've had a series of problems and I don't know what's wrong! I think I put parts of it together wrong.
The first issue was with the knob on the end that you loosen up to wind a bobbin: normally this turns less than half a turn to loosen it which prevents the needle from moving up and down; then tightened for sew mode and movement of the needle; the first problem was that the needle didn't move when it should so my husband tightened it for me, but then the needle moved even in wind mode.
I got that fixed, and then I couldn't remember how to put together the bobbin casing that I took apart. The pic in my manual wasn't clear; I finally found one on the internet and put it all together, started sewing and my needle broke off; it hit something. I redid the assembly and now by bobbin thread won't catch. I'm not sure how to fix it now.
Any clear pics of order pieces go together in bobbin casing area? Or specific instructions on it? Thanks.
By Jewell
---
Most Recent Answer

By Frugal Sunnie [11]10/15/2012
Here's a link for a US based sewing machine genius-he offers a lot of free information, and sells service manuals for vintage sewing machines like yours (I have a 513 made here in the UK and have learned a lot from TNT!):

http://www.tandtrepair.com/index.html

Can't stress enough that when you are cleaning/repairing/refurbishing a vintage machine, especially a Singer, that before pics are a must (ask me how I learned that), and that those before pics are checked for clear 'readability' before taking the physical parts off the machine.

It sounds as though you may have inadvertently gummed up the timing on your 533, TNT should be able to steer you in the right direction though.

This site offers a little free information and a lot of 'for sale' info. I think if I still lived in the US I might consider trying something from him, though, because he seems to know his stuff from reading the free pages:

http://sewmachinerepair.com/

Finally, give this site a look, some of the links are 'dead' but others are still working and there is a ton of info on the whole site, which works from the US as well as the UK-found that out on a visit to my son last year:

http://sewing-machines.blogspot.co.uk/2008/08/singer-online-manuals.html
I have a Singer model 6268 from 1986, it sews a perfect straight stitch, but skips on all others. What could cause this?
By Lachelle from Granby, MO
---
Most Recent Answer

By Marjorie C. Woodworth [82]09/13/2010
It's well worth the money to have it repaired by an expect. The timing might have to be set. Don't attempt to fix it yourself if you don't know what you're doing.
Solutions: Repairing a Singer Sewing Machine
Do you have knowledge about this guide topic? Feel free to share a solution!