I want to glue real sand dollars to my semi gloss painted bathroom walls for a 3-D border look. What kind of glue would I use? I don't want the steam from showers to cause them to fall off.
Has anyone else tried something like this? If so, what were your results?
By Cyndie from Jefferson, GA
May 4, 2011
0

found this helpful
Best Answer
Buy a small tube of clear silicon sealant, although any color will do.
Silicon is used to assemble home aquariums BTW, if you are concerned about the quality.
May 5, 2011
0

found this helpful
Best Answer
E-6000 is the best, but she is right, it might be a bit to dry. If you want them to stay for a long time, you might consider the glue, then a small nail to keep it 'in place' till the glue dried, with a bit sticking out to pliar out once it does.
The velcro is a great idea, and is less invasive on the wood. You can just consider the nail if you are very careful.
When you get it done, share it with us!! It sounds pretty!
May 3, 2011
0

found this helpful
I would recommend trying regular wood glue for a project like this. It's a great "all purpose" glue for glueing things that are not plastic or glass. Anything with a slightly rough service, like a sand dollar, will stick just fine.
The one problem I can anticipate would be the dry time. Super glue would dry faster but would become brittle over time for this kind of use and most likely you would see your sand dollars falling off after a couple months. Use a hair dryer for a couple minutes on each one to get the wood glue to start setting quickly. Once it is set in place you can move on to the next shell. Of course, removing them later is going to be an issue no matter what type of glue you use, but you already knew that.
I must admit I have not tried anything like this before. It sounds like a lovely idea though. We recently painted our bathroom a neutral grey or "sand" color and have a general marine theme as well. We might steal your idea! :-)
May 5, 2011
0

found this helpful
I would probably glue a square of velcro on the back of the sand dollar with super glue, and the matching square on the wall. Would make them easy to take down and clean.
May 5, 2011
0

found this helpful
My son stuck CDs all around the top of his walls like a border using the blue sticky tac that you use for posters and so in schools and offices. They stayed up for years, until he moved out of the room. Sand dollars, the ones I have seen, are quite small and light, and I think the blue tac would hold them. I don't think that the humidity would be a problem. Sometimes this blue tac takes off little chunks of paint if it is stuck on the wall for years, but you would have less trouble with this than with any kind of glue. I would try this blue tac before I tried glue, as it will be easy to stick the sand dollars to the wall with it (no drying time) and they will be easy to remove if you want a change or need to clean them. Try it and let us know how it works.
May 6, 2011
0

found this helpful
I would try hot glue. Small dab on dollar and let cool a bit before placing on wall. Just might not pull paint if you remove it. Would not work in sauna but I've got stuff thats been stuck up for years.
August 25, 2016
0

found this helpful
Well...not for me...the blue tacky product I have bought twice ....and returned to get my money refunded twice. I tried putting up lightweight 5x7 matted pics....without frames....and they always fell. 4 dime-size dots....1 on each corner. I put on walls...
I also would like to add...I came to this sight as one of a few I have looked at to see about which glue for mirrors. I have been shell crafting since the 70's...Lived on Sanibel Island Fl. a shell haven...for years..and I have used glue guns for all projects. I have done mostly wreaths in my life...straw, wood, Styrofoam, all shells and I have made hair clips, decorative boxes, plaques, but once I made a small glass planter decorated with miniatures for my mother, and not long after, it came away in sheets. I made 2 shell mirrors, used the glue gun, they fell off...came off in sheets... I don't know why. I'm thinking of either putting sand down along the edge, or maybe thin grade sandpaper first, because I am getting ready to make a 4' mirror.
What is the best adhesive for seashell crafting?
By Ann from Port St Lucie, Fl
September 16, 2010
0

found this helpful
Best Answer
I was just at a craft fair a few weeks back and this gentleman had birdhouses covered in shells, and asked him if they were waterproof and he said yes and told him I have a birdhouse and 100's of shells and didn't know what to use...he told me to use clear bathroom silicone, will make it waterproof! Haven't done it yet, but will try when weather here gets cold, good luck!
September 11, 2010
0

found this helpful
I am not certain but if I was going to glue together sea shells I would try Clear Silicone. It sticks to just about any surface and once it sets it is like a rubbery bound. If you need the gluing to be really stiff I would not use it but for attaching seashells together or to something else as decoration. That is what I would try first.
What kind of glue would I use to glue seashells to a plastic picture frame?
By gitman from Reseda, CA
June 28, 2009
0

found this helpful
Best Answer
E6000 --- NOT hot glue & Not Elmer's or tacky glue.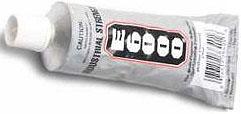 June 29, 2009
0

found this helpful
Thank you Cyinda. Also do you know where I can purchase this glue?