Candles in jars are a wonderful source of soft light. This is a guide with jar candle tips and tricks.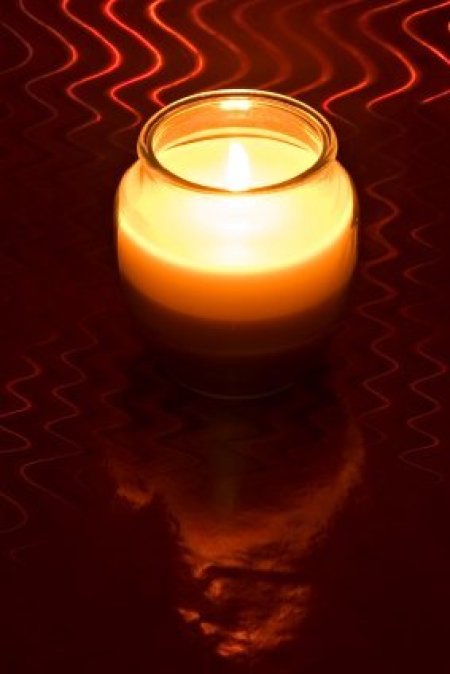 I hate to waste and I love to burn scented jar candles. The candles say to only burn the wick down to a certain point, then dispose of the candle. Since these candles are not cheap, I don't want to throw away that much wax, so I ignored the directions and burned the candle all the way to the bottom.
Until the day I almost burned my house down. The jar was so hot that the glass broke, and the burning wax began to burn my coffee table. But I still don't want to throw away that much wax.
So here's a tip that I came up with. When the candle begins to get low, put the candle in an oven safe baking pan that has about 1/2 inch of water in the bottom. If the candle should break, the glass and wax will be contained within the baker and the water would immediately extinguish whatever fire may still be burning.
As a side note, if you would rather follow the directions, but still hate the thought of throwing that much wax away, take a knife and gently break up the remaining wax into small bits. Take some sort of mesh, like tulle, place the wax bits on top of the mesh and tie it up so that it looks like those wedding favors that are so popular. Or put them in closets, drawers, cabinets, etc for a lovely scent when you open the doors/drawers. Or save them to use for a wedding or baby shower or even a birthday.
By aprilcotton from Aurora, CO
Does anyone have any good ideas on how to remove soot from the inside of candle jars?

Sherry from Silverdale WA
---
Most Recent Answer
October 12, 2013
Used dryer sheets work like a charm!
---
I bought a jar candle made by Village Candles. The fragrance I bought is called pina colada. It smells great! Has anybody ever bought Village Candles and what fragrance do you like? I would like to get some ideas for some other fragrances, before I shell out more money for a fragrance I may not like, even though every one has different taste.

Thanks,
P.J. from Delaware
---
Most Recent Answer
By Melissa Mae M. 1 Flag
June 8, 2014
I can buy village candles at my local grocery store aka price chopper. I use to love Yankee candles. Then I tried Diamond candles. The scents are very fragrant but not strong to give you a headache. They burn evenly. They last a long time, are the size of a large Yankee candle but price of a medium and you get a ring valued at $10-10,000 in a gold foil wrapped inside a plastic bag. I have gotten 2 candles and bought few for gifts.
---
I really love how scented candles add to the atmosphere of a home. A scent softly wafting through my home just seems to make it seem more warm and cozy and I change the scents according to what season it is.
Being out of work for over a year, I cannot afford to buy my favorite highly scented candles right now. I was lamenting this on the phone to a friend when she shared her genius solution and I've been using it ever since.
When your candle burns down to the point it's no longer safe to burn or the wick is gone, simply turn on your coffee pot's warmer plate and set the candle on it. When the wax warms up, it produces the same amount of scent as when the candle is burning. A coffee mug warmer does the trick just as well.
I have noticed that my candles actually last even longer using this method, plus I don't have to worry about checking my burning candles for safety, or leaving the room with a candle burning.
By texasauthor from Dallas, Texas
Just bought a really nice candle and before I could get in the house with it (in the sack) I dropped it and the whole side and corner of the jar shattered. Can anyone please suggest the best way to save my candle without ruining it. Please help.
By shrooms69 from TX
---
Most Recent Answer
By Dorothy 79 155 Flag
September 24, 2009
If its on a garment put a blotting paper on and iron on top of it.if its in a jar try hot water or place it near the stove it will melt.
---
In my kitchen one day, I placed a half used scented candle in a jar on my stove for show. It looked beautiful.

That evening when I was making dinner and using the oven, I had forgotten to take the candle from the stove. Oh, the smell was wonderful! The heat vent on my stove melted the candles completely and it was a much stronger smell than if I had lit it. Each time thereafter that I used the oven, I made sure the same candle was on the stove. Now when I buy scented candles, I don't burn them, I just let them melt. Smells so much more and lasts a lot longer than burning.

By Karyn from Ottawa, Canada
Candles in glass jars give much better light when power goes out and are safer to use. Buy on sale and keep in designated place, so you are not searching in an emergency.
By Mary from Bloomington, IL
Keeping large pillar decorative candles forever. When I buy a decorative pillar candle I burn for a little bit until I can fit a tealight candle inside. This way, I just have to replace the tealight and the expensive decorative candle keeps its shape and it's cheaper to buy tealight candles.
By Carol from Massachusetts
Rubbing alcohol on a paper towel will remove the black soot from a jar candle.

By wiseinhimmer
I had many glass candle jars that have burned down to the bottom that could not be re-lit but still had quite a bit of wax at the bottom. What I did was purchase a candle warmer. It looks like my plug in coffee cup warmer I keep on my desk. I bought mine at Michael's for $5.00.

What this does is melt the candle in the glass and it omits the aroma of what ever candle you are burning. You no longer have to worry about a flame because you don't light the wick. But you do have to be careful not to spill the hot wax which is now liquified.

What I did with my glass candle jars was melt the remaining wax and pour it into another jar with a new wick secured to the middle. I made different layers of different aromas and colors so none of the wax went to waste. The warmer is mainly for scented candles.

By Firefly 1985
To keep a jar candle fresh when the lid is missing simply turn the (unlit) jar upside down after wax hardens.

By Sharon from Belair, MD
You can get more use out of your decorative candles, or out of those candles poured right into their forms, by inserting votive candles in the well formed by the burning wax around the wick. I still use star-shaped candles set in terra cotta we used for a 2000 celebration that way.

By Pam from L.A., CA
I burn lots of scented candles. When they get too low to burn, I use them on a candle warmer. Instead of buying a candle warmer for $10, I bought 3 coffee cup warmers at the local thrift store for 99 cents each. One has an automatic shut-off so I don't have to remember to turn it off.

By Jonna Marsh
Feedback:
RE: Frugal Candle Warmer
Not a good idea! Coffee warmers are a fire hazard when used with any candle wax. These coffee warmers are not regulated to maintain a low consistent temperature needed to melt candle wax. If wax and fragrance reach a high temperature, you will have a fire from the heat. Fragrance has low flash temperatures. This is why they make candle warmers specifically for candles. The heat is regulated and much safer. DO NOT use coffee warmers for any wax products, if you do, you are liable for a fire. .99 cents isn't worth the risk. (02/11/2006)

By Candle Smarts
RE: Frugal Candle Warmer
You can buy a candle warmer at wal-mart. They cost about $5.00. They are made to warm candle wax (02/11/2006)

By rose204