Car Washing Tips and Tricks
When washing your own car there are some things to keep in mind to ensure a good result. This is a guide containing car washing tips and tricks.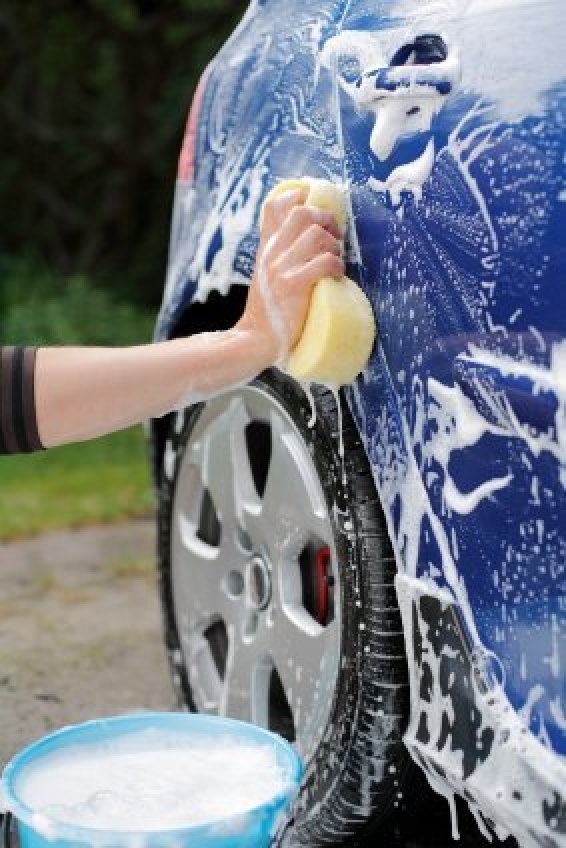 Filter

: All Articles
Sort

: Relevance
Living in Southern California during the worst drought the U.S. has ever seen is no walk in the park. You have to get creative about how to save water - something I almost never had to worry about growing up in the rain-drenched North East.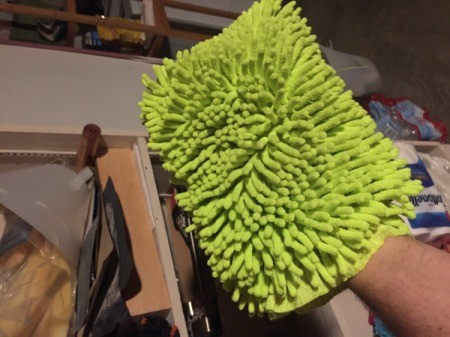 Well, I have stopped going to car washes, but have found a faster, cheaper, and totally environmental friendly way to wash your car. The dew wash!
So here's the drill:
- make sure you have two or three of those micro fiber mitts (see above)
- get up between sunrise and before the dew has evaporated from your car's surface
- use the mitts to remove the dew and collected dirt/dust/detritus from your car.
For this third step, I do it in two stages: 1) I use one mitt (you'll need two if you have a van or a truck) to get off the majority of the dew and dirt, and then 2) I use another mitt to get off the last bits of dirt and to fully dry the vehicle.
It takes only 5-7 minutes to wash your car from top to bottom, you didn't have to fill up a bucket of suds, drag out your hose, schlep to a car wash, pay a damn dime, save for the mitts, which will last you like forever!
The only downside is that it looks like you went to the car wash a half a week ago. Well, isn't that better, anyway? Instead of dropping a whole load of cash getting your car sparkling clean, only having the consternation of seeing your car all dingy less than a week later, you get your car quite presentable even if it's not sparkling in no time at all! Plus, if you get a decal from LA Waterkeepers saying you are going dirty for the drought, you have a badge of honor that will ensure that "no one" will look askance at your less than perfect shine! A win-win-win-win!

Link: http://www.lawaterkeepers.org
When cleaning your car and the bug spots are hard to get off, just use a nylon bath scrubby ball that comes with many bath sets. They are soft and will not scratch the paint, but will work wonderfully on those greasy bug spots and black tar.
By Jan M from Appleton, WI
"Wash" your car during a water shortage by wiping it down with a soft cloth (microfiber works well), while there is dew on it in the morning. A lot of grime comes off with the moisture.
Here is a quick and easy way to wash the car. The other day I decided to wash my car windows, which were looking pretty smeary. I used a bowl of vinegar and water about 3 cups water and one of vinegar.
When in doubt about whether a do it yourself car wash is working, look for the wet ones. Because it has been used recently, it is more than likely a working one.
Here in Central Florida, we are currently under a "Level 4" watering ban which bans people from home car washing. We cleaned our 2006 Honda Accord using approx. 3/4 of a gallon of water, two old soft bath towels, and maybe 45 minutes of our time.
If you tuck your car wash sponge into a pair of old pantyhose, it will clean the car better and get more gunk off of the paint. It is safe and easy.
Tips for washing your car. Post your ideas.
What is a cheap way to wash a car?
By britan from Wonthaggi, Victoria, AU
July 8, 2009
0

found this helpful
We wash them at home, with a bucket and dish soap. We rinse with the hose, but keep the hose off when not in use.
July 9, 2009
0

found this helpful
I read about this tip; use a tank sprayer (like for bug spraying). The fellow said he filled it with water, wet down the car, I don't think he even used soap. Used a brush or cloth that would not scratch the auto and then sprayed it clean. Very little waste. Sounds great - try it!
July 10, 2009
0

found this helpful
Old fashioned type here. I use water and soap and sponges. Why not? It's kills 99% of germs, I use this idea throughout my whole house with hot water. Why not kills 99% of germs. Be frugal. Why not settle for something everyone once used. A little bit of bleach in the toilet and tough stains, and rubbing alcohol for the mirrors, a little bit in luke warm water. If your hands are sensitive I suggest using gloves.
This is how I clean. Oh, soon I'm going to start buying sponges and rags instead of paper towels. I'm cheap lately. Good for the economical times.
First of all, do not try this on any car that you care about! I had an old, old Toyota and the paint was very dull and had lost it's shine. I tried something very simple to renew the shine.
I wash my car frequently in the summer months at the small car wash in my town. Sometimes when I am in town running errands and need to wash the car, I don't always want to because I may be wearing the wrong shoes. (I hate to get splatter on nice shoes). I keep a pair of old flip flops in the trunk, slip them on and wash away! Alica
Instead of washing the car with the hose, buckets, or car wash and wasting so much water; fill 1/4 of a bucket with water, use a micro fibre cloth, wring out so its nearly dry. Start on the roof and work your way down. When the cloth dries out too much, dip it into the bucket and wring out well so it's nearly dry. Repeat, until you finish. If you have the cloth too wet, it makes the car muddy looking. That's why you have to have it nearly dry. I have a commodore station wagon, it works great on this car. Hopefully it works on others.

By jas69 from South Australia
Answers:
Water Saving Home Car Wash
While I commend your desire to save water, I question this method of car washing. The grit contained in the cloth will leave fine scratches in the top coat of your auto's paint. Over time this will dull your finish and make for an unattractive car. If you want to save water, rinse only a small portion of your car at a time and wash and rinse before you move on to the next section. Or better yet, take your car to a carwash that recycles its water. (01/06/2009)

Water Saving Home Car Wash
Summer before last, when we were having a drought and people were advised to conserve water and not wash their vehicles, I used two small buckets of water to wash our car. One was for washing and the other was for rinsing. I didn't even have to move the car off the carport. It worked quite well and was much less messy than washing the car with a hose. I called it giving my car a sponge bath. (01/06/2009)
Saving Water When Washing Your Car
I do it an easy way, I use a regular string mop and a sponge mop to wash our van with 2 buckets almost full of water,o ne with soap and one to rinse, don't take long to do this. Good luck. (02/05/2009)

By k w
Since it's officially spring, I thought I would share this tip with you. We like to save some money on car washes by washing our vehicles at home. It is great fun for the family to get out the hose and wash the car together.

We usually end up in a great water fight before we are finished, too! Seriously, car washes are very expensive and you can buy what you need to wash and wax your vehicles at any department store and do it yourself at home. Cheaper and lots of fun and entertainment!

By Robin
Answers:
Saving on Car Washing
When I was a teenager my mom use to pay me $2.00 per car to wash and dry. I got the exercise and she got a clean car at a cheap price! (04/04/2005)

By floppy4me
Related
© 1997-2016 by Cumuli, Inc. All Rights Reserved. Published by
ThriftyFun
.
Page
generated on August 21, 2016 at 10:52:08 PM on 10.0.2.7 in 6 seconds. Use of this web site constitutes acceptance of ThriftyFun's
Disclaimer
and
Privacy Policy
. If you have any problems or suggestions feel free to
Contact Us
.