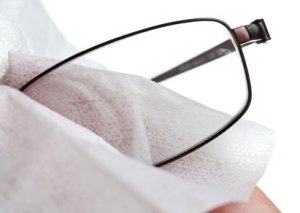 Save time and money by making your own eyeglass cleaner. This is a guide about homemade eyeglass cleaner recipes.
Ad
---
Solutions: Homemade Eyeglass Cleaner Recipes
Read and rate the best solutions below by giving them a "thumbs up".
Save money and help the environment by making your own eyeglass cleaner. Just use 3 parts rubbing alcohol and 1 part water. Add a couple of drops of dish soap. Pour into spray bottle, shake to mix well and you're done!
By Debbie
This is so simple, inexpensive and effective. After I've finished washing up the breakfast things in hot soapy water, I dip my glasses into the washing up bowl and swirl them around, then dry them on the tea towel before drying any of the cereal bowls. My husband does the same.
We decided the optician's solution was far too expensive to warrant buying it regularly and find that this is an ideal substitute. I think if the washing up were to include many greasy things then I would wash my glasses first, making sure the water wasn't too hot and using the ordinary washing up liquid.
Our optician actually suggested this method and we've used it for many years.
By Anne from UK
I keep rubbing alcohol in a small 2 oz. spray bottle. I use it to clean my glasses. You could also use your own homemade glass cleaner, but I find it easier to just fill it with the rubbing alcohol. Don't forget to label the bottle "Eyeglass Cleaner" or "Rubbing Alcohol".
We were told when we purchased our eyeglasses to just use alcohol in a small spray bottle. We both have special non-glare finishes. The lenses had been damaged on past glasses by other cleaning methods, but this one works beautifully!
By Elgie
I called up my optical place where I bought my glasses. They have free cleaning cloths just for my glasses which are progressive lenses. I wash them often in warm water, squeeze it out, and lay it to dry. I do not put in the washer or dryer at all. This works for me and perhaps it will for you all as well.
By Sarah
First of all, you have to determine what kind of lens you have in your glasses. If they are glass and do not have a no-glare coating they can be cleaned with just about anything that you would use on a water glass. However, putting them in the dishwasher might mess up the frame! Then they can be polished dry with a cloth or a paper towel.
If they are plastic (lexan or one of the other plastics) it is best to just clean them with water and polish dry with a very soft cloth. Do not use paper! Paper will eventually scratch the plastic.
If they have a special no-glare coating it is best to consult with the optometrist who made them and follow her instructions exactly.
It is not a good idea to cheap out on cleaning something that may have cost you over $300!
Source: Have worn prescription glasses for 60 years.
By DeBushe from Gilroy, CA
Give a "thumbs up" to the solution that worked the best! Do you have a better solution? Click here to share it!
Questions
Here are questions related to Homemade Eyeglass Cleaner Recipes.
Does anyone have a recipe for a homemade eye glasses cleaner?
By John from New Albany, MS
AnswerWas this interesting? Yes No
Ad
---
---
Most Recent Answer
By ann 9 32 09/13/20100 people found this helpful
I use a mix of water and white vinegar in a spray pump bottle and dry it with a napkin.
---
Archives
Thrifty Fun has been around so long that many of our pages have been reset several times. Archives are older versions of the page and the comments that were provided then.

My optician has told me the best formula no matter what type of eyeglasses or coatings you have on your lenses is as follows: Fill a spray bottle (any size will do) with 3/4 rubbing alcohol and 1/4 water. Put in a few drops of dish soap. Spray both sides of each lens and rub clean with a soft cloth. Never use paper towels, toilet paper or Kleenex as they contain harsh abrasives that will scratch your lenses.

By Kathy
Answers:
RE: Cleaning Eyeglasses - Homemade Cleaner
I was told to never clean my eyeglasses with anything that started as wood - meaning any paper products. I cut up an old t-shirt into several small squares and placed them in the car, tucked them into coat pockets and by the chair I sit when I read. (11/08/2004)

By Cheryl from Missouri
RE: Cleaning Eyeglasses - Homemade Cleaner
I personally would avoid using any soaps or anything that contains ammonia (window cleaner/windex) on polycarbonate or plastic lenses, it will etch the anti-glare and scratch coatings, leaving spots on the lenses that have no protection. As for the alcohol mixture, it's a great tip and one that will save us eyeglass wearers plenty of money :)
Also, make sure to wash your cleaning cloths often, as dust and dirt can gather on them and will scratch lenses like a Brillo pad :) (02/06/2005)

By Siren
RE: Cleaning Eyeglasses - Homemade Cleaner
I duped your recipe, tried it and it worked well.
One caveat:
On my Wallgreens Lens-Clear container, the mfr cautions that their formula is NOT FOR ANTI-REFLECTIVE LENSES. The only ingredient that is mentioned on the container is Isopropyl Alcohol, which is rubbing alcohol, and this might be the ingredient that is harmful to anti-reflectives.
One other thing: To avoid scratching the lenses, I suggest you tell folks to first run warm - not hot - tap water - let it gush - over both sides of each lens to wash away any particulates that may have settled on the lenses. Then use the cleaner formula.(b)(/b) (06/05/2007)

By BarnOwl
RE: Cleaning Eyeglasses - Homemade Cleaner
Bounty paper towels work fine for cleaning glasses. Apparently, they aren't abrasive. (07/26/2007)

By DR DON
RE: Cleaning Eyeglasses - Homemade Cleaner
".. cut up an old t-shirt .."
most T-shirts = cotton and cotton = bad
Places like Wal-Mart sell bottles of eyeglass cleaner that, once empty, you may refill at no additional charge. Eyeglass cleaning cloths are inexpensive and can be washes and reused for a long time. Wash these cloths with hot water and disinfectant soap at your sink and thoroughly rinse. Hang to dry.
Taking a chance isn't always worth the lenses when these products are so inexpensive. Just a thought, peace. (05/30/2008)

By Michael
RE: Cleaning Eyeglasses - Homemade Cleaner
From the Bounty website: http://www.quickerpickerupper.com/faq.shtml#5
5) Is it okay to use Bounty paper towels to clean my plastic eyeglass lenses?
Most opticians do not recommend using paper products to clean plastic lenses. Paper comes from wood. Wood fibers, even though very soft, may damage sensitive plastics. Check with your optician to see what is recommended for cleaning your plastic lenses. (05/30/2008)

By Joseph
RE: Cleaning Eyeglasses - Homemade Cleaner
Silk is the best cloth material to use to clean your lenses. Daddy's old ties are great for this. (09/04/2008)

By MadameVi
I purchased a 3 oz. bottle of Ultra Clarity eye glass cleaner from an optical shop. I'd like to make my own copycat solution, because this stuff can get quite expensive. The back of the spray bottle reads that it is actually made with rubbing alcohol. I've made my own solution before by adding a small amount of rubbing alcohol to some water.

And I make sure that I shake it before squirting it on my lenses. I then use a soft cloth to buff the lenses. My homemade solution works okay, but doesn't clean my plastic lenses as well as the professional product. My homemade solution still leaves some cloudy spots on the lenses whereas the stuff that I bought from the optical shop does a much better job. I don't want to take the risk of adding Windex, rubbing alcohol, and water because I could end up ruining my $400.00+ pair of glasses. Does anyone in the Thrifty community know the secret formula?

MCW from Lewiston, NY
Feedback:
RE: Homemade Eyeglass Cleaner
I use 1/2 white vinegar and 1/2 distilled water in a spray bottle. It works fine, after I rinse off my glasses in plain water first. (10/22/2008)

By Nance
RE: Homemade Eyeglass Cleaner
If you have a Vision World (I know they are a large chain store) they sell a cleaner with a refill bottle, you buy it once ($7), it came with a soft cloth and "on-the-go-premoistened" clothes. Whenever you want to, go to any of their locations with the refill bottle and they will refill it for free.
As far as homemade, my mom uses water and white vinegar for cleaning windows and mirrors (for that matter, stains on carpets) and my friend swears by cornstarch and water (a few Tbsp. of cornstarch to a gallon of water). Maybe if they work for windows and mirrors, they'll work for the plastic glasses?(10/23/2008)

Does anyone know of a good recipe for homemade eyeglass cleaner?
By crazygrandma from Oregon City, OR
Feedback:
RE: Homemade Eyeglass Cleaner
Eyeglass Lens Cleaner

It is just like the eyeglass cleaner that is sold in optical shops and at a fraction of the cost. I saved the 1 oz. pump bottle that I got from the optical shop and I always carry one in my purse.
Pour a small amount of rubbing alcohol into a 1 oz. bottle.
Fill the remainder of the bottle with water.
Add about 4 drops of liquid dish detergent. Replace the pump sprayer and shake it gently.
Never wipe your glasses with a tissue. I always carry a soft men's handkerchief for that purpose. (06/26/2009)
By MCW
How do I make a cheap, safe, and effective eyeglass cleaner?