Save time and money by making your own eyeglass cleaner. This is a guide about homemade eyeglass cleaner recipes.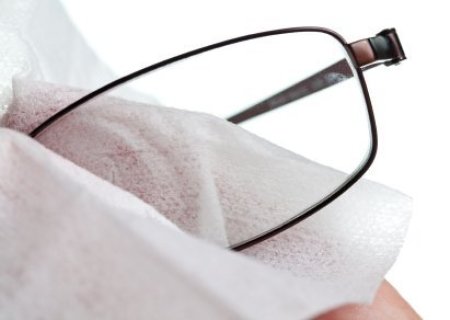 Save money and help the environment by making your own eyeglass cleaner. Just use 3 parts rubbing alcohol and 1 part water. Add a couple of drops of dish soap. Pour into spray bottle, shake to mix well and you're done!
By Debbie
I keep rubbing alcohol in a small 2 oz. spray bottle. I use it to clean my glasses. You could also use your own homemade glass cleaner, but I find it easier to just fill it with the rubbing alcohol. Don't forget to label the bottle "Eyeglass Cleaner" or "Rubbing Alcohol".
By Anne Carter 4 54
This is so simple, inexpensive and effective. After I've finished washing up the breakfast things in hot soapy water, I dip my glasses into the washing up bowl and swirl them around, then dry them on the tea towel before drying any of the cereal bowls. My husband does the same.
We decided the optician's solution was far too expensive to warrant buying it regularly and find that this is an ideal substitute. I think if the washing up were to include many greasy things then I would wash my glasses first, making sure the water wasn't too hot and using the ordinary washing up liquid.
Our optician actually suggested this method and we've used it for many years.
By Anne from UK
We were told when we purchased our eyeglasses to just use alcohol in a small spray bottle. We both have special non-glare finishes. The lenses had been damaged on past glasses by other cleaning methods, but this one works beautifully!
By Elgie
By john 1
Does anyone have a recipe for a homemade eye glasses cleaner?
By John from New Albany, MS
---
Most Recent Answer
September 13, 2010
I use a mix of water and white vinegar in a spray pump bottle and dry it with a napkin.
---
By DeBushe 19 163
First of all, you have to determine what kind of lens you have in your glasses. If they are glass and do not have a no-glare coating they can be cleaned with just about anything that you would use on a water glass. However, putting them in the dishwasher might mess up the frame! Then they can be polished dry with a cloth or a paper towel.
If they are plastic (lexan or one of the other plastics) it is best to just clean them with water and polish dry with a very soft cloth. Do not use paper! Paper will eventually scratch the plastic.
If they have a special no-glare coating it is best to consult with the optometrist who made them and follow her instructions exactly.
It is not a good idea to cheap out on cleaning something that may have cost you over $300!
Source: Have worn prescription glasses for 60 years.
By DeBushe from Gilroy, CA
I called up my optical place where I bought my glasses. They have free cleaning cloths just for my glasses which are progressive lenses. I wash them often in warm water, squeeze it out, and lay it to dry. I do not put in the washer or dryer at all. This works for me and perhaps it will for you all as well.
By Sarah