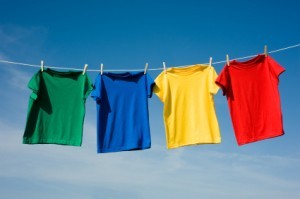 One way to save money is to line dry your clothing rather than using a dryer. This page contains line drying clothing tips and tricks.
Ad
---
Solutions: Line Drying Clothing Tips and Tricks
Read and rate the best solutions below by giving them a "thumbs up".
I use lengths of painted, rustproof chain instead of cotton or nylon cord on my clothesline poles. Then I hang the clothing on hangers and put on the line. When they're dry, all I have to do is hang them in the closet! Towels can be hung the usual way, with clips.
By Beth from Danvile, OH
Do you line dry your laundry only to discover when it's dried out that it needs ironing? Try putting 1/3 cup of vinegar in the washer. Vinegar will take the soap residue out of the laundry and your laundry will be lots softer.
By Queen Bee from TN
I live in Tennessee where TVA, our electric supplier, has raised our electric bills 30% in one month. I have started really trying to be more frugal. I purchased a indoor clothes line and strung it up in my basement. I bought it off ebay for $25.00, and it will hold 2 loads of laundry. It usually dries in less than one day. With a family of five, I do at least 1 load per day, I know this will help with my electric bill.

Not everyone has a basement, so why not use one in a room in your home where you don't actually live, like a spare bedroom. You could put the clothes line in the closet and retract the line when not in use. My retractable line is the diameter of a paper plate and maybe 5 inches wide. Very small.

In one week I was able to hang 7 loads of laundry on my line. Some loads were jeans which would have required more than one run on the dryer. I never waited more than 14-16 hours of dry time. Also, I forgot to add, my basement isn't heated or cooled. Hope this helps someone.

By Karen M. from Greeneville, TN
Hanging laundry on a clothesline is one of the best green activities you can do. I used to struggle with my fitted sheets, though, trying to hang them straight when they have elastic all the way around.
One day, while the sheet was still on the bed, I sewed a small colored dot to mark the center point of each long side just where the sheet folds over the edge of the mattress, (about 6 inches above the elastic). Now when I get to the clothesline, I just pick the sheet up by the dots and attach it to the line with the clothespin at that spot. No more fumbling around to hang it straight.
When I take the sheet down, I bring the two dots together and anchor them with a clothespin. This folds the sheet into quarters instantly. I finish folding it the rest of the way when I bring it inside.
By libadmin from Clovis, NM
To save on utilities and clothes softener, I line dry many clothes in the house then put them in the dryer on air fluff. It's amazing how soft they become.
By Maria Elena from Gwynedd Valley, PA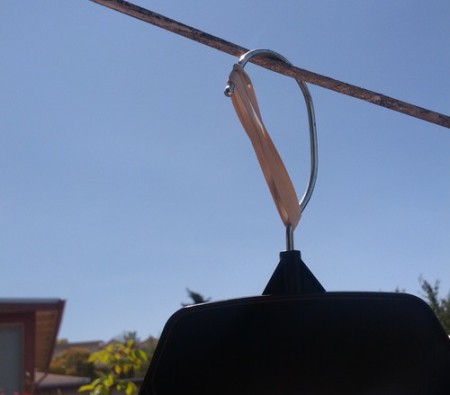 When line drying delicate clothing or when the line is exposed to the weather all the time and gets dirty, it's often convenient to use clothes hanger. If the weather is windy, however, the clothes hangers can easily get knocked off by wind, leaving your clean clothes on the ground.
However, you can use a simple rubber band to lock the hanger in place. Just wrap it a few times around the hook, and then lock it in place as shown in the pictures.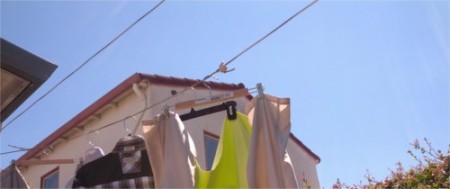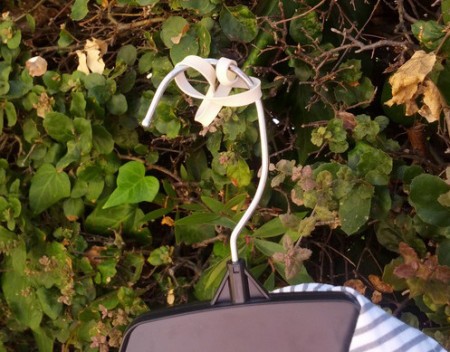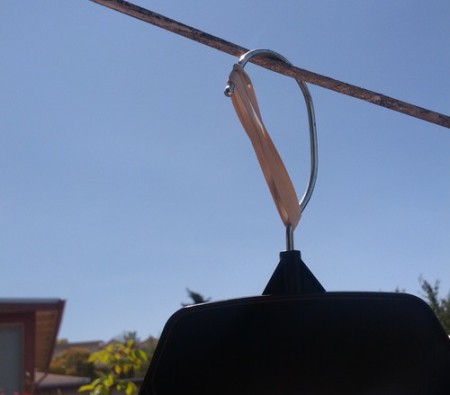 By rabexc [1]
Hanging clothes on the line not only helps to keep down the electric costs, but makes clothes smell so wonderful!. I have not dried my towels, which take so much time to dry, in a dryer for the past 3 years. The towels will be soft if you take them off as soon as they dry. Do not leave clothes more than the drying time. Bring them in as soon as they are dry.
By iruiz27 from S. TX
Carrying laundry baskets has become a major problem for me as well as the bending and hanging laundry due to fibromyalgia and back problems. But running a dryer isn't economical. So, I load two round baskets instead of using one large basket with my laundry to make them lighter and carry them out the door and put them in a children's wagon. The wagon holds both baskets. I attached a bungee cord to the handle to keep it upright when I am not hanging on to it. I then pull the wagon to the clothes line and hang up my laundry. No bending and minimal carrying.

By Jackie from Nunda, NY
If you use a cotton clothes line, try boiling the next replacement rope in salt water for a half hour before you but it up. This will take out all the tangles and prevent wet articles of wash from freezing to the line in cold weather.
By Monica from Cortez, CO
Enjoy many benefits from using your clothes dryer less. You'll save energy and money by running it less. In colder, dryer climates and seasons you'll put moisture back into the air by hanging your clothes to dry; therefore, running a humidifier less if you use one. When you hang your clothes to dry, your house smells good like clean laundry. Or if you line dry outside, you're clothes smell so good when you bring them in.
It's already been mentioned here that if you don't like the rough feel of your hang-dried clothes to put them in the dryer for about five minutes. If you can deal with rough towels, though, they make for great skin exfoliators after a shower or bath and soften up after the first time using them.
By Britt Y. from Boston, MA
We recently moved to mid Tennessee and have only a washer. I have completely enjoyed hanging clothes out on the line to dry. Who knew?
Anyway, I remember my great aunt, who NEVER used a dryer, always had this nifty little cloth bag that she carried around while hanging her clothes out. Take the pin out of the bag, put it back in....over and over. I started out using a similar bag. Now, here is where it gets simple! One day, I forgot to bring the bag out with me when taking the clothes down from the line, so I just put the pin back on the line. The next load that went up, was soooo much easier to hang out - took less than half the time.
Since we tend to wear the same items over and over, the spaces between the pins pretty much stay the same on the line. Easy!
By April R. [4]
I occasionally hang my clothes to dry inside during winter months to counteract the lack of humidity from using electric heat. It helps prevent static shock and adds a pleasant smell of fresh clean laundry to the air. Large items such as sheets can be draped across the couch and are dry by morning. If you must have the fluffiness of machine dried clothes toss them in for a few minutes before you hang or after they are dry. This will save a ton on electricity by not using the dryer as much and the added warmth from the more humid air will keep the heat pump from switching on as often.
If you line dry your clothes, you can still use dryer sheets to freshen your clothes or towels. Remove them from the line and place them and a dryer sheet in a large bag or basket with a lid. I cut one sheet into 3 pieces and layer the clothes between the pieces. Can't leave them long enough to wrinkle, but it works great with towels.
By Kelli from Sentani, Indonesia