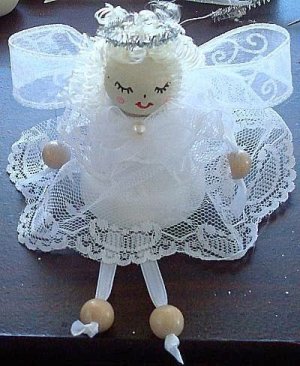 Clay flower pots can be used in a wide variety of craft projects. This is a guide about clay pot craft projects.
Ad
---
Solutions: Clay Pot Craft Projects
Read and rate the best solutions below by giving them a "thumbs up".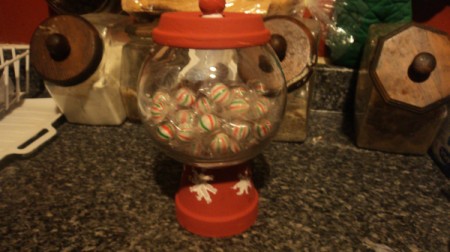 These are really cute gift ideas and look cute on your kitchen counter. Very cheap to do.
Approximate Time: 2 hours
Yield: 1
Supplies:
1 clay pot ($1.00)
1 clay pot base ($.5)
1 glass type bowl to fit the bottom of clay pot ($1.00)
1 small Styrofoam ball ($5)
1 green ribbon ($1.00)
2 red and white acryclic paint ($1.00)
1 glue ($50)
1 paint brush ($50)
1 bag of candy ($1.00)
Ad
---
Steps:
Paint your terra cotta pot red and the lid as well. Also paint your little stryofoam ball. Let dry.
Paint on snow flakes with white paint. Put clay pot upside down before next step.
Glue your glass bowl to the bottom of your terra cotta pot with the open part of the bowl at the top for adding candy. Let dry well.
Glue your little Styrofoam ball to the top part of your pot lid. Let dry well.
Then add your candy into your glass bowl and place your lid on the top of your bowl.
Tie a green ribbon around your pot and it is done.
By tracy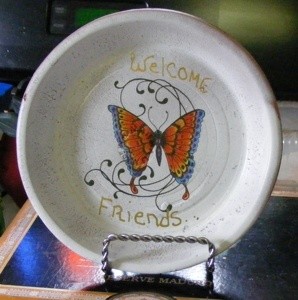 I spray painted the bottom of the clay pot saucer white and added a body tattoo butterfly. I wrote "Welcome Friends" with a gold paint pen and sprayed a top coat of silicone.
You can also make a chain of them, using three saucers, hot glue picture eye hooks to the back and string on heavy rope. Start from bottom plate because you have to double loop rope or tie knots so plates don't slip down.
By Moonseekerjade from Onset, MA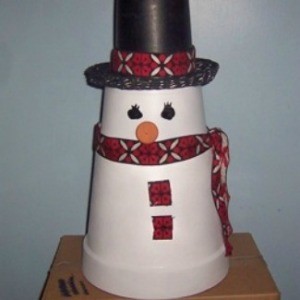 To make this recycled snowman: paint flower pots white. Hot glue medium one on top of large one. Paint paper plate holder black, glue black flower pot on top of plate holder then to med pot. Decorate with scrap pieces for scarf, add eyes, and attach orange painted knob for nose.
By Gretta from Wayne, OK
This cute clay pot craft is painted and stacked to look like a water fountain. You can place the water fountain outside a doll house or just use it as a place to put change. If you want to get fancy, try adding some lighter blue paint the the regular blue to give it a rushing water look.
Approximate Time: 10 minutes without drying time
Supplies:
(2) terra cotta craft pots (2 inch each)
(1) terra cotta pot plate (2.5 inch)
(1) terra cotta pot plate (1.5 inch)
forest green paint
apple green paint
blue paint
paintbrush
glue
Instructions:
Paint the large plate and one pot green, as shown in the first picture. Let dry.
Use a light green to paint a curvy line around the pot and plate. Use small dabs to create leaves, as shown in the second picture. Let dry.
Glue the plate over the pot, as shown in picture 3. Paint the inside of the plate blue. Let dry.
Paint the small plate and second pot blue as shown in the fourth picture. Let dry.
Glue the pot and plate onto the larger plate and pot, as shown in the final picture. Let dry. You know have a clay pot, mini water fountain.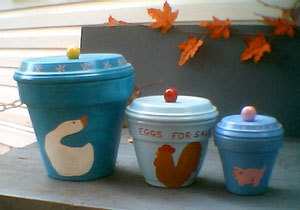 Here is a cute set of cannisters made from clay pots and trays.
Materials:
1 - 6 in. pot and drip tray (bottoms)
1 - 4 in. pot and drip tray
1 - 3 in. pot and drip tray
paint
3 wooden balls
stencils for pictures (if you need it or you can free hand it)
hot glue and gun
Directions:
Paint pots and bottoms any color you want.
Then paint wooden balls to match pots, let dry.
Paint on your picture. Let dry.
Glue wooden balls on pots.
You can seal them with sealer if you like.
You can also use any size pots you want. These are just the ones I chose.
By Sandy from Bluff City, TN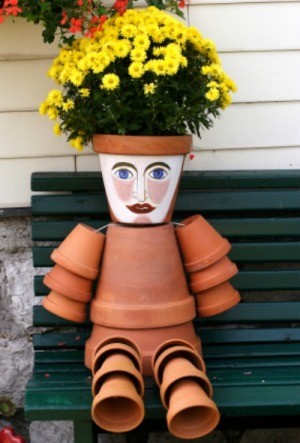 This is a guide about crafts using terra cotta flower pots. Terra cotta flower pots are an excellent choice for making a variety of crafts both for your home and garden.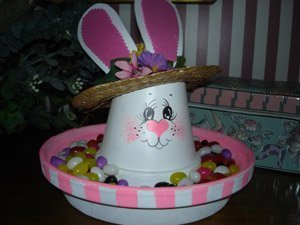 Make a cute bunny candy dish for Easter. Spray paint a terracotta clay pot and saucer white (any size you desire is acceptable). Sponge paint the interior of the saucer with a spring color if you desire (I suggest petunia pink, daffodil yellow, grass green, lovely lavender, or a light turquoise).

Paint a bunny face. (Use black Sharpie for easy control and precision when drawing the face.) Paint a heart shaped nose and lightly dab a bit of paint/blush on his cheeks using your middle finger.

Decorate a straw hat with leftover artificial blossoms, eggs, or what have you. Curl 2 ears from foam and attach with glue. Place hat jauntily on bunny head, fill with your favorite candy (purchased on sale and with a coupon of course!) and enjoy.
Make these using miniature pots for teacher gifts. They are adorable!

By Diana from Prospect, KY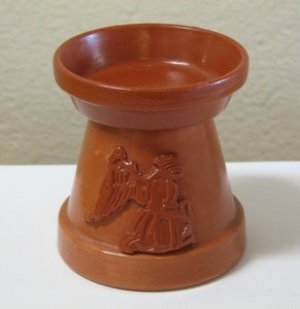 This candleholder is made from a terra cotta flower pot and saucer. I have a rubber stamp of the angel, which I pressed into some scrap polymer clay and baked to make a mold. I then pressed terra cotta polymer clay into the mold, cut out the angel and put the pot on its side in the oven, with the angle "fitted" to it, so it had the perfect curve for the pot. I glued everything together (as shown) and spray with polyurethane.
By Louise from Center Point, TX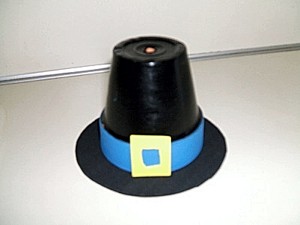 These cute little pilgrim hats make great place cards for your Thanksgiving table that guests can take with them.
Approximate Time: About 30 minutes
Supplies:
3 inch terra cotta flower pot
black acrylic paint
blue, red, or green acrylic paint
black craft foam
yellow craft foam
foam brush or paint brush
pencil
scissors
craft glue
black permanent marker
Instructions:
Using a sponge brush or paint brush, paint the entire pot black and allow it to dry.
Choose a color to paint the band around the top of the pot (blue, red, green, etc.). Let it dry.
Cut a circle from black foam. Cut it about 1/2 inch wider all around than the pot opening. You can use an appropriate size lid, dish, or cup to trace.
Place a small amount of glue on the rim of the pot and glue onto the black foam circle.
To make the buckle, measure the width of the band of the pot (the portion painted a different color). Cut a rectangle out of foam that measures about 1/8 inch deeper than the band on the pot. Glue it to the band. Let the glue dry.
Use a black permanent marker to write the guest's name on the colored band, and allow it to dry before using.
By Rachel's Mom from Wilkesboro, NC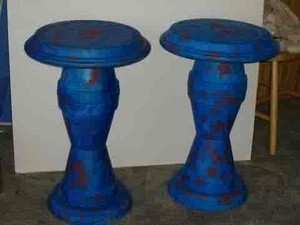 This is just to show you another project you can do with the terra cotta pots. You do the same as the bird bath, just turn the top tray upside down and it is a table. I don't like the blue, I made these for my daughter and this is what she wanted, you can put a Plexiglas top on it and they make nice patio tables.
By Sheri from Stockton, CA
Here's the bird bath: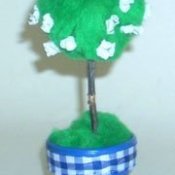 This quick and easy clay pot craft uses a green pom-pom and fake flowers to make a decorative topiary bush. A great kids craft that can also make a cute addition to any Barbie/Bratz home or dollhouse.
To decorate your clay pots and saucers for this gardening season, here is an idea:
Supplies
two colors latex paint
1 clay pot and saucer
2 paint trays or flat containers with a 2 inch rim around the edge
newspaper
latex gloves
Instructions
Lay newspaper on ground and set paint tray on newspaper for easy clean-up.
Pour some of the first color of paint into a paint tray.
Turn the clay pot upside down and dip the rim of the clay pot into paint then turn the clay pot right side up and let paint run down the edge of pot. Let dry.
Next day, pour the second color of paint into paint tray, follow same procedure for this color paint (dipping clay pot rim into paint then let paint run down the edge of clay pot over the first color of paint).
Do clay saucer same way to match.
Let dry before potting your plant in your newly decorated pot and saucer.
You can match room decor with your paint colors plus using left-over paint you may already have. This will help save our environment too.
By Linda from Fort Walton Beach, FL
Give a "thumbs up" to the solution that worked the best! Do you have a better solution? Click here to share it!
Questions
Here are questions related to Clay Pot Craft Projects.
Do you need special paint for terra cotta?
By MH
Ad
---
---
Most Recent Answer

By harleysmom199705/12/2015
Just plain acrylic will do, they sell special paint but don't waste your money on it. The terra is so porous that regular paint will hold. If you use a black matte finish paint it will make your pot like a chalkboard without spending extra money on special paint.
Where can I find clay pots for crafts? I want to order in bulk at wholesale prices. I need assorted sizes.
By Linda
---
Most Recent Answer

By mcw [80]08/16/2011
http://www.antonline.com/p_02160FZ-NX_678249.htm?sID=NX
I've seen a lot of clay pots at garage and also estate sales. You can get them pretty cheap and if they are discolored, they can be spray painted.