Freezing Bananas
This is a guide about freezing bananas. Bananas are best when fresh but can turn brown and mushy quickly. A good way to preserve them is to freeze them for later use in baking recipes or smoothies.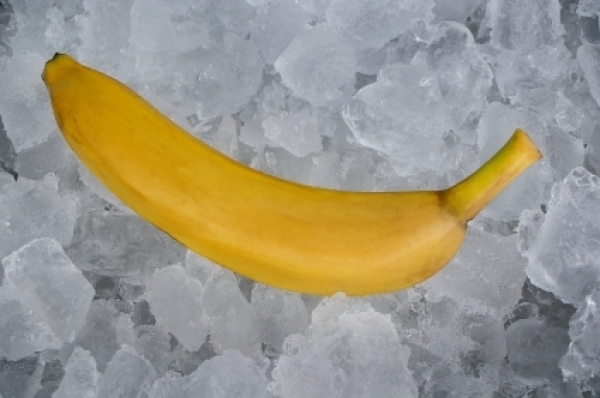 Filter

: All Articles
Sort

: Relevance
When the last bananas in a bunch get over ripe, I just put them in the freezer "as is" to save for when I want to make banana bread. The bananas get horrid looking when they are frozen; black and wrinkly, but the insides stay perfectly good.
When I want to bake, I thaw the desired number of bananas until they are soft. Then I just break off the end and squeeze the banana pulp into a measuring cup, just as you would squeeze toothpaste from a tube. 1 cup banana pulp is right for a loaf of banana bread. This saves waste from unused bananas, but lets me bake when it's convenient for me.
By Karen from Huntington, WV
When the bananas' skins start to get brown, I peel the bananas and wrap each one in plastic wrap. Once I have them all wrapped, I place them in a freezer zip bag and store them in the door of my kitchen freezer. If I only want one for a smoothie or need several to make bread or muffins, the whole bunch isn't frozen as one big chunk!
By Donna from Edmond, OK
Those browning bananas on your counter don't need to get thrown away, even if you aren't ready to use them right now. Freezing them is a great way to use them later in banana bread or any recipe that uses mashed banana.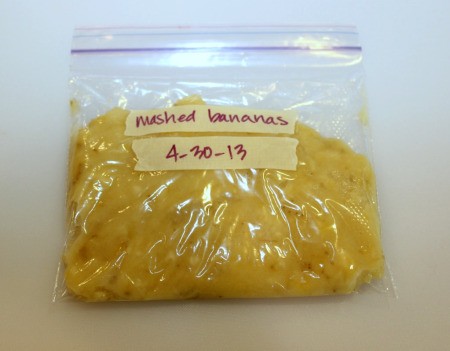 Supplies:
overripe bananas
lemon juice
freezer bag
Steps:
Peel the bananas and put them in a bowl. Using a fork, mash them up to the desired consistency.
Add 1 tsp. of lemon juice per 1 cup of mashed banana. This will help keep them from turning brown.
Place them into a freezer bag and don't forget to label them with the date. NOTE: Mashed banana is good for 3-4 months, if stored properly in the freezer.
I prefer not to defrost more then the recipe requires, so I am wondering how many frozen bananas equal a half cup of thawed bananas mashed?
By PS
April 8, 2015
0

found this helpful
Difficult to answer as bananas come in all sizes and shapes. Thaw one banana and see what happens.
April 12, 2015
0

found this helpful
1 large regular size banana. I do this all the time.
What a treat! I found very ripe bananas for $1/5 pounds. Very few were soft, so I took a chance. I also bought some chocolate shell, because I remember frozen chocolate covered bananas from my days of working at Knott's Berry Farm.
If you freeze the bananas in their skins are they still alright to use or are they bad?
By Peg
August 15, 2011
0

found this helpful
They are fine to use but I have much better luck with peeling them and putting them in a plastic bag. It is also easier to use them if you have measured out the amount you want for your recipe before freezing. They will turn dark if left in freezer very long but are still good to use in a baked recipe. We love banana bread muffins!
August 15, 2011
1

found this helpful
The best way to freeze bananas for recipes or smoothies is to peel them first, cut up in one inch chunks and toss in a bowl of carbonated lemon-lime beverage briefly (cheaper and less messy than lemon juice and still keeps them from browning so fast) and then spread them on a cookie or baking sheet and freezes solid.
When frozen, put into a ziptop bag. Then you can take out as much as you need for what you are doing and leave the rest for later. Each chunk is about a tablespoon. Great way to use the really ripe bananas that you can catch on sale at the produce section, and you will always have them on hand when you need them.
No, the frozen ones are not good for a fruit salad, so make your fruit salad the day you buy them, but still toss them with some carbonated lemon-lime soda to keep from browning. I can't remember who taught me that but it works for peaches too.
Read More Answers...
When is the best time to put the bananas in the freezer? I need to know the best time to cut them before placing in the freezer for my smoothies. When they are green or right as they start turning ripe?
By Dawn
March 30, 2014
0

found this helpful
When my bananas start to turn a little brown, I throw them in the freezer peel and all. When I want to use them for my smoothies I run them under hot water for a few moments and then peel them and throw them in my drinks.
August 27, 2016
0

found this helpful
you want to wait until brown spots are forming. the brown spots indicate bananas are at maximum sweetness. i have banana peanut butter smoothies 3-4 times a week.
I eat a banana every day, not only because it's delicious, but they are good for you. On these hot days, it's so refreshing to sit in the swing on the porch and eat a frozen banana.
Can I freeze mashed, ripe bananas for future use?
By Sandy from Memphis, TN
April 12, 2010
0

found this helpful
I put the entire unpeeled banana into the freezer. When I am ready to use it, I let it thaw and then I snip the end off and squeeze.
April 12, 2010
0

found this helpful
You can freeze them without peeling them if you want but I like to peel them then slice them thinly. They make a wonderful frozen snack and the kids love them that way. I slice them and lay the slices on an acrilic cutting board. A small one. I freeze the slices on the board then put them in plastic bags. This keeps them from sticking together before they freeze.
Read More Answers...
I pulled my bananas out of the freezer and let them sit out overnight. The next day they were watery; can I still use them for banana cake?
By Becky from New Prague, MN
December 24, 2011
0

found this helpful
Yes. you can use them, but you have to figure the liquid they gave off into the liquid needed for the recipe. Drain the banana water ino a measuring cup, and use as part of the liquid measurement needed for the recipe.
December 28, 2011
0

found this helpful
The liquid in the bananas, when they thaw, does not affect your recipe. I frequently freeze my bananas and use them for banana bread. Sometimes, I don't even peel them!
What is the disadvantage of freezing? My teacher says we can't freeze bananas.
Related
© 1997-2016 by Cumuli, Inc. All Rights Reserved. Published by
ThriftyFun
.
Page
generated on September 8, 2016 at 12:16:07 PM on 10.0.0.27 in 5 seconds. Use of this web site constitutes acceptance of ThriftyFun's
Disclaimer
and
Privacy Policy
. If you have any problems or suggestions feel free to
Contact Us
.