Craft Uses for Corks
Once the cork is out of the wine bottle, it's easy to just throw it away. However, they can be used for a myriad of things, craft projects in particular. This is a guide about craft uses for corks.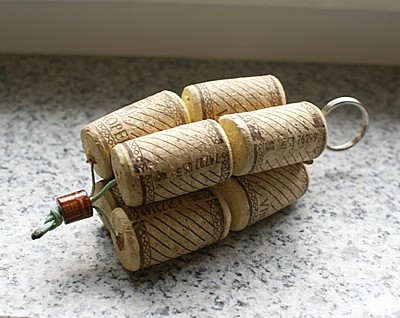 Filter

: All Articles
Sort

: Relevance
Here is a self portrait I made of myself out of wine corks. It took me 4 years to complete. The smaller the image or the further back you are, the easier it is to see.
I made this collection of bracelets with slices of wine corks, garden twine, beads from my craft box, scrap findings and fine gauge copper wire. The only thing I had to buy in was the crimp beads, which are not expensive and save much time and fiddling around trying to tie little knots.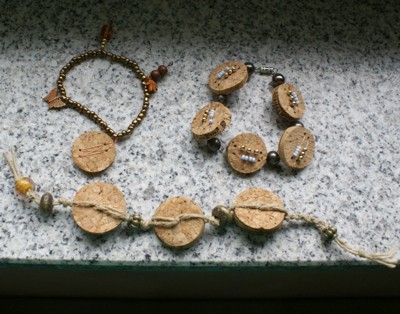 I was really pleased with the results and have already had great feedback and even some orders! I think this is a great craft for adults and teens to try.
Approximate Time: 1-2 hours for the three bracelets
Supplies:
slices of wine cork
crimp beads
elastic thread
a few small wooden beads
a large blunt needle like a crewel needle
beading thread
jute string
seed beads
fine copper wire
a lighted candle
Instructions:
Once you have all the supplies together, you will quickly come up with your own designs. Basically for the bronze charm bracelet, I threaded up large seed beads onto stretch beading thread them made the charms or, like the butterfly one, just used bits from my bead box.
The technique for embellishing the cork beads is to heat up the point of the needle then use it to pierce holes in the cork slices. You can then thread wire, beads, string through the holes. Crimp beads are used to secure the hanging loops and beading thread to the fasteners.
For the string bracelet (which is really just a variation on the friendship bracelet idea but much faster to make!) I just cut a long piece of string and threaded on larger glass beads and cork slices. For a more chunky feel, I used knots to secure everything and made a loop and bead catch.
I think the best thing about these designs is that they can be as simple or complex as the person making them can manage! (oh yes, and they are also very frugal too)
By Ayesha from Slovenia EU
This is a guide about making a wine cork trivet. Wine corks are often used in making handcrafted trivets.
I crafted these earrings and a charm from slices of wine corks and scraps from the bottom of my bead box. I think they are pretty good value for around 20 cents per pair!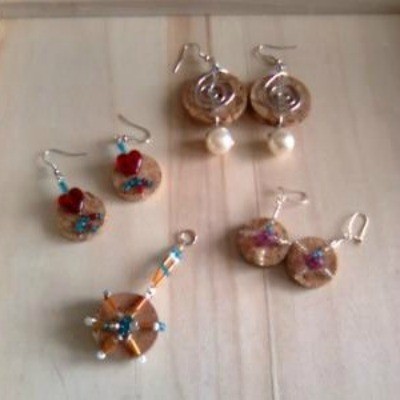 Approximate Time: 15-30 minutes
Supplies:
wine corks
seed beads
crimp beads
crimping pliers
beading wire or thread
pliable wire
round nose pliers
darning needle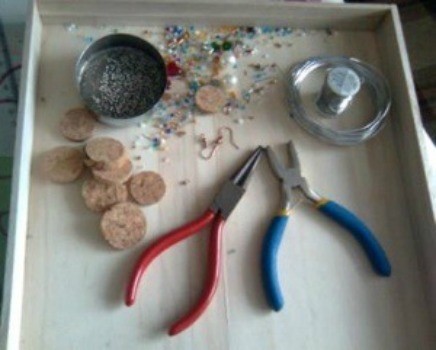 Instructions:
Using a sharp knife and a cutting board, slice the wine corks through. You should get 5 or 6 discs from each one. Try to keep the thickness similar as you are looking to make pairs of earrings.
If you are not confident, mark the cork at 2 mm intervals along the length of the cork, then use the marks as a guide. You should end up with a pile like the one in the photo.
Once you have found a matching pair, you can choose your beads and start making your earrings and charms.
For the heart design, use 2 acrylic red hearts and 22 seed beads. Push a hole through the center of the cork with the darning needle then, push through 9 inches of 34 gauge beading wire. Leave a 3 inch tail on the wrong side popping on a bit of tape to stop it pulling through. Next thread 3 seed beads, making sure that they are at the front before pushing the wire back round. Do this several times. Finally pass the wire through and round the heart bead to hold it in place.
Bring both ends of the wire to the top of the cork and after you are happy with the position of the beads twist them together a few times. Trim to around 1 inch, this will form the loop to hang from the earring wire. Pop on a couple seed beads to disguise the wire.
Push the twisted wires through a crimp bead then through the loop of the earring wire then back through the crimp bead. Use pliers to crimp the bead and tuck any excess back through the seeds beads.
I made the spoke wheel charm in a similar way except I used a few bugle beads to make the spokes and split and beaded the two wires before twisting and securing to a jump ring using a crimp bead.
For the large drops, use pliable aluminum wire and round nose pliers to form the spiral shape, bend it over the top and round the cork then, push the wire through a large pearl bead, back up and then holding the whole thing gently but firmly give the bead half a twist to hold it in place. Then take the wire back to the top and use pliers to fix the earring to the earring wires.
These were quick, fun and very cheap to make.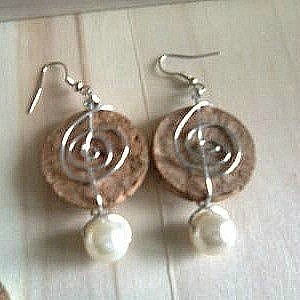 By Ayesha from Sovenia, EU
Rubber wine corks make excellent erasers. Just cut one down the center and you have two useful erasers.
By Wiletta from England
A frugal, floating keyring made from wine corks and scrap is a great Christmas gift for any boat enthusiast or fisherman.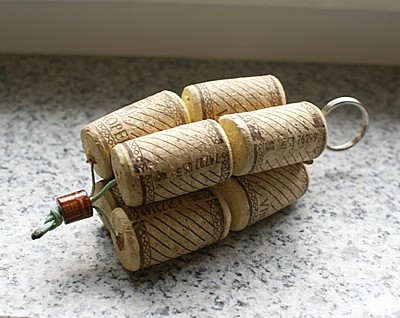 This simple leprechaun can be a cute addition to your table, place setting or in a centerpiece, or hide a few around the house and have the kids try to find him to claim a 'pot o gold'.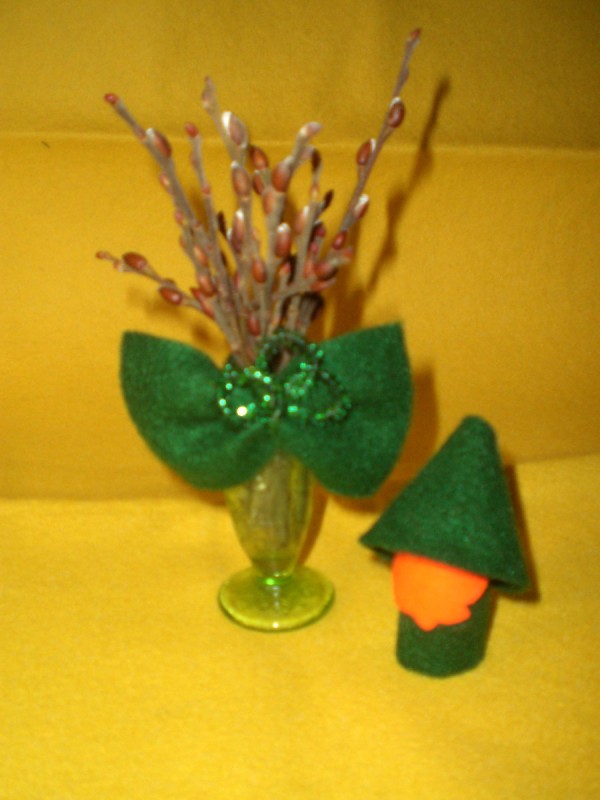 What do I do with wine bottles and corks, aside from the typical flower vase and trivet?
By Wanda
July 31, 2011
0

found this helpful
A friend of mine made a beautiful wreath made of corks with a beautiful ribbon brought through them and a bow. Also, I think a cork board made of wine corks would be very interesting.
July 31, 2011
0

found this helpful
If you have a lot of wine bottles, perhaps you can give them to someone who makes homemade wine.
Here is Saskatchewan, we can return them to the depot for a deposit, just like pop and beer bottles. Perhaps you should lobby your local/state government to bring in a bottle deposit to encourage recycling. There are only so many crafts one can use bottles for, although I have seen people make fancy fences and walls out of them, cementing them in like bricks.
You can make Christmas ornaments out of corks, angels and reindeer. If you have a lot of corks, you could donate them to a school or day care or Sunday school for crafts.
Read More Answers...
What can be made with wine bottle corks?

By D. Archuleta
April 30, 2012
0

found this helpful
Place card, business card and/or small photo holders.
May 1, 2012
0

found this helpful
Just realized the photo example I inserted yesterday to show you what they look like didn't post so here it is: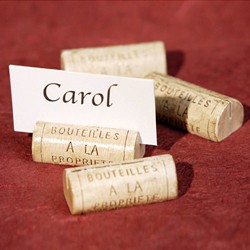 Read More Answers...
Making a cork wreath is fun and uses up all those wine corks you and your friends have. I used a large wreath with greenery on it, hot glued over 300 corks and wine labels (shaped into rolls) to it. Put them close together for a really great look. You can get the corks/labels from your friends. They sort of want to get in on the fun, so share both willingly. Used this for hanging at pool side. Even in weather, it has lasted for almost ten years. Unique, cheap and fun. It is also pretty! Use any size/shape corks. PS: I actually received enough corks to do three wreaths. That's a lot of wine consumed to help with my project. LOL
By Misty from Hermanville, MS
What can I do with wine corks?
By Zelda
November 10, 2010
0

found this helpful
What can you do with wine corks! I make jewelry with them,the instructions are on Thriftyfun just use the search. I also make floating key rings and at the moment I am collecting them to sell, yes SELL on eBay to raise money for charity.
If you do a search you will find that you can get over $20 plus postage for a hundred used wine corks on eBay! I was amazed.
November 11, 2010
0

found this helpful
When I was a child we used to burn the end of a wine cork to make a black tip and use it to give ourselves moustaches and beards for fancy-dress parties.
I'm saving wine corks to make a bulletin board. Some of the ones that have been given to me are obviously cork and some of them look more like rubber. Does anyone know what these are made of? Are they processed cork, rubber, or plastic?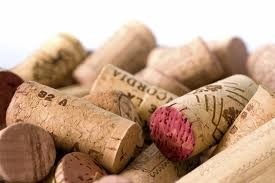 Related
© 1997-2016 by Cumuli, Inc. All Rights Reserved. Published by
ThriftyFun
.
Page
generated on August 21, 2016 at 11:45:04 PM on 10.0.0.66 in 5 seconds. Use of this web site constitutes acceptance of ThriftyFun's
Disclaimer
and
Privacy Policy
. If you have any problems or suggestions feel free to
Contact Us
.