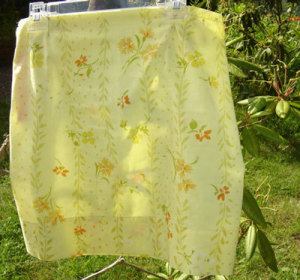 Don't throw out that old pillowcase! There are all kinds of ways to reuse these simple colorful rectangles of fabric. This is a guide about uses for pillowcases.
Ad
---
Solutions: Uses for Pillowcases
Read and rate the best solutions below by giving them a "thumbs up".
As I was organizing my garage last night I saw that my folding chairs were dusty. I had also just put some old pillow cases in a pile for donation. Then it struck me to put the pillow cases over each folded chair. They fit perfectly! Love this idea!
By lizzard32970 from California
Where I have to store my crockpots and cookers is dusty. I have found that if I use old pillowcases and twist the end over, it prevents from having to major clean before using the appliance. I still rinse off the lid and clean out inside but it saves considerable cleaning time. And if someone needs to borrow it and is standing right there when you get it out, it is not covered in groddy junk.
You could go a step further and do some kind of tie with a tag stating what it is. Hope this is as helpful to someone as it has been to me. I look for shabby chic type cases at garage sales, thrift stores, etc., or make the covers from old sheets, material, tote bags etc.
By ladylynnk from South Texas
Use old pillowcases to store handbags and purses in your closet. This keeps the dust off.
By Linda from Hendersonville, NC
I use pillow shams and pillowcases as dust covers for my nice leather purses stored in my closets. Also, I have stored Christmas sweaters and socks in them. Everything is clean, gathered, ready, and dust free.
I usually use 2 pillow cases for our bed. Recently one wore out. What to do with the other? I came up with the idea of putting it on the back of my extra dining room chairs that are put away in storage. This also works great if you have children with sticky fingers at the table. The case slips perfectly over a chair. Now I am on the hunt for odd ones at the thrift shop for my other chairs in storage. :)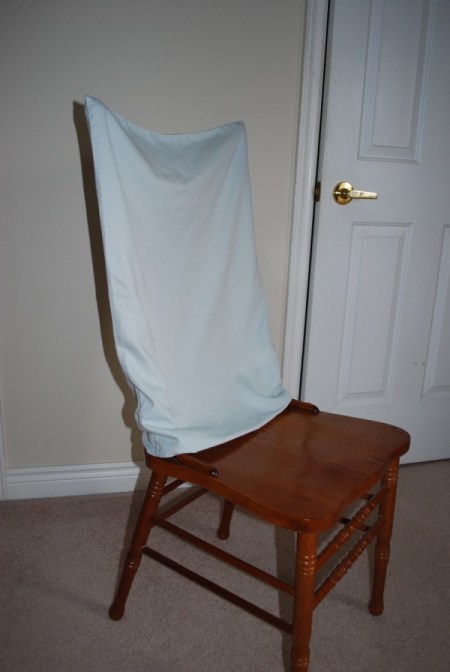 By Sheila [65]
What do you do with pillow cases that are no longer needed for a bed? Turn them into cloth bags! First turn the bag inside out, fold down the sides of the opening, run a cord or other material cut to the length of the handle you want, hand stitch/sew. Turn the pillow case rightside out and there you have it, a bag! The best thing about this one, no cutting!

Source: I just started trying different ways to reuse material and items at home to save money and make money. It's even simple enough for the kids to do!

By Michele from Landisville, PA
I had a lot of faded pillowcases which I didn't want to use for the beds, but were still in good shape. Since I enjoy making crochet shopping bags and totes with any scrap yarn I have leftover from other projects, I modified the crochet bag patterns slightly to the size of the pillowcases so they can be used as liners for inside the bags. There is no sewing required. Just whip stitch the opening of the pillowcase to the top of the bags. The crochet bags look much better, last longer with a lining, and I have a good use for the old pillowcases. This works particularly well with granny squares as you can work them to fit around the size of the pillowcase.
By cettina [78]
Supplies:
beginning sewing skills
pillow case/cases
sewing machine
scissors
zipper or elastic
Instructions: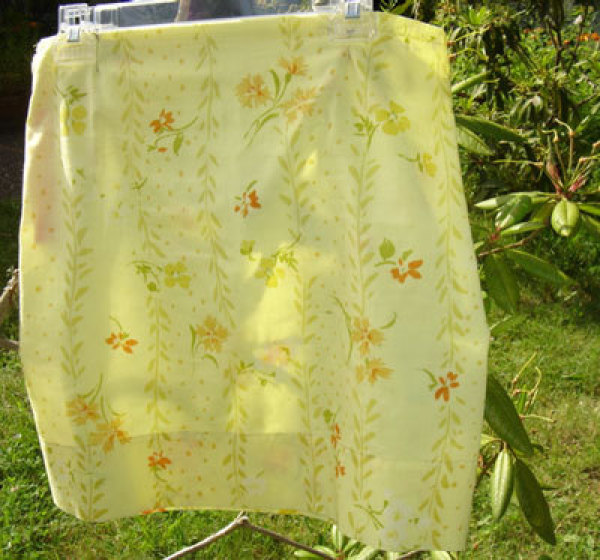 For a skirt with zipper:
Find a pillow case with fabric you like.
Cut the end that is sewn together.
Cut from the end that does not have a hem to the length you would like leaving a little extra for the top hem
Cut down the seam enough for zipper to fit in.
Make a hem at the top of the skirt and where the zipper will be placed.
Sew zipper in.
Now you may want to make some darts in the front and back of the skirt to make it more form fitting.
To make darts fold in a small amount of fabric at the top of the skirt and sew about one inch down at an angle making a triagle (tapering off).
For a skirt with elastic:
Make a large hem leaving a hole to insert the elastic through. Cut elastic to proper length so it goes around your waist snugly with a tiny bit extra.
Put a safety pin on each end of the elastic attach one end though the skirt near the hole. Use the other one to feed elastic all the way through the hem. When it has made it all the way through remove the safety pin attached to the skirt and safety pin the two ends together. Now sew the two ends together. Sew the hole in the hem once you have tried on the skirt and have determent that the elastic is not to tight or lose.
I understand that this may not fit every one, but with a few adjustments it can fit anyone. I wear size 9 in pants and I used one regular sized pillow case. It could possibly fit a few sizes larger as well. To fit smaller sizes you will need to take it in a bit or just use a elastic. For larger sizes you may want to find two or more pillow cases with matching, complimentary or totally different fabrics depending on what you like. Cut the ends out of the pillow cases and cut down one side on each pillow case and sew them together and take in as needed or use a elastic.
By Stella Rivet
Give a "thumbs up" to the solution that worked the best! Do you have a better solution? Click here to share it!