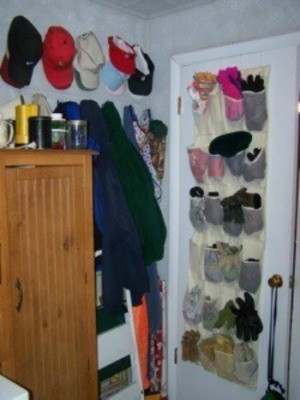 Repurpose an over the door shoe organizer to store a wide variety of other personal items or crafts. This is a guide about uses for over the door shoe organizers.
Ad
---
Solutions: Uses for Over the Door Shoe Organizers
Read and rate the best solutions below by giving them a "thumbs up".
I love the cloth shoe organizers, I use them for everything. This is my arts n crafts/school stuff. I painted tin cans with spray paint and stuck them in the slots. One row is for erasers, pencils, makers, etc. One row for beads, gems, shapes, etc., and so on.
I have one in the bathroom for brushes, hair products etc. One in my cellar way for spray paints,poly etc. One in each kids room for whatever they use; hair stuff, cars, crayons, etc. I am working on making my own for my kitchen to hang on stove for spices, utensils, etc. Some of my cans are actually the lumineers I made for a party this summer.
By Moonseekerjade from Onset, MA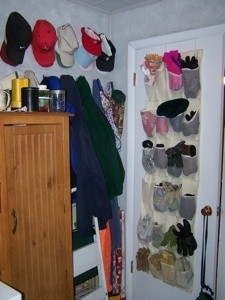 Another use for those hanging shoe organizers. It seems we could never find both of a pair of gloves now we can see just where they are. Hats and other misc. things are also handy. The organizer is thumbtacked to the door.
By Ann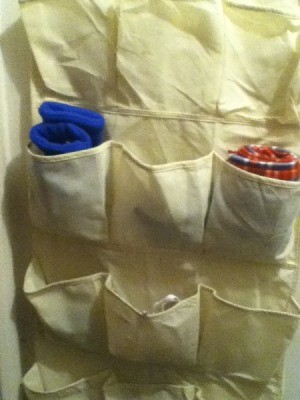 When I was a preschool teacher, I would use those fabric shoe holders to organize things in my classroom. Every winter at home, I would constantly misplace my gloves, my scarves, etc. Running across a couple of these I had stored away, it dawned on me, they would be perfect to store my gloves and such in.
If you have children, you could hang one by the back door or in your coat hanging area. One row of pockets could also be used to place papers/notes that need to go back to school the next day or to leave lunch money. Everyone could personalize to their own use. Decorating with fabric paint for names, labels, pictures, etc. would be really nice, too!
By Linda from Fort Smith, AR
The shoe organizers that you hang on a door are for more than shoes. I use on in my son's room for socks and underwear.
There's one inside the basement door for scissors, tape and things of that nature. Just be sure to put a plastic container in one of the pockets for scissors, so the tips won't poke through
By MarilynLV from Indian Orchard, MA
I bought a shoe holder that I could hang on the back of my office door and instead of putting shoes in it, I use it to organize my photographs. I can find any picture that I'm looking for within a minute or two.
From the shoe holder, I take the pictures and put them in photo albums. The shoe holder can be used to store all sorts of things, not just photographs. Store office supplies like scissors, stapler, pens, pencils, white out, etc. Bathroom supplies like door brushes, combs, extra soap, toothpaste, make-up, etc. It really has cleared off my desk and made it much easier to find things.
By CaroleeRose from Madison, AL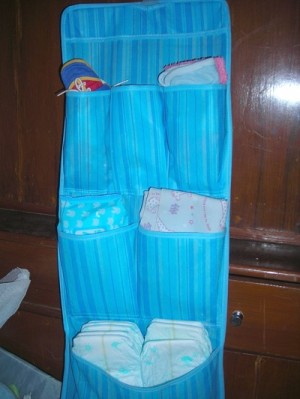 Keep a small hanging organizer near the changing area for those everyday baby essentials like diapers, wipes, pacifiers, socks, hats, brush, bows/clips, nail clippers, etc. Any kind works, but the clear pouches make it easier to see the contents and lessen digging time.
By Kelli from Sentani, Indonesia
I love over the door shoe organizers. They are great for a lot of those electronic gadgets with their manuals. I use to keep them in a drawer, this is so much easier.
By Clutterfree from Charleston, SC
I use clear envelope multi-pocket organizers (like shoe organizers) and hang them in the closet and behind the door in my small sewing room. When I need to get, for example, a different foot for my sewing or a particular craft item, I can easily see it through the clear plastic.
Clean up is easy. They are easily transported to my work area wherever it may be. Saves a lot of space as well and I can store a lot of goods. I have been doing this for years and find it works for me!
by Chrissy
I hung one on the inside of a door near the pantry and use its pockets to keep all my large stash of dry mixes such as gravy mixes, dressings, and chili mixes. It's so handy and easy to pick the gravy mix I want, whether it is turkey gravy or beef. It holds a lot of packets.
By Shirley from Mesa, AZ
Hang and over-the-door shoe organizer in your garage or on/near whatever door you exit. In it, stash all the grab-n-go items you may need - umbrella, sunglasses, sunscreen, bug spray, etc. Everything will be in one place and ready for the road when you are!

By Lisa from Madison, WI
You can usually find plastic-pocket type shoe holders at a dollar store. These are made from clear flexible vinyl and are made to hang shoes on the wall or from a hanger in your closet. But you can also use them for many other things besides shoes. My daughter uses one in the bathroom to hold all of her hair-care supplies and liquid body-soaps. She hangs one on the back of her 5 year old daughter's bedroom door to hold all her hair ribbons, barrettes, and scrunchies.
I hang one on the wall in my sewing/craft room to hold my jewelry making tools and crochet hooks. I hang several in the garage to store and separate my sockets, screws, bolts, S-hooks, and other small tools. I bet they'd also be great hung on the back of a utility closet door, to store cleaning supplies. Or as a jewelry organizer to store bracelets, broaches, and other jewelry!
They might also make a great "ribbon-on-a-roll" organizer and also make a handy place to store and catalog your knitting needles, or your sewing supplies like: elastic, Velcro, thread, and bias-tape.
By Cyinda from Seattle
Give a "thumbs up" to the solution that worked the best! Do you have a better solution? Click here to share it!
Questions
Here are questions related to Uses for Over the Door Shoe Organizers.
Plastic over-the-door shoe organizers: seems every time you really look for something, is the time you cannot find it. I have seen these before, at the Dollar General, at the Dollar Tree, and neither is carrying them now, and I refuse to pay a fortune for such a thing. Does anyone know where else I could look to find these on the cheap?

Carrie from Iowa City, IA
AnswerWas this interesting? Yes No
Ad
---
---
Most Recent Answer
By carla 20 11 03/20/20100 people found this helpful
Oops. I forgot to tell you it was Dollar Tree.
---
Archives
Thrifty Fun has been around so long that many of our pages have been reset several times. Archives are older versions of the page and the comments that were provided then.
Tips and ideas for using hanging shoe organizers, other than for organizing shoes. Post your ideas.