Crockpot meatballs make a great party appetizer or main dish. Making meatballs in your crockpot will help keep them from being too dry. This page contains crockpot meatball recipes.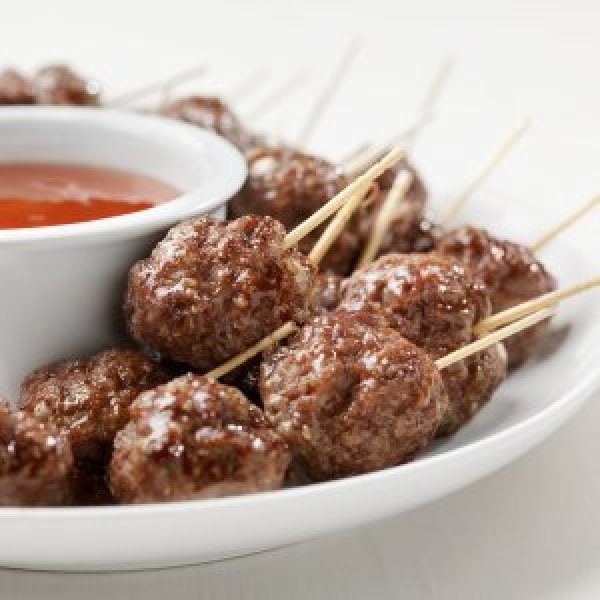 Filter

: All Articles
Sort

: Relevance
I love the flavor the cabbage gives this meal. Instead of making cabbage rolls, when my children were little, I would just make it this way and just not give the cabbage to the children. My husband and I could still enjoy the flavors together and the children loved the little hamburger balls and potatoes.
Ingredients:
1 head of cabbage
2 lb. ground beef
3/4 cups instant rice
1 onion diced
1/2 tsp. seasoned salt
1/2 tsp. pepper
1 tsp. diced garlic
2 cans of tomato soup
4 or 5 potatoes, cut into quarters
Directions:
Place peeled and quartered potatoes into the bottom of crock pot. Mix the ground beef, instant rice, onion, seasoned salt, pepper, and garlic together. Shape into balls about 2 inches around. Put the meatball on top of potatoes.
Cut the cabbage in half and then cut each half into wedges, place over the meatballs. Mix the 2 cans of tomato soup with 1 cup water and pour over the ingredients in the crockpot. Cook on low for 7 to 8 hours, or high for 2 hours, changing to low for 4 hours, or until potatoes are soft.
By Dorothy from New Creek, WV
Easy and delicious.
Ingredients:
Meatballs (either frozen or homemade)
2 cans cream of mushroom or cream of chicken soup
seasoned salt and pepper
minced onions
Directions:
Mix two can of cream of mushroom soup with 1 can of water. Put meatballs (28 or so) in crock pot and pour soup mixture over them. Add salt, pepper, and minced onions. Cook on high for about 4 hours or low for about 8 hours. Serve them over rice or noodles or mashed potatoes. So very good. We love them.
I always make more than we need for one meal, then we can have the leftovers the next night for supper!
Servings:
4
Time:
5 to 10 Minutes Preparation Time
4 to 8 Hours Cooking Time
By Dorothy
Ingredients:
2 lbs. frozen meatballs
1 bottle chili sauce
1 can jellied cranberry sauce
Directions:
Place meatballs in crock pot. Stir together chili sauce and cranberry sauce (a whisk works best for this). Pour sauce over meatballs and stir. Cook on low heat for 2-3 hours or until meatballs are thawed and hot.
Source: I saw this in a magazine and later discovered that the recipe is printed on the Ocean Spray cranberry sauce can, as well as the Heinz chili sauce bottle.
By Jean from Raymond, MS
Does anyone have a quick recipe for meatballs in a crockpot? In essence of saving time, I am going to buy the frozen ones and cook in some type of sauce. Any sauce suggestions? Thanks.
By Monica from Pingree Grove, IL
Answer
Was this helpful?
Helpful?
Yes
We put about 5 lbs. of already cooked frozen Italian Style meatballs in a 6 quart crockpot, then added one 28 ounce jar of honey hickory bbq sauce with about 14 ounces of water, and let simmer for a few hours. Yummy! Any leftovers can be frozen in plastic containers with the sauce.
Reply
Was this helpful?
Helpful?
Yes
Read More Answers...
At a party I went to, they had meatballs that had chili sauce and grape jelly. Does anyone know how much sauce and jelly you would need per large bag of frozen meatballs? Thank you!
By Mary C.
Answer
Was this helpful?
Helpful?
Yes
Depending on the size of the bag of meatballs, use a medium to large jar of grape jelly and one to two bottles of chili sauce. I have also used marmalade in place of the grape jelly, but that is an acquired taste for some.
Reply
Was this helpful?
Helpful?
Yes
Read More Answers...
In a bowl, mix the ground beef, bread crumbs, parsley, garlic, onion, and egg. Shape the mixture into 16 balls. In a slow cooker, mix the spaghetti sauce, crushed tomatoes, and tomato puree.
This is a tasty little meatball that everyone will like and it's easy to do. I like using the cranberry jellied sauce. It creates a little zing in your mouth.
Comment
Was this helpful?
Helpful?
Yes
Put one 18 oz. bottle of B.B.Q. sauce and one quart of tomato juice (or stewed tomatoes) over cooked meatballs in crock pot.

Cook until sauce is done. Mushrooms, onions or green pepper may be added. This makes a great easy no mess dish for showers and other get-togethers.

By gumbysue
Comment
Was this helpful?
Helpful?
Yes
Quick, Easy and Delicious recipe. My teenage son even loves this. I make this in a crock pot.
Comment
Was this helpful?
Helpful?
Yes
Ingredients
1 package frozen meatballs
1 can golden mushroom soup
1 can cream of mushroom soup
1 can brown gravy
Directions
Place frozen meatballs in crockpot. Mix the soups and gravy and pour over meatballs. Cover and cook on low for about 6-8 hours. Serve with rice or potatoes. Also excellent as an appetizer.
By Las Vegas Angel
Comment
Was this helpful?
Helpful?
Yes