Turkey Meatballs Recipes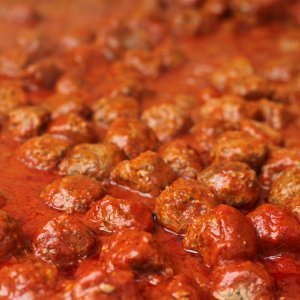 Meatballs are a classic favorite comfort food but they can be high in calories. Using turkey instead of ground beef can lower the calories and make a healthier meal or appetizer. This page contains recipes for turkey meatballs.
Recipes
Share on ThriftyFunCheck out these recipes. If you have made this recipe please submit a photo and let us know how it worked. Or, add your own recipe variation.
Easy and delicious! Will stretch the meat.
Total Time: 30 minutes prep, 20 minutes baking
Yield: 4 servings
Source: Taste of Home
Link: http://www.tasteofhome.com/recipes/spinach-turkey-meatballs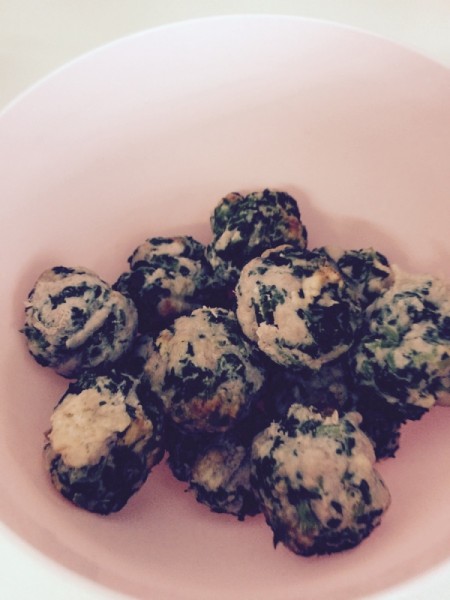 Ingredients:
1 10 oz. package frozen chopped spinach, thawed and squeezed dry
1 egg, beaten
1 cup soft bread crumbs
1/2 onion, chopped
1 tsp salt
Few shakes garlic powder
1 lb ground turkey
Steps:
In a bowl, combine spinach, egg, bread crumbs, onion, garlic powder and salt. Add turkey and mix well.
Shape into 2-inch balls.
Place meatballs on a greased rack in a shallow baking pan. Bake, uncovered, at 400 degree F for 20 minutes or until the meat is no longer pink. (Note: Mine took 13 minutes in a toaster oven)
These taste even better the next day.
I love greens, and rapini (also known as broccoli rabe) is one of my favorites. It goes well in this wonderful soup. Serve it with a good salad and crusty bread. Mmmm!
Ingredients:
2 cloves garlic, minced
1/4 cup olive oil
4 cups chicken broth (or two 13 oz. cans)
2 lbs. potatoes, peeled and cut into 1 inch chunks
1 bunch rapini (about 1 lb), thoroughly washed, tough stems removed, and roughly chopped
pepper, to taste
Meatballs:
1 lb. ground turkey
2 slices whole wheat bread, crumbled
1 small onion, finely minced
2 Tbsp. grated Parmesan cheese
2 Tbsp. minced, fresh flat-leafed parsley
1 egg, beaten
1/2 tsp. marjoram
1 tsp. basil
Directions:
Mix the meatball ingredients. Form into walnut sized meatballs.
In a large pot, saute the garlic in oil for 1 minute. Add the broth, potatoes, and greens. Bring to a boil. Add the meatballs one at a time, keeping the soup bubbling. Reduce the heat to a simmer. Cook for 20 minutes.
Remove about half the potatoes and mash them very well. Return to the soup to thicken it, stirring gently. Simmer 10 minutes more, then stir in the pepper. Be careful adding salt as the cheese is salty.
Servings:
Makes about 3 quarts
By Copasetic 1 from North Royalton, OH
Easy and delicious. Leftovers taste even better the next day.
Total Time: 8-10 hours
Yield: 16-20 meatballs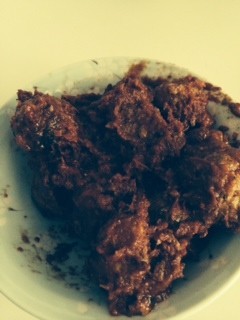 Ingredients:
1 1/2 lb ground turkey
1/2 - 3/4 cup regular oats
1 tsp dried Italian seasoning
2 cloves cloves minced garlic
1 medium onion, diced
1 beaten egg
1 26-28 oz. jar spaghetti sauce
1 10 3/4 oz. can undiluted condensed tomato soup
a few shakes garlic powder (optional)
1 tsp dried Italian seasoning (optional)
Steps:
Mix the meat, oats, Italian seaoning, garlic, onion and egg together. Make meatballs. I make golf-ball sized ones, but you can make them smaller.
Bake at 400 degrees Farenheit for 10-12 minutes, depending on size.
Mix the spaghetti sauce and the undiluted tomato soup together in the crockpot. Add garlic powder and Italian seasoning, if desired.
Add meatballs and coat with sauce. Cook on low in crockpot 8-10 hours.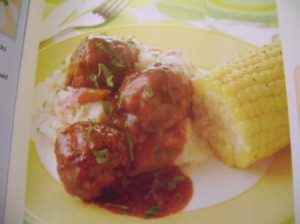 I enjoy making meatballs that are made in the slow-cooker. You can use lean ground beef or ground chicken instead of the ground turkey.
Ingredients:
2 Tbsp. vegetable oil
1 small onion, grated
1 stalk celery, chopped
1 clove garlic, minced
1 lb. ground turkey breast
1 large egg, slightly beaten
1/2 cup rolled oats (do not use instant)
2 cups barbecue sauce
Directions:
Warm vegetable oil in a small skillet over medium-high heat. Add onion and celery and cook, stirring until softened, about four minutes. Add garlic and saute 1 minute longer. Transfer to a small bowl and let cool.
Place turkey in a large bowl. Add onion mixture, egg, and oats. Use your fingers to gently but thoroughly blend ingredients (do not over-mix). Dampen hands lightly and form mixture into about 20 1-1/2 inch meatballs.
Pour a small amount of sauce over bottom of crock pot. Add meatballs, alternating with sauce. Pour in 1/2 cup water. Cover and cook on high until meatballs are cooked through, 3 1/2 to 4 hours.
Cooking Time:
3 1/2 to 4 Hours
Source: All You: Eat Well, Save Big cookbook
By Robin F. from TN
In a large bowl, combine egg, bran, Worcestershire sauce and lemon peel. Crumble turkey over mixture; mix well. Shape into 25 meatballs.
Read More...
Related Content