Sewing Machine is Breaking or Bending Needles
Solutions
Share on ThriftyFunThis guide contains the following solutions. Have something to add? Please share your solution!
Clean and oil the machine per manufacturer directions and make sure throat plate is properly aligned.
If you use pins to hold your fabric, pull the pins before the fabric goes under the foot. Pins are the number one cause of needle breakage.
Buy a better grade needle.
If all else fails, take it in and have the timing checked.
By Anne from Glen Mills, PA
April 17, 2012
0

found this helpful
I've seen many students break and bend needles by using the wrong size for the fabric they are trying to sew, and by trying to pull the fabric through as the needle is moving through the fabric.
August 11, 2011
4

found this helpful
If your sewing machine has begun to bend or break needles there are several possible causes. The following list will help provide some ideas for troubleshooting the problem with your machine.
The needle is improperly inserted.
The needle is bent or blunt.
The needle clamp screw is loose.
The needle thread tension is too tight.
The bobbin cartridge is in upside down.
The user is pulling too tightly on the fabric while sewing.
The needle is too fine for the fabric being sewn.
If after checking these possibilities and making the appropriate corrections as needed, your sewing machine continues to break or bend the needle, it may be time to take it in for repairs.
August 21, 2012
0

found this helpful
You should also check for thread & lint balls under the plate.
Read More Comments
Questions
Ask a QuestionHere are the questions asked by community members. Read on to see the answers provided by the ThriftyFun community or ask a new question.
March 25, 2015
0

found this helpful
A piece of broken needle is stuck in my antique sewing machine. I tried everything, Blaster penetration, pushing with a needle, pushing with a fine screw, and nothing works.
Please advise if you have experienced this.
By Chabeyline
December 5, 2016
1

found this helpful
Best Answer
I took a broken needle out with a magnet
March 26, 2015
0

found this helpful
There should be a screw type tightener. If you can't loosen it with your hands, sometimes a screwdriver or a quarter held with a plyers are needed. Either way, you should be able to get it out. If it's in the plate on the bottom, that comes off with smaller screw drivers. I hope this helps.
March 29, 2015
0

found this helpful
Sandi is on the right track with her suggestion. But as a sewing teacher/repair tech with considerable experience on antique machines, let me suggest two more things:
One: using the smallest pair of needle nose pliers you can find, grasp the needle bit with the pliers in one hand, spray WD-40 or similar up into the area with the stuck needle, and twist back and forth with the pliers at the same time. Try this three or four times.
(It sounds as though some grit is caught between the needle bit and the bar, holding the needle bit in there as though welded together. It could be a 'burr' too - something that can happen if the needle or bar area is beginning to rust. You won't see the rust but the minute projections can cause a burr or penetration to the needle or bar that will cause the needle bit to 'become one' with the bar)
If One doesn't work, it's time for Two: take your lovely lady to a repair tech who specialises in functional antique machines. Believe me there is a niche group of repair techs who only repair vintage-vintage (treadle and hand crank machines that aren't 100yo yet) and antique (genuinely over 100yo) machines. These techs have the tools and resources for parts that the average home antique machine users will not.
August 31, 2016
0

found this helpful
Use a strong magnet to catch the small piece!
I have a broken sewing machine question. I have a pretty old Janome sewing machine that was recently handed down to me from my mother. It's a beautiful old thing and I had it serviced and the repairman said to hang on to it because it's an excellent machine.
Well I fear I have ruined this excellent machine. I'm a beginner at sewing. I was making a purse with wadding inside it and trying to sew up the edges (4 pieces of fabric and two thicknesses of wadding).
I recently discovered the fancy settings on it that let me do beautiful zigs and zags and interesting combinations of stitches. I chose a setting that was lots of small stitches together, then about every 5th stitch a bit mountain/zig zag. I got about 2cm up the side of the purse and obviously it was too thick for the machine/needle/thread/tension (???I have no idea) and the needle bent. I removed the needle and replaced it, but now it keeps unthreading when I sew and is making a not so nice noise.
I just spent $200 getting it repaired and serviced. Is there any way I can fix this myself? or should I just take it straight back to the repair shop? I know that the repairman did a good job of fixing it last time and am pretty sure this is just my incompetence on the sewing machine that has caused the problem. Needless to say I'm devastated, as I have just discovered sewing and spend most nights doing just that, sewing! What an incredible craft it is.
Any thoughts or suggestions are very, very welcome.
By Fiona from Sydney, Australia
April 10, 2011
0

found this helpful
Ok, thanks for your feedback and thoughts. I think a lesson is an excellent idea. MCW your comment about the timing resonated. I since used my machine and it now is stitching straight stitches, but none of the 'fancy' settings work. I'll take it back to the repairman. : )
Thank you very much.
April 12, 2011
0

found this helpful
I am with MCW, you probably threw off the timing, just make absolutely sure you have it threaded properly and that there is no part of a broken needle in your bobbin case. I used to work at a Singer's store and so many times when people complained, it was something very simple like threading the machine correctly.
April 12, 2011
0

found this helpful
Even experienced sewers throw their timing off and bend needles. Some of us frequently. It does sound like the timing is off. That is fixable by a knowledgeable repairman.
December 5, 2014
0

found this helpful
You have a good machine, but it is a dressmaker not an industrial machine. You may have a bent shaft, timing out of wack and so so many other possibilities. If you are a beginner or not unless you know what you're doing, the worst thing any one can do is to take a sewing aching apart! Just go back to where you had it recently worked on and ask if they would take a look at why it's running poorly. If they are a reputable sewing machine service business, I doubt they will charge you at all unless a part is broken and you have to buy a new part.
If you could take a sewing class, to learn the basics in sewing and machine care, you would learn important tools in sewing you will use forever. Don't use heavy weight fabric on a dressmaker machine ever, ever. Guaranteed to ruin it. Stay with lite to med weight fabrics and use the correct thread of course. If later on you can, buy something like a Singer straight stitch machine, they are good strong work horses. Enjoy sewing, you have a great machine to use.
Read More Answers
My sewing machine needs adjustment but I don't know how and I can't afford to take it to a repair shop. The needle keeps hitting and breaking or bending really bad on the feed dog. Does anyone know how and what to adjust so the needle is in time with the feed plate. (The little teeth like things that help pull the material under the needle). Thanks to anyone who can help with this.

Brenda from Somerville, AL
October 18, 2005
0

found this helpful
Oh and..
is it a zigzag machine? Did you doublecheck to see that needle position is set properly for the stitch you are doing?
By guest (Guest Post)
October 19, 2005
0

found this helpful
Memere are you from louisiana???
By guest (Guest Post)
January 6, 2007
0

found this helpful
Brenda, the feed dogs on your machine maybe have come loose. I see this a lot. Check the screws in them. If not the needle bar or feed dogs, one have jumped time not that big of a deal oh by the way I also live in Somerville Al
By guest (Guest Post)
January 7, 2007
0

found this helpful
Thank you James. I will be sure to do what you suggested. I put my sewing machine away and have not used it since I posted the first time. I tried all the suggestions from others but none of them worked. By the way, you can contact me at brenest(at)aol(dot)com (replace (at) with @ and (dot) with . ) I can explain this a little better in email. Thanks again, Brenda
Read More Answers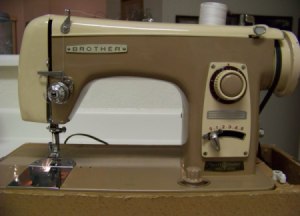 I have a Super Flairmatic 190B sewing machine. It has been working great then all of a sudden the needles keep breaking when I put it in reverse. I think the needles I have now are cheap, but it was doing it before I bought them. I have gone through over 30 needles in the past few weeks.
I have been told by the sewing center that it may be the timing, but I could fix it myself if I had a video that would show me. Would anyone on here have a video that shows how to set the timing on a front loading bobbin? I have done this before on an industrial machine, but can't find one for this machine. Please help I am cheap and don't want to spend the money to take it to a repair man. Thank you.
By pyduke
May 12, 2014
0

found this helpful
I do occasional vintage Singer repair and have invested the eye-watering sums in service manuals for those most often brought in. What I've learned is that no two models are alike - every one is timed differently depending on what stitches and features the machine has.
I understand (oh boy do I!) wanting to do this yourself but your machine is such a vintage model that the service manual for it is going to cost you a much higher price than the cost of the repair tech at the sewing centre would.
You can try this site for help - he may have a less expensive book, or possibly a free download - and he stocks a lot of new-milled parts for all kinds of vintage machines. If you're in the US, he's an invaluable resource! I'm in the UK or I'd be buying parts from him! Click on the link and scroll down - he does have things for Brother machines:
August 18, 2013
0

found this helpful
I have only just bought this machine, so I was really disappointed to hear it start clanking and jamming. It was a bit scary. I tried everything to correct the threads, but there doesn't seem to be a problem with the threading or any thread caught in the bobbin area underneath. I changed the needle afterwards and it seemed to work perfectly again for a few minutes. Then the needle broke :( This has happened another two times. I don't know what's wrong. Do I just return the whole thing? It seems such a shame. I hope somebody can give me a hand on here? I would much rather know it's me messing things up rather than the machine being broken.
By Becky
August 25, 2013
0

found this helpful
Your problem could be caused by one of two issues. First one is incorrect bobbin case seating. Your machine is a front load bobbin system and getting that removable case properly seated can be a real beast of a job!
In stitching, the needle goes down into the bobbin case as it rotates, catches the bobbin thread and loops to create the stitch. If the bobbin case is not in there correctly it will cause needle breaks because the needle smacks against the case that isn't rotating correctly.
Those front load (and side load) bobbin systems are very difficult to use! I try to steer my sewing students to machines that have the nearly jam proof top drop-in system because the frustration with the front or side load system is too great - it can put a sewer right off sewing!
If you bought the machine at a dealer or a fabric store like JoAnn or Hancock's, take the machine back to the store and ask one of the staff to help you learn to load the bobbin case correctly. There should be no charge because you bought the machine there.
Take notes; if you can record the session you can play back the audio whilst trying to load the case at home. Snap several photos with either a mobile phone or a digital camera because yes, a picture really can be worth a thousand words when you are struggling to correctly seat one of those bobbin cases!
If you bought it at a big-box like WalMart or Target you're not going to get much help from them, sorry to say because most of the staff in those departments are not sewers. They used to be but they aren't anymore. You can try taking the machine to a Singer dealer, or JoAnn, etc, but expect they will charge you for teaching you how to use the machine.
The only other thing that could be happening is that the machine was dropped in the warehouse and the timing is off. This is a warranty problem for a qualified repair tech to fix, it isn't something you can do at home.
If you still have the receipt you can exchange the machine for either a replacement of the same model, or look for one that has the top drop-in system (so much easier! You may have to pay a little more but it is SO worth it! Any Singer or Brother top drop-in machine will give you years of sewing satisfaction).
When choosing the replacement box, make sure there are no crushed or dented corners as a sign the box was handled carefully. You may even want to try the machine before leaving the store with it.
July 1, 2013
0

found this helpful
My Dressmaker 300z sewing machine needle strikes the metal piece below the bobbin case and breaks the tip of the needle off. It was bought in 1990 at Walmart. How can I fix it?
By Melba M.
July 2, 2013
0

found this helpful
The timing is off in the machine-you need to take it to a professional for a resetting of the timing. This really isn't something that can be done at home by the sewer.
Most repair techs will have access to the information (usually in a service manual, a pricey item that can cost as much as several hundred dollars US) needed to set the timing on the different models of majour manufacturers, including your particular machine.
Make sure when you take the machine in that you get an estimate, and that the estimate includes a servicing (cleaning, oiling, and checking everything is in good order).
January 16, 2015
0

found this helpful
My industrial sewing machine is breaking needles on reversing. I am staying in Africa, I depend on you.
By Desi
Archives
ThriftyFun is one of the longest running frugal living communities on the Internet. These are archives of older discussions.
November 11, 2010
0

found this helpful
My sewing machine froze up when I pressed the foot pedal to make it go. The needle doesn't do up and down. I can't even turn it to go up and down. I wanted to know if there was anything I can do to fix it my self or should I take it to a repair shop? Thanks. Hope to hear from you soon.
Jessica
Answers:
Sewing Machine Jammed
In the past, I have had the threads lock up between the needle and the bobbin. Try removing the needle from the shaft and then take bobbin out. See if that is the freeze up. If not, start from the electric outlet and check all connections. Maybe somewhere they got loose. Good luck. I know it's frustrating! (08/06/2010)

By suem1009
Sewing Machine Jammed
Check the threads like suem1009 suggested. If that is it and it works after you get them loose, then good. If it keeps doing that it could be the "timing". This will need a repair shop.
Try oiling it very well. I had a machine freeze tight because I hadn't oiled it, ever. (I lost the manual and didn't know how.) Good luck! (08/06/2010)

By lhegs
Sewing Machine Jammed
Your timing could be off, but it could be something else also. Here is a website where people can ask questions about their sewing machines. One of the questions there is about machines freezing up. See if his answer helps you out.
sewvacdoctor.com (08/07/2010)

By Laniegirl
Sewing Machine Jammed
Have you tried unscrewing the needle? Sometimes if it gets bent slightly, it jams. (08/07/2010)

By skinnyjinny
Sewing Machine Jammed
Depending on the age of your machine, it may have a rubber belt. They can wear out or stretch. After checking suem1009's idea you may need a new belt, and that can take a repairman. (08/08/2010)

By thriftmeg
Sewing Machine Jammed
One thing I would never fool with is the timing in my machine. Take it to the repair shop and get an estimate before they work on it. If it's too high you might consider a new machine? Good luck. (08/08/2010)

By Amandablue
Related Content