Preventing a Cat from Peeing Everywhere
Accidents happen. But, it is a stinky problem when cats stop using the litter box. This guide contains suggestions for preventing cats from urinating around the house.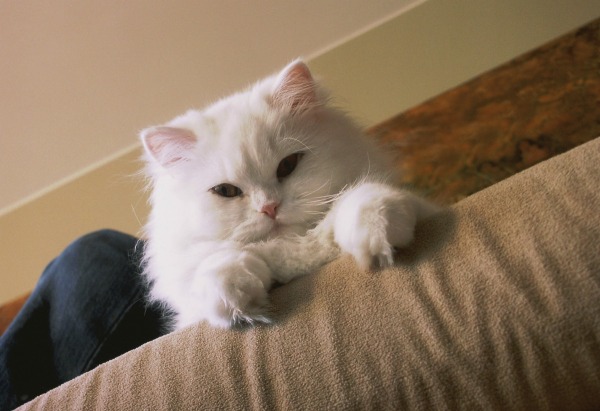 Filter

: All Articles
Sort

: Relevance
I have a cat that is in heat like the article said. Is there anything I can do to keep her from peeing on my bed and other places where she does this? Also is there anything that I can give her to keep her from crying all the time during her cycle.
Our cat Puffy has been driving the entire family crazy with his peeing everywhere.
We bought de-scenting sprays and special cleaners, which he ignored and re-marked all over the house. Some advice? (I refuse neuter my cat.)
May 18, 2016
0

found this helpful
Why would you refuse to neuter your cat? WOW! Thousands of unwanted kittens are killed every year because of irresponsible people like you. Your cat will be much cleaner and MUCH MORE content when neutered.
Read More Answers...
My kitten, Faye, who's about 6 months old keeps peeing everywhere. We got her about a month, almost two months, ago. She was litter trained when we got her. She uses the litter box, but she still pees on everything. We have two litter boxes, and we recently got a new humongus one, so that makes three. It's also weird because she acts like a dog. She tries to steal my food when I eat, and she'll eat anything that I drop on the floor as long as its food. This morning I woke up and found the trash bag ripped open, and food everywhere. I have two other cats, one a girl, the other a boy. They are all fixed. The other two cats are almost 2 years old, but they love to play with Faye, and they love each other. I just need to know how to get Faye to stop this behavior. Thanks for any help you have!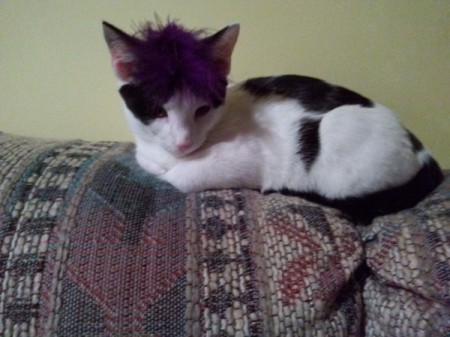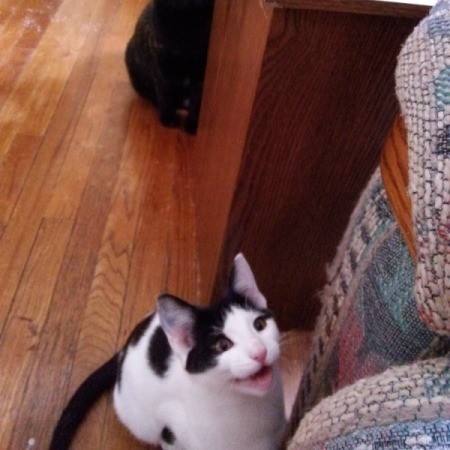 July 2, 2016
0

found this helpful
If she's eating everything she see it sounds like she might have worms. That's why my two kittens did when they had worms, try to litterally eat stuff out of my hand!
Read More Answers...
I have an 8 month old female cat. She is spayed, but after her surgery she started peeing everywhere. I tried everything. It has gotten to the point where I have to get rid of her. She uses her litter box to poop and sometime uses it to go pee. She is peeing all over my clothes, blankets, and furniture. It stinks in my place because of her. She was a stray and now I keep wishing I had never gotten her. I love her, but before she got fixed she never peed in my house she always used her litter box. I moved her litter box and showed her where it is and she just wants to pee on my clothes. What can I do before I get rid of her? For two months she has been peeing everywhere. I have to throw away so many things because of her. I am at the point of saying I don't want her anymore. I am at the end of her peeing everywhere.
By Kendra G
April 10, 2015
0

found this helpful
It's possible that her bladder was cut or harmed during the spay surgery. Or she got an infection following the surgery. Take her to a different vet than the one where she had the surgery.
Read More Answers...
Our cat, Puffy, has been driving the entire family crazy with his peeing everywhere. We bought de-scenting sprays and special cleaners, which he ignored and re-marked all over the house. Some advice? I refuse neuter my cat.
Thank you.

December 13, 2015
0

found this helpful
I had a cat that was rescued from our roof..one littermate was dead and 2 survivors..we raised them on a bottle. We gave one to a local community newspaper editor;s granddaughter and kept the other one. She lived 11 years...but before she died she began to pee outside the litterbox...and even stop to pee as she was hurrying to one of us that called her....as if she was unaware of just peeing in the carpet! She was over 10 years old and just then had started this. She died of kidney failure.
Read More Answers...
We brought in a stray kitten a few days ago and initially he seemed to have taken to the litter box well, he only attempted to poo outside of it once and we set him inside as he was going and the problem never reoccurred. However he never pees in the litter box, and he always seems to find a different spot to pee on, and it's always somewhere my boyfriend and I spend the most time (bed, in between the couch cushions). He even peed on my feet while I was sleeping the other night.
I know this is likely him marking, but is there anything (besides the old mouthwash and tinfoil trick) that can get him to finally start peeing in the litter box. We keep the one we have in the main bathroom downstairs, we're buying another today, but aren't sure where to put it. I'd like to keep a stinky litter box out of the kitchen, but our apartment is so small. Both bedrooms are upstairs. Thanks.
April 20, 2016
0

found this helpful
We had a male stray doing the same thing, even on our bed while we were in it.. We tried all the tricks, multiple litter boxes, changing food, interactive toys, sprays, everything! We finally assumed he needed to be neutered and took him to the vet, turns out he had a UTI. The vet informed us cats will pee in places where you spend the most time i.e. Bed, couch, kitchen in an attempt to try to get your attention and let you know something is wrong. You may want to take him to the vet and get him checked out just in case.
Read More Answers...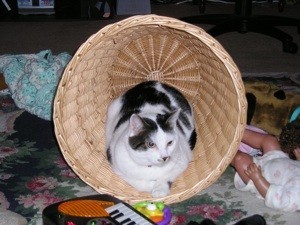 How do I stop my male cat from urinating in the bathtub?
By weedas55 from MI
July 28, 2016
0

found this helpful
52 Years ago I had a gorgeous long haired Red Tabby Male I named him Sandy he was a rescued kitten we never had litter boxes in those days nor cat flaps - I let him out when he wailed at the back door and he came home when he wanted! He was adorable I loved him to bits! he never peed in the house he just waited till he was let out -- Then one day when he was about 4 yrs old he started peeing in the bath, I thought he just could not hold it any longer - I cleaned the bath and thought how nice and easy it was to clean it up so I did not mind -- Then a week or two later it started to be a daily thing with him every morning he had peed in the bath again I did not worry about it -- But then one morning his pee was almost pure blood and he was lying in the bath I thought he was dying -- I rushed him to the Vet and they examined him and found that his bladder was clogged with what they called sand crystals so they cleaned his bladder out and gave him antibiotics kept him in for a few days and then I brought him home - the vet told me that some male cats when the are neutered start making the crystals because he holds his pee in too long so every time he peed in the bath I took him straight to the vet! He died when he was 16 yrs old of mouth cancer I still miss him, So please if you have a single male peeing in the house DO take him to the vet he is trying to let you know he is sick!
Read More Answers...
My cats are 6 and 7 months old. They began peeing on stuff only when my boyfriend's daughter comes for the weekend. She has cats at her place as well. Please help, their litter is clean and everything. It's only when she is here.
January 20, 2016
0

found this helpful
I would suggest getting them both fixed. Otherwise when your daughter is there keep them in another room with their litter box. They must be smelling her cats and marking their territory. I have always fixed my cats right around 5 months. I've never had an issue like this before.
My cat is 4 years old and got neutered before he was 1. He has had 2 UTIs and 2 kidney stones in the past. His diet has been changed and he's so much better. Here's the thing, we moved into our new house last night. I showed him where his clean litterbox is and everything. Also, all of the flooring is brand new. But he keeps peeing everywhere, even on the tile flooring.
I know stress/change of environment could play a part, but I need to stop him from doing this. I did not get any sleep last night, he was coming in the bedroom, jumping on my bed and constantly meowing. But when I would get up, he would be fine. He's feeling okay, acting normal (other than the peeing), eating, etc. I have cleaned with enzymatic cleaner, all that. But he is literally peeing everywhere!
December 28, 2015
2

found this helpful
I think you kitty is having a hard time adjusting to the move. You need to eliminate a bladder infection as a cause of the problem, so get him to the Vet soon. It is a very likely possibility. Stress really can bring it on. The stress will diminish with time, and I'm sure he will improve. Some folks keep their cats confined to a room with a litterbox until things settle down a bit. It seems to help some cats. But be sure and get him to the Vet right away to be sure on the bladder infection. Good luck.
I have a 4 year old male cat. He is fixed and started peeing everywhere! He uses the litter box but he still pees. Could it be that I have two female cats that aren't fixed? I don't know how to stop him from peeing, and I don't want to have to give him up. Please help.
By Linda S.
February 21, 2014
0

found this helpful
Best Answer
I think you guessed about half the problem. Get the girls fixed. Your male cat may be feeling territorial about other males that show up looking for your females. You also might want to have him checked for a bladder infection.
How can I stop my cat from peeing and pooping everywhere? I'm pretty sure it's from stress, as my older brother likes to scare him and the younger one drags him to bed. However, when we put a stop to it, which lasted about 4 or 5 months, he still kept doing it. He goes everywhere. The beds, dog bowls, couch, under the bed, outside, but never in the litter box despite changing litter and getting a new box for separate cats, we have two, brothers, he still has not stopped. What can we do? We really don't want to give him away.
By Tiffany
December 17, 2014
0

found this helpful
If you aren't able to control the cats' environment so it can recover from the abuse, consider finding a rescue and be sure and let them know the cat was abused. They may be able to find a home that can help the cat heal. It sounds like it was badly traumatized.
Read More Answers...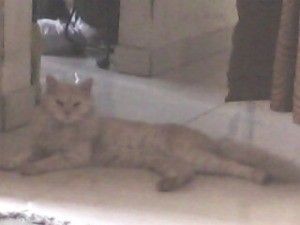 I have a male Persian cat and he is peeing almost everywhere and not using the litterbox at all. But in the case of poop, he uses the litter box or the bathroom very properly. Please help me find solution; it's urgent.
By Afrin from Navi Mumbai, India
March 2, 2015
0

found this helpful
In order to get rid of the smell of cat urine use peroxide. Just pour it on the area and let it soak in. Works wonderful best thing out there to get rid of the smell of cat pee
Read More Answers...
I have a 6 month old male cat who recently just started peeing on my daughter's bed, just outta the blue. I don't know what to do. Nothing has changed in the household and he also tries to escape outside all the time. I can't have him outside as I live in a campground and I can't afford to have him just peeing in places other then his litter box. I live in a small enclosed camper. Please help. Any information will be great. Thank you.
By Jordan
March 14, 2015
0

found this helpful
First, neutering will probably help. Besides that, the problem may be stress related. Cats were not meant to live in very small, enclosed spaces all the time.
Read More Answers...
I have two 13 year old cats, a male and a female who despite living together for ten years, hate each other. Both cats have had UTIs in the past with the occasional spraying outside of the litter tray, but were put on special diets (which they are still on) to stop the UTIs which stopped the occasional spraying.
Over the past few months though, my female cat has been spraying/peeing more and more frequently so that now it's pretty much daily on things like the toaster, the kitchen bench, the couch, books, anywhere and it seems like everywhere! I recently caught my male cat spraying in the same place after I'd cleaned up after her so I am not sure how much of it is him, but I suspect it is her 90% of the time.
Her behaviour has been changing too, for example she used to be outside most of the time, but now rarely goes out, she has become quite clingy and she vocalises as though she's lost sometimes. The vet says she seems quite healthy for an old cat though and after finding it wasn't the UTI, recommended I try a Feliway diffuser. It's been two weeks and apart from the first two days, it doesn't seem to have made a difference, she even sprayed the wall right next to the diffuser! I have 3 litter trays that I scoop as soon as I see anything, but she/they pee on it or in front of it as much as in it!
I really don't know what else to do and am about to lose my marbles. Any advice, ideas, or similar experiences would be greatly appreciated. Please help!
By Emma S. from Melbourne, Australia
October 6, 2013
0

found this helpful
Also check for diabetes. Sounds like my diabetic cat. If it's not a medical problem, ask your vet for a mild tranquilizer. Could be stress related.
Read More Answers...
© 1997-2016 by Cumuli, Inc. All Rights Reserved. Published by
ThriftyFun
.
Page
generated on July 30, 2016 at 2:05:12 PM on 10.0.1.233 in 1 seconds. Use of this web site constitutes acceptance of ThriftyFun's
Disclaimer
and
Privacy Policy
. If you have any problems or suggestions feel free to
Contact Us
.