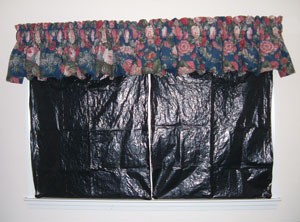 Do you have problems sleeping when the moon is full? Are you bothered by street lights or yard lights brightening up your room at night? Do you work at night and have to sleep during the day? Maybe you can benefit from this tip. To darken your room, cover your windows with black plastic. Materials needed:
Heavy duty large trash bags or black plastic that will shield the light.
2 inch masking tape
Self sticking Velcro
Measure window so plastic will overlap on sides and hang below the window blinds.
Place a strip of masking tape across top of the plastic for facing and to hold the Velcro.
Stick a 2 inch set of the Velcro to the top corners of the plastic curtain and then press into place to the window molding.
At bedtime, close your blinds, dim the lights and hang the black plastic. Tuck the bottoms under the blinds so air from the heat vent will not disturb. When you get up, take the plastic down, fold it up and stick it in a drawer or under the bed. The neighbors will never know.
By Not Telling from NC
Ad
---
By Terri 7 84 08/13/20080 people found this helpful
When my husband was working the night shift, I covered the windows with heavy duty aluminum foil. It helped reflect the heat from the afternoon sun, also.
By darlene 12 13 08/20/20080 people found this helpful
why don't you just paint them.
By Not Telling (Guest Post) 08/22/20080 people found this helpful
What I like about this design is with it being attached with Velcro, it is easy to put up and take down. Being able to take it down enables me to enjoy my bright room during the daytime, which has a great view. Also being that it is hung over the blinds, it is not visible from outside of the house.

During the winter months when the temperature dips into the 20s and 30s, I use this same method for hanging a piece of clear plastic over our sliding glass door which is located in the dining room on the North side of the house. It really helps hold in the heat during those cold spells. It is also faced with a strip of masking tape and has 4 pieces of Velcro to hold it up.

It is quite easy to put up and take down. I like having my view to the outside. When not in use, I keep it folded up, out of sight under the hutch. The white fuzzy pieces of Velcro stuck to the white door molding are not noticeable.
By peeryp (Guest Post) 08/25/20080 people found this helpful
I use a sleep mask. However, using foil is an interesting approach to help keep my bedroom cool in the summer.