Cleaning Formica
Whether you are cleaning up a vintage table or your kitchen counters, you may be looking for tips on cleaning Formica. This is a guide about cleaning Formica.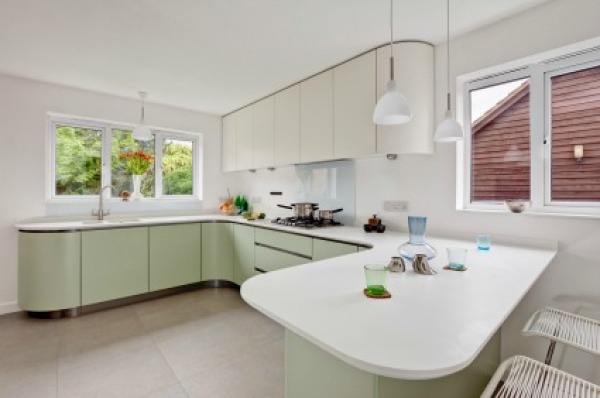 Filter

: All Articles
Sort

: Relevance
I have a green Formica countertop that has pink mold in the crease behind the sink area. How do I remove the mold without removing color from the Formica?
I recently had to deal with a stained white laminate counter top, due to a tea spill that wasn't cleaned up right away. I tried everything to clean it: thick bleach, baking soda (left on for two 24 hour periods), dish soap, all-purpose cleaners, and Vim powder; nothing worked! In fact, bleach seemed to darken the stain, and I suspect this is due to the hard water in our location.
What did work was a melamine "magic eraser", such as the Mr. Clean brand, but any type of melamine foam pad will work. Scrubbing really hard on the stain with the eraser did what no other cleaner could. Now the countertop looks just like normal, after a few sessions with the eraser. Save yourself a lot of trouble and just go with the melamine foam.
Link: http://ask.metafilter.com/18615/Getting-stains-out-of-a-white-formica-kitchen-counter
I have been trying in vain to find some way to clean the counter tops in my kitchen. We are renting this house and the counter tops in the kitchen (Formica I think) are beige. There are all kinds of grayish stains and some that look like rust.

I have tried Comet, Ajax, Bon Ami, a little household bleach and SOS pads to no avail! They have helped with some of the lighter stains, but there are still those awful old ugly brownish/grayish stains! I'm not sure where these came from, but I sure would like to get rid of them.

If anyone has any suggestions, I certainly would appreciate hearing from you. I saw a commercial on TV for something called Oxi-Clean and was wondering if that might help (however, it may just be for laundry, I'm not sure). Anyway, Happy Holidays to everyone! :)

By Kathy
May 20, 2006
0

found this helpful
how do I get a burn mark off of a formica counter?
Editor's Note: Try some Barkeeper's Friend. It is in the supermarket near the Comet and sink cleansers.
March 18, 2007
0

found this helpful
For food stains(organic stain) we use 1 scoop of Oxi-Clean in 1 qt. of water. This is also great to really shine up stainless steel sinks. Use your dish brush to scrub.
September 17, 2007
0

found this helpful
Magic Eraser by Mr. Kleen
To remove a stain on your Formica counter top, just slather a thick amount of dish washing detergent over it and let it sit for several hours, then wipe it up. The detergent seems to draw the stain into it. I discovered this by accident and it works over 90% of the time.
By Ramona from Ocala, FL
How can I clean formica furniture?

C from Coconut Creek, Florida
January 20, 2006
0

found this helpful
lighter fluid or glass cleaner with ammonia definitely...maybe vinegar?
January 21, 2006
0

found this helpful
Rubbing alcohol and cotton ball with elbow grease - works best when used before other cleaners, but if the other didn't work, it is still worth a try. Good Luck!
January 28, 2006
0

found this helpful
WOW! The hairspray worked instantly. Thanks for the tip.
How can you remove stains from Formica tops?
By Joy
November 17, 2015
0

found this helpful
How to remove sanitizer from formica countertop?
I had accidently sprayed some oven cleaner on my black Formica counter. It has left a stain. How can I restore the color to the counter?
By Helen E. from Bellingham, WA
February 27, 2013
0

found this helpful
Perhaps try Armoral or a spray wax, like Pledge...Good luck!
March 1, 2013
0

found this helpful
You might try touching up the spots, with mineral oil, cooking oil, olive oil, etc. Rub the oil on...then rub it off. Good luck!
I have Formica countertops and also Formica on the back of my stove. Could you please tell me how to get grease spots off of my Formica on the back of my stove.
By Pat
February 20, 2011
0

found this helpful
Try some of the cleaners made specifically for kitchen grease. Or wet a rag with hot water and squirt a little dish washing soap on it and try that.
February 20, 2011
0

found this helpful
I've had very good luck with the foam "Kitchen Cleaner". Spray the foam on and let it sit for 5 or 10 min. A clue that it's working is the foam will take on a yellow/brown hue.
February 23, 2011
0

found this helpful
The best thing that I have found for removing grease on anything, including clothes is a product called 'Greased Lightning'. You can find it at Home Depot and I'm pretty sure that Walmart sells it to. I cleaned the range hood filter at my son's house with it. The filter was there when he bought the house and looked like it had never been cleaned - it was dark brown and sticky. He had no hot water so I filled the sink up with cold water and dumped about 2 cups of 'Greased Lightning' in. I let the filter sit in the sink overnight and the next day after using a soft scrub brush on it, it was silver looking and all shiny. Try it...I know you'll like it.
I have a vintage Formica-top kitchen table in my bedroom. It sounds weird, but it fits in and there's room for it. I have a large room and a small table.
The other day, I (foolishly) stood beside it while using hairspray, and now when you run your hand across it, you can feel the overspray. You can't see any difference.
How can I clean this off without damaging the 50-60 year old table? It didn't come clean with Windex.
By Claire
September 18, 2012
0

found this helpful
Try warm soap and water. One coat of hairspray shouldn't be that hard to remove.
September 24, 2012
0

found this helpful
The same thing you use to get hairspray off your hair, shampoo!
Related
© 1997-2016 by Cumuli, Inc. All Rights Reserved. Published by
ThriftyFun
.
Page
generated on September 25, 2016 at 10:06:36 AM on 10.0.0.74 in 7 seconds. Use of this web site constitutes acceptance of ThriftyFun's
Disclaimer
and
Privacy Policy
. If you have any problems or suggestions feel free to
Contact Us
.