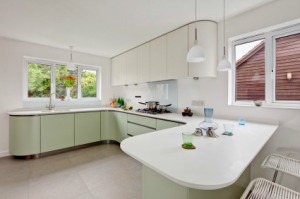 Whether you are cleaning up a vintage table or your kitchen counters, you may be looking for tips on cleaning Formica. This is a guide about cleaning Formica.
Solutions: Cleaning Formica
Read and rate the best solutions below by giving them a "thumbs up".
To remove a stain on your Formica counter top, just slather a thick amount of dish washing detergent over it and let it sit for several hours, then wipe it up. The detergent seems to draw the stain into it. I discovered this by accident and it works over 90% of the time.
By Ramona from Ocala, FL
Ingredients:
1/2 teaspoon Murphy's oil soap
3 tablespoons vinegar
1/2 teaspoon olive oil or linseed oil
1/2 cup warm water
Directions:
Mix above ingredients in a spray bottle and shake well. Spray on and wipe surfaces. Rinse well.
By truerblue
Give a "thumbs up" to the solution that worked the best! Do you have a better solution? Click here to share it!
Questions
Here are questions related to Cleaning Formica.
I had accidently sprayed some oven cleaner on my black Formica counter. It has left a stain. How can I restore the color to the counter?
By Helen E. from Bellingham, WA
---
Most Recent Answer

By Sharon Cross [12]03/01/2013
You might try touching up the spots, with mineral oil, cooking oil, olive oil, etc. Rub the oil on...then rub it off. Good luck!
I have a vintage Formica-top kitchen table in my bedroom. It sounds weird, but it fits in and there's room for it. I have a large room and a small table.
The other day, I (foolishly) stood beside it while using hairspray, and now when you run your hand across it, you can feel the overspray. You can't see any difference.
How can I clean this off without damaging the 50-60 year old table? It didn't come clean with Windex.
By Claire
---
Most Recent Answer

By judy09/24/2012
The same thing you use to get hairspray off your hair, shampoo!
What is the best way to clean a 1950s Formica top table?
By Sandra from Tamaqua, PA
---
Most Recent Answer

By redhatterb [1]04/18/2012
I had one for years. It was new when I bought it in 1965. I just cleaned the top on a regular basis just like cleaning the counter tops. I have kicked myself several times for getting rid of it and getting a more modern one.
How do I clean rust stains on white Formica?
By Julienne I
---
Most Recent Answer

By Frugal Sunnie [11]01/04/2012
I've had good results using a scouring powder like Bon Ami, Barkeeps Friend, and in drastic application, Comet or Ajax. Test a small corner to see if it will make things worse before trying to do the whole thing, though, to be sure you can live with it.
I have Formica countertops and also Formica on the back of my stove. Could you please tell me how to get grease spots off of my Formica on the back of my stove.
By Pat
---
Most Recent Answer

By Jackolyn Smith [14]02/23/2011
The best thing that I have found for removing grease on anything, including clothes is a product called 'Greased Lightning'. You can find it at Home Depot and I'm pretty sure that Walmart sells it to. I cleaned the range hood filter at my son's house with it. The filter was there when he bought the house and looked like it had never been cleaned - it was dark brown and sticky. He had no hot water so I filled the sink up with cold water and dumped about 2 cups of 'Greased Lightning' in. I let the filter sit in the sink overnight and the next day after using a soft scrub brush on it, it was silver looking and all shiny. Try it...I know you'll like it.
I want to clean Formica so that I can faux paint it to look like granite. What should I use to make sure it is really clean and the paint will stick?
By Maryann P. from Phoenix, AZ
---
Most Recent Answer

By Carol Verhoff [2]08/13/2009
Hi Maryanne:

I just created a blog through this website all about my experiences remodeling my kitchen. I painted my counter tops to look like galaxy granite and talk about some of the troubles I ran into while doing it, which might be of benefit to you. I'm not sure if my blog is working correctly or if anybody has taken a look at it, but I'd love it if they did.

Like grammakin suggested, I used TSP to clean my counters and in my blog I talk about some of the other steps involved.

Thrifty-Something Blog:

http://www.myfrugallife.com/blog_Mrs_V.html

Be sure you are logged in if you want to connect to my link. I'm not sure if it's just my computer, but if you want to see additional information about each photo you have to click on the photo.

Good luck with your counters.
My black Formica countertop has white stains that do not show up when wet but can see when dry. Any ideas on how to remove them?
By windmilldecor from Fort Lauderdale
---
Most Recent Answer

05/06/2009
It is possible that the white on your countertop was caused by a little standing water, hot pots or abrasive cleaners, all of which are a no-no for Formica. Because the white only shows up when the counter is dry, the counter probably needs a good waxing with a product made exclusively for Formica. Here is a link that tells how to care for Formica countertops.
http://www2.answerbag.com/articles/ ... 3a7460e5-f31f-00b4-9b10-833c246434b0
How can I clean formica furniture?

C from Coconut Creek, Florida
---
Most Recent Answer

By Brenda [7]01/28/2006
WOW! The hairspray worked instantly. Thanks for the tip.
I have been trying in vain to find some way to clean the counter tops in my kitchen. We are renting this house and the counter tops in the kitchen (Formica I think) are beige. There are all kinds of grayish stains and some that look like rust.

I have tried Comet, Ajax, Bon Ami, a little household bleach and SOS pads to no avail! They have helped with some of the lighter stains, but there are still those awful old ugly brownish/grayish stains! I'm not sure where these came from, but I sure would like to get rid of them.

If anyone has any suggestions, I certainly would appreciate hearing from you. I saw a commercial on TV for something called Oxi-Clean and was wondering if that might help (however, it may just be for laundry, I'm not sure). Anyway, Happy Holidays to everyone! :)

By Kathy
---
Most Recent Answer

By (Guest Post)09/17/2007
Magic Eraser by Mr. Kleen
Archives
Thrifty Fun has been around so long that many of our pages have been reset several times. Archives are older versions of the page and the feedback that was provided then.
How can I clean my formica countertop which is badly stained with all kinds of dirty marks?
railroader
---
RE: Stains on Formica
Hi,
The question about how to get out Formica stains...this is one I have a lot of experience with. Although I hate using any toxic cleaners, I've never had good luck w/ Formica stains using baking soda, or vinegar, etc. The only thing that, unfortunately, works like a charm and very quickly is old-fashioned bleach. I squeeze out a wet sponge, pour some bleach on it, and then wipe the Formica stains. If it's stubborn stains, leave it on for a minute before wiping away. Make sure to clean area with plain water very well afterward. This works so well, that ground-in dirt also comes clean. Good luck.
Arlene (08/07/2003)
By ThriftyFun
RE: Stains on Formica
Hello Railroader,
In regard to your formica counter tops: I have tried several methods to clean mine. The only one that worked was compound that is used on automobiles. Get one that has a fine grit. It takes some elbow grease to accomplish, but it works. After cleaning them, use car wax. It does not scratch them. You will have to re-polish about every 3 months.
- Faye (08/09/2003)
By ThriftyFun
RE: Stains on Formica
I just used a paste of baking soda and white vinegar to remove a stain made by the purple dye of a flower pot wrapping. The Formica is light green in color. It worked! I let it sit for 10 minutes and rubbed gently with a paper towel for less than a minute. The new formica material stains more easily than the old. You'd think it would be better. (01/08/2006)
By KW
RE: Stains on Formica
I had brown stains from I don't know what, on my cream colored formica counter top and used the vinegar and baking soda paste. It worked with a lot of scrubbing with a scrubby sponge. Bleach wouldn't even remove these stains. (08/29/2007)
By Colleen
RE: Stains on Formica
I took the baking soda/vinegar 10 minute advice. It worked so well, now the rest of the counter looks stained! (09/11/2008)
By Christy
RE: Stains on Formica
That has got to be the coolest thing I have ever seen! I thought I'd never get the stains out of my kitchen counter with the baking soda/vinegar combo. (01/15/2009)
By Lisa
RE: Stains on Formica
Our counter top is formica, 21 years old and an almond color. It looked a bit dull, and had 2 cup ring marks that I could not remove. I made a heavy paste of baking soda and vinegar and left it for 20 minutes. After rubbing, rinsing thoroughly, and drying completely with a soft dish towel, it looks like brand new. (01/17/2009)
By Shirley H.
RE: Stains on Formica
Do NOT use bleach! I have white, speckled formica in my kitchen and used bleach on a couple of well used areas which had a slight brownish stain. The bleach caused an alarming much browner stain! Thanks to advice found online, I got Mr. Clean Magic Eraser which is working. I got the original version, but my hardware store also had a newer, stronger one. The kind I got consists of white sponges which you just wet with water then gently rub the formica surface. (01/26/2009)
By Patty
RE: Stains on Formica
Yeah, I can attest bleach, truly my favorite cleaner, has let me down on this one. I was trying to get rid of some mildew on my bathroom sink. It stained the white formica yellow-green. Don't do it! I'll try the baking soda. (02/07/2009)
By Patrick
I need some tips for cleaning grease from Formica.
By Rocco from White Plains, NY
How do I remove a hair dye stain and a rust ring from a shaving cream can off an old formica bathroom countertop?
By Nancy from Nashua, NH
---
RE: Stains on Formica
Brush neat undiluted bleach onto the stain and leave as long as possible (overnight if you can) then rinse off, it will either have removed the stain or radically lightened it, reapply if necessary, or simply rub with a cream cleanser and rinse, this worked for me a few times, when I was a home hairdresser! (11/11/2009)
By keepsy
RE: Stains on Formica
I am amazed and thrilled! The baking soda and white vinegar paste worked miraculously on strawberry stains. Left in on 15-20 minutes. I couldn't believe my eyes. And like others said just a little rubbing brought the final shading off. Maybe someone used another vinegar who said it couldn't work. And it didn't change the shading compared to the part I didn't treat. (06/10/2010)