Many wonderful things can be made with Kool-Aid Jammers or Capri-Sun juice pouches. This guide contains juice pouch crafts.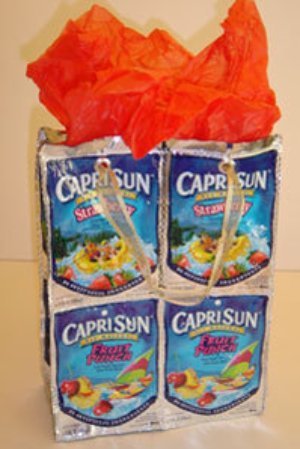 Filter

: All Articles
Sort

: Relevance
This lunch bag is easy to make and durable. It makes great use of Kool-Jammer or Capri Sun pouches.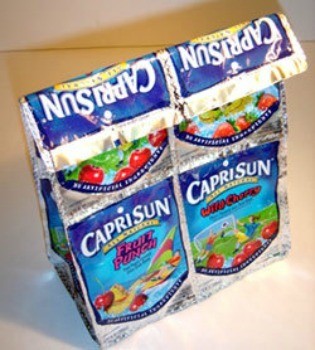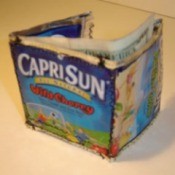 Here are instructions for making a tri-fold wallet out of Kool-Aid Jammer or Capri Sun juice pouches.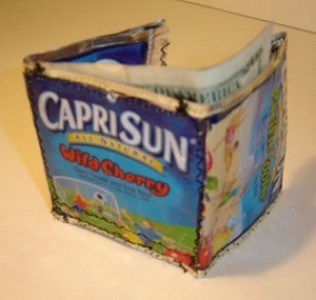 Materials:
5 Empty Capri Sun juice Pouches
X-Acto Knife
Sewing Machine
Thread
Instructions:
If you can't wait to drink the Capri Suns (or Kool-Aid Jammers) before making this craft you can always empty the pouches into another container and drink it later. One word of caution, the juice seems to taste better when you drink it out of the pouch with the cool little straw that is provided.
Once you have some empty juice pouches cut a slit in the bottom of each juice pouch with an X-Acto.
Clean the inside of each pouch with hot soapy water and let dry.
Using the X-Acto knife cut the back silver part of the Capri Sun off of the front, leave the seam attached to the front for stability. discard the back silver part of the pouch.

The Outside of the Wallet
Cut 3 of the pouches so that you have three pieces that you can sew together and have 10 inches of material. These will be used for the outer part of the wallet so organize the artwork on the juice pouches in a way that is attractive. You can see the format that I chose in the picture below.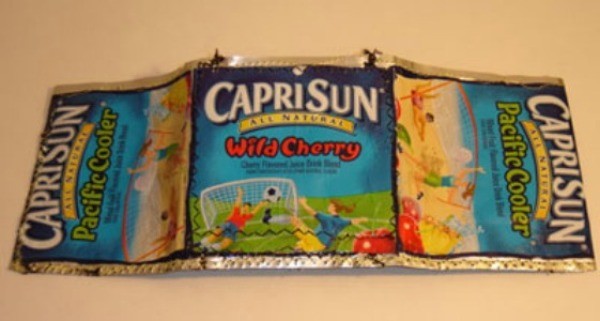 The Inside of the Wallet
For the inside of the wallet, start by duplicating what you did for the outside of the wallet. You basically will need another piece of material measuring 10 inches by 4 inches.
Adding Pockets
Now you can add inner pockets if you desire them. Sew these to the inside part of the wallet (2 pouches sewn together). Remember this is a tri-fold wallet so place to pockets accordingly. To make card pockets you will want to cut rectangles out of pouches that measure 3.5 inches x 3.25 inches for the pocket in the middle (the card will fit from the top) and 3.75 inches x 2.5 inches for the pocket on each side (the cards will fit in on the side). You can cut smaller rectangles the same width and sew them to the larger rectangle to make more pockets.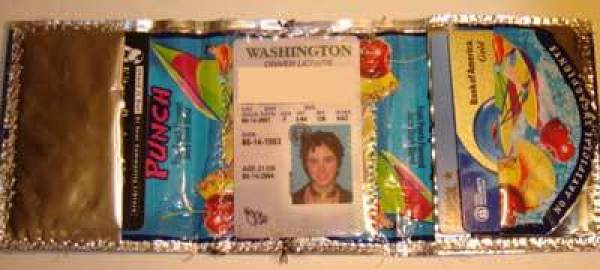 Finishing The Project
Once you have completed the pockets in the inner part of the wallet you can sew the front and back together leaving one side open to put the bills in.
If you have any tips or pictures of wallets that you have made with juice pouches, be sure to email them to me or post them below. I would love to see them.
I want to know how to make the hats. I made the purse and the change purse. Now I want to make hats. Thank you.
By Connie M
Answer
Was this helpful?
Helpful?
Yes
There are many sites onliine with instructions on how to make Kool-Aid items. Just ask "how to make kool aid whatever.
Reply
Was this helpful?
Helpful?
Yes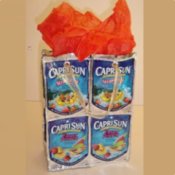 This gift bag is easy to make and durable. It makes good use of Kool-Jammer or Capri Sun pouches. It's very similar to the lunch bag I published in the past but instead of a velcro enclosure, it uses eyelets and ribbon to make a gift bag handle. It's a bit of work, but it makes an extra special gift bag that can be reused as a purse.
Supplies:
14 Caprisun or Kool-aid Jammer juice pouches
X-acto knife
eyelets and eyelet pliers (can be found at your local craft store)
sewing machine and thread
scissors
Preparation:
After the juice has been drank use an x-acto knife to slit the bottom of the juice pouch.
Clean the inside of each pouch with hot soapy water and let dry.
The Front and Back:
Take four juice pouches and sew them together 2 by 2.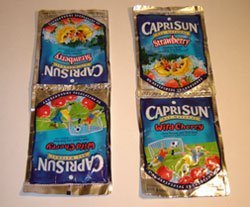 Do the same with four more juice pouches, having two sets of four. These are the front and back of the bag.
The Sides:
Sew two juice pouches together, one above the other, two tall and one wide.
Do the same to two more juice pouches, have two sets of two. These are the sides of the bag
The Bottom:
For the bottom of the bag you will need to determine how long it will need to be by taking two juice pouches and laying them next to the side piece (the set of four juice pouches). Instead of having one juice pouch full size and having a small part of another showing for the bottom I laid them on top of each other and sewed down the middle of them both to make it the appropriate length. Then I cut off the extra bit, leaving approximately and 1/2", then sewed that end down flat.
Putting It All Together:
The next step is to sew the bottom to one of the sets of four.
Sew the other set of four to the other side.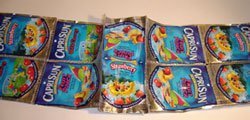 Next sew one of the sets of two to the bottom, then the other.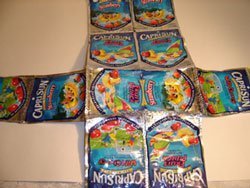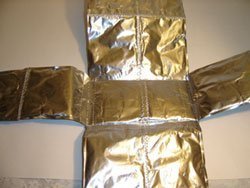 Note: If you like the look of the silver, you could consider using that as the outside of the bag.
Now sew all the ends together, the front to the sides and the back to the sides.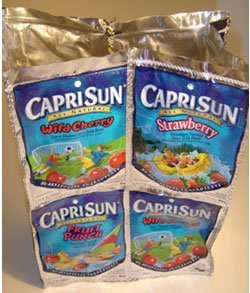 Finishing
Punch two holes slightly smaller than your eyelet about 3-4 inches apart on the front and the same on the back side of the bag, four total.
Place your eyelets and secure them with the pliers.
Find some yarn, string, ribbon or raffia to make the handles on your gift bag, be sure to make the knot big enough on each end so that the handles do not get pulled out through the eyelets.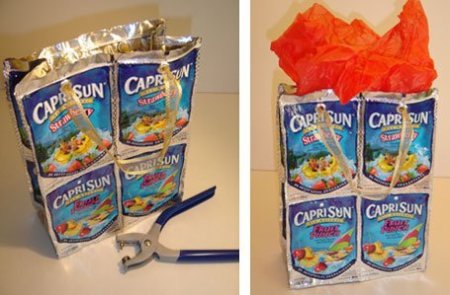 Using washed juice pouches, sew them all together and make a tote bag. The large ones are great for grocery shopping. Small ones are great for carrying as a purse.
When making juice pouch wallets, you could also secure them by sewing on velcro as a closure. This would prevent your cards from randomly falling out of the wallet.

Source: craftster.com

By K Wilson from Ohio
Comment
Was this helpful?
Helpful?
Yes
To make these cute Christmas tree ornaments, an adult should cut across the bottom of an empty juice box to open it up. Rinse well and dry. Tape the slit back up. For a Bible, have your child cover the box with black construction or tissue paper. Wrap it like a little gift.
Comment
Was this helpful?
Helpful?
Yes
Does anyone know how to make the juice pouch bags and lunch boxes? We are trying to go green and save money. Thanks.
By Cblaisdell from Zebulon, NC
---
Juice Pouch Totes
Just use a thermos for drinks. These are the ultimate in green as they are used over and over again. Or use some other bottle multiple times like a water/soda bottle. (04/25/2009)

By OliveOyl
Juice Pouch Totes
I bought a small metal water container - holds about 12 ounces - from Amazon. The small drink containers made of plastic are not healthy, and the pouches send more trash to the landfill. The metal one should last forever, and I think you'll save a lot by using it everyday in a child's lunch. They come in different colors and I would write or etch the child's name on it. Good for you to be concerned. I am sure you will pack healthy things - so much better. Good luck! (05/02/2009)

By mulberry204
Juice Pouch Totes
The Gerber juice bottles are made of similar plastic to tuppeware. Also I find minute maid has some heavier materials like this that can be washed over and over without worrying about the chemical content. So between the 4 oz, 6 oz and 8 oz, just put a skrew cover on them and use them. When out of the school lunch mode, I also put my honey in these, rather than the large gallon jars it I get it in. Can also use for craft supplies in the cupboard too. So many uses, recycle and still not expensive to start with. I like the MM Apple juice bottle--I had bought a case as I had recipes I used occ that needed 8 oz apple juice and I did not want to buy a can. Now that I have some of the bottles, I can BUY a large can or container, then pour into the bottle and freeze what I don't need at the time. (05/23/2009)

Comment
Was this helpful?
Helpful?
Yes
I recycle juice pouches to make useful crafts. These tote bags are great when shopping or traveling. I love helping the world be green.
These are very easy to clean. I use Goo Gone and to keep that fresh citrus scent I just wipe them down from time to time. If you're a stay at home mom, find something you love and work at it. It's a great time killer as well.

By Sharon from NY

---
Juice Pouch Totes
Some ladies in our area make these and sell them as a nice little source of extra income. I have also seen them done with packets from Koolaid drink mix, also very cute, but probably not as sturdy. (02/27/2008)

By bailegirl
Juice Pouch Totes
Found this pattern on the internet, for how to make a juice pouch purse. Just make it larger for a tote bag.
http://www.mormonchic.com/crafty/juice-pouch-purse.asp (02/27/2008)

By MCW
Comment
Was this helpful?
Helpful?
Yes
I would like to make a juice pouch (bag) wallet for my husband and a belt and checkbook cover for me. Can anyone tell me how or pictures of how?
Thanks, Marisa
---
Juice pouch wallets
juice pouches. eureka

yes, they're so thick and sturdy. and i bet those silvery freezerbags you can get at the supermarket are the same material. i have a policy of using only discarded materials but i think i can get my hands on some of (whatever that is).

I'm too lazy to pull apart the wallet i made last year from 2 mylar cookie bags (Matt's REAL oatmeal raisin), but i can tell you it involves some slot and tab action.

besides, there are SO many wallet styles. how many creditcard pockets do you want? how many folds? do you like a pocket on the outside for your DL or LIBcard?

also, having made two mylar wallets i can say that it's sturdier when it's all one piece. juice pouches are barely big enuf for a credit card holder, or do they come in big sizes now? (12/30/2004)

By milkshake
Juice pouch (bag) wallets and checkbook covers.
Um....I don't know how to make those, but you can find how to make a juice bag tote at:
Hope this helps!

By guest
Comment
Was this helpful?
Helpful?
Yes