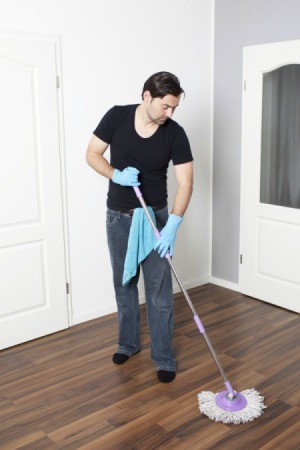 Floor wax and some floor cleaning products leave a waxy residue on laminate flooring. This is a guide about removing wax from laminate flooring.
Ad
---
Questions
Here are questions related to Removing Wax From Laminate Flooring.
I recently made the mistake of using a spray wax on my laminate floor. I also used a pad that looks like sheep's wool. After the floor dried it left fiber streak marks from the pad and now I have a floor with streaks marks that won't come off. How do I remove the wax from the laminate floor without ruining the finish?
Javier
By Javier from Spring Hill, TN
AnswerWas this interesting? Yes No
Ad
---
---
Most Recent Answer
By kittu 1 12/13/20130 people found this helpful
I just spent a week trying different methods for removing the buildup on my floors. I tried the vinegar, ammonia, and mineral spirits.routines to no avail. But what did work was zep floor stripper from home depot, a plastic scraper, a rag, and a sponge. I added a little more than the recommended amount in a bucket with water, and had another bucket of fresh water with a large, clean sponge. Wear gloves and dip the rag in the zep mixture, spread it in a small area, about 4x4. Let sit for a few minutes and use the plastic scraper, going with the grain of the laminate to scrape up the residue. Then use the sponge to wipe away the excess, squeeze it out and rinse the area twice with the water. I also used a fresh mop after finishing each room. The floors look great again. So don't give up hope.
I have laminate flooring, the wider planks. My cleaning lady came in and cleaned the floor using wide strokes instead of going with the grain. It was streaked terribly.
I tried to correct it using my mop, but the floor felt like it had a buildup. By the time I stopped, the floor looked worse than when she did it. It now has what looks like scratches. We usually use Orange Glo. Any suggestions to correct this mess?
By Kathie from Clinton, UT
AnswerWas this interesting? Yes No
Ad
---
---
Most Recent Answer
By Tom 1 02/23/20110 people found this helpful
Surprise, surprise, surprise! I tried Goof Off and it worked like a charm. Spray it on the floor and use the orange glow mop and rub it over the floor then rinse with warm water and towel dry. The floors look new again.
---
How do I get candle wax off of laminate floor?

Haggitha from Whitecourt
AnswerWas this interesting? Yes No
---
Most Recent Answer
By metroplex 82 416 09/09/20070 people found this helpful
I don't know if this will work on laminate floors, but I do know it will remove candle wax from carpets and wooden furniture.

Take a plain, brown paper bag - the kind with no lettering or printing on it. You can get this kind of brown paper that is used for wrapping packages at any mailing store or Walmart, Walgreens, Target, etc.

Cover the paper over the candle wax. I'd experiment and see if you need a few layers of paper.
Take a warm iron and gentle move it over the waxed spot.
You will see the wax melting and being absorbed into the brown paper and being absorbed off of the carpet (or wood).
Continue replacing the brown paper over the wax spot until it is removed.

It's important not to let the iron get too warm because you don't want to singe or melt the carpet.
It's also important to keep the iron moving.

Again, I know this works for carpets and wood, but I hope you get lucky with your flooring!
---
My husband and I just put in brand new laminate flooring (it looks like wood, and is grey colored). My mom came to visit and tried to help by waxing our floor and "surprising" us. She used a lot of wax. The stuff she bought was meant for wood flooring. By the time we got home the wax had been on our floor for hours. I know you're never supposed to put wax on laminate.
My question is: Will waxing the floor only once do damage? Or is it okay to leave it and just never do it again. It seems like the problem is when the wax builds up, so I'm hoping this didn't do too much damage.
By Irene H.
I used Orange Glo wax on my laminate floors over 3 years ago. I used it once a month for about 6 months, now I can't get my floor to look clean. I've tried vinegar, Murphy's Oil Soap, and all types of cleaners. Nothing seems to work. I looked for the Orange Glo wax for a long time and couldn't find it anywhere. I just found some at Walmart and I read the instructions, it says do not use on laminate floors. I was astonished. I came home and read the bottle I still had a little left in and there was no warning about laminate floors on it at all. Can somebody please tell me how to get this Orange Glo off of my light colored laminate flooring? Help please!
By Debbie A
Solutions: Removing Wax From Laminate Flooring
Do you have knowledge about this guide topic? Feel free to share a solution!