Tape can some times be difficult to easily remove from windows, particularly if it has been left on windows for a long time. This is a guide about cleaning tape off windows.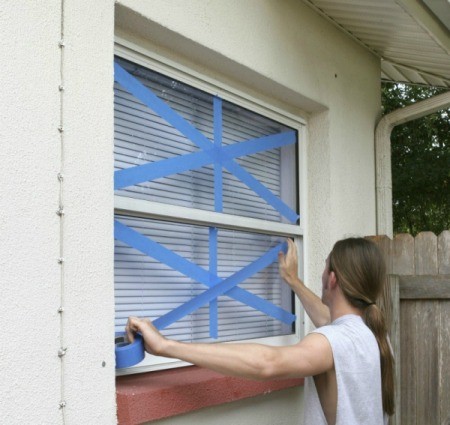 I just got new windows installed in my house. They have left plastic stickers and small plastic bags glued to the windows. I have tried the antibacterial lotion but it didn't work. This is really strong adhesive. Please help. My beautiful windows look horrible with these plastic bags glued to them.

Molly
---
Most Recent Answer
By guest (Guest Post) Flag
August 20, 2008
Hey, I know this is a bit later than most people have posted, but I have a great way to remove all sorts of adhesives from glass. A while ago i bought a car that had cheaply tinted windows. After removing the tints, the windows were covered with baked on, nasty adhesive. I couldn't scrape it off. I talked to a guy at a tinting shop, and he said that they use cold cream. I had no clue what it was being a 16 yr old guy. Apparently the womenfolk use it to take their makeup off or something. Anyways, I bought some at my local store (its in the make up aisle) and applied it to my windows. I waited about half an hour, and voila, the adhesive came right off. Cold cream turns the adhesive into a sort of snotty texture. all you need is something to take it off with... Good stuff.
---
By Pat Ness 3 3
When we heard about the hurricane, we taped our windows in an x pattern with masking tape. We realized we should have used painters tape, but didn't have any. When we took the tape off, a sticky residue was left. What can we use to take off the stickiness and have clean windows again?
By Pat
---
Most Recent Answer
By buttons46825 1 Flag
June 9, 2013
I have tape residue on my balcony window from the winter. I tried one of the hints with white vinegar and it really works. :o) It sure made my day. Thank You for the hint. Buttons
---
I taped windows up for Cyclone Yasi. Now I am confronted with the sticky layer from masking tape over the glass. I tried metho and eucalyptus oil. Do you have any suggestions, please?
By M
---
Most Recent Answer
By miller.artisa 1 Flag
January 3, 2013
Totally used Nail Polish Remover for the same problem you're trying to find an answer for, worked GREAT, and the tape residue was there for about 2 years! <3
Tia, Pasadena, CA
(1/3/2013)
---
After 4 hurricanes, my windows have masking tape Xs. I have window tinting film on the windows so I don't know how to get masking tape off?

Lucinda in FL
---
Most Recent Answer
September 10, 2011
I live in South Georgia and about the tape on windows it has been addressed by the hurricane preparedness program and we were told that taping the windows does nothing more than make the mess spoke of. I know that during the high winds of hurricanes in the past it didn't so I had already stopped using it because of the mess in cleanup.
---
I used masking tape to frame up a window and I left it there too long. The tape has now dried up and is hard to remove. Any help would be greatly appreciated.
By Frank M.
---
Most Recent Answer
June 13, 2011
Soften adhesive with cheap mineral spirits and scrape with razor blade. Easy as A-B-C.
---
By javamom77 13 14
Have you ever had unwanted tape left over on windows and glass surfaces? Spread a thin portion of smooth peanut butter on the taped area. Wait 2-3 hours and use a putty blade or any any flat somewhat sharp tool. Gently scrape at the area and see the magic of it sliding right off. Then clean window with a vinegar and water solution and paper towels. Voila! You are tape free.
By Javamom77 from Nipawin, Saskatchewan
---
Most Recent Answer
June 19, 2010
Wipe it with rubbing alcohol then use a razor blade scraper to get it off. I do this to remove price stickers from pictures and mirrors. It works great!
---
By Alyssa Lair 2 17
I was painting my window frames on my house last year, and forgot to remove the blue painters tape. I have tried razors, soaking it, everything I can think of, and it will not budge. It seems to have baked on. Please, I'd appreciate any tips!

Alyssa from MO
---
Most Recent Answer
By guest (Guest Post) Flag
February 27, 2009
The longer you leave it on, like past 12 hours, it just ripps and shreds and is very hard to get off. I have done this many times with the sun baking it on or a furnace drying it. If you do a small area at a time, (2-3 feet) you can soak it with a wet sponge and wait about two minutes and repeat soak it. It will usually come loose. Sometimes I soak it a third time. If you try to soak too much of an area, it will just dry again. Just keep it very wet for at least 3 to 4 minutes.
If you have any spots with 2 layers, peel of the first layer and soak the second layer before trying to remove it. Don't attempt to use a razor or scraper except on glass.
---
By Tim G. 1
Use white vinegar to remove residue left by masking tape on window glass where the tape has been left on for too long or has dried out quickly due to strong sunshine. Wipe over residue with well dampened soft cloth a couple of times, leave for sixty seconds or so then rub off residue using a fresh piece of your already dampened cloth. Dry and polish with a clean cloth.
Worked for me on residue which had stubbornly resisted earlier attempts and had been in place for some months.
Source: Mentioned elsewhere by others so not my idea, but not posted as a solution to this question.
I have a pop-up camper and the interior curtains, which have a rubber type material on the back, have "melted" to the plastic windows. When we peeled them off it left a sticky white residue. Any suggestions on how to get it off? It looks like the residue that duct tape would leave behind.
By Todd D.
---
Best Answer
January 13, 2014
If the windows are plastic, using a product like Goof Off or Goo Gone will melt the window and just make it worse. Try using a little isopropyl alcohol and see if that helps soften the residue. A good sturdy razor blade and a steady hand may be your best bet at that point. Using the razor blade and the alcohol together can be effective.
I tried fingernail polish remover and it worked super easy and fast.
By rodge68 1
How do I remove masking tape from PVC windows?
By rodge68 from Ireland
---
Most Recent Answer
March 30, 2010
I believe any oil soap will do the job, or WD 40 > which is a spray multi purpose lubricant. Spray the area with the lubricant, leave to soak in for 30 minutes. Using a plastic spatula/scraper, remove the tape. When all the tape is removed, wash the area with hot soapy water, rinse & dry. Your PVC window will be perfect. Have a Great Day!
---
How can I remove Scotch tape from tinting film on a window? I do not want to ruin the film on the windows. I also have Scotch tape on a painted car surface that has to go.
Note: that in both instances I'm asking about removing the tape itself, not just the adhesive residue. Soaking the impenetrable plastic surface of the tape surface with GooGone has not worked. Scraping the tape would probably scratch the underlying materials.

By Rich
How do I remove Scotch tape from windows that has been there for a while?
By Jo
There is Scotch tape on the window film at our new lease space. I need to remove it, but do not want to ruin the film on the store windows.
By Paul