Fleas on My Cat and Her Kittens
How can I get rid of fleas from my 1 year old cat and her 3 day old kittens?

Ashley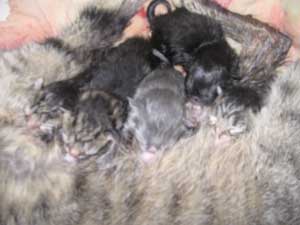 ---
RE: Fleas on My Cat and Her Kittens
Hi Ashley, We had the same problem, and were at our wits end until our vet told us to do the following. It seemed a little unorthodox, but it worked. Because the babies are so young you can't actually treat the mother or babies with out harming them. What we did was we purchased a lice comb from the pharmacy, and combed the mother out daily. We also used a separate comb to come out the babies once they turned 2 weeks old.
We also purchased an aerosol flea spray (from the vet) to spray down the area the kittens and mother are in, along with the rest of the carpets and furniture, we then vacuumed to get rid of the fleas and residue. However before we sprayed, we made sure the area was well ventilated, and then we moved the kittens and mother to an area where the spray wouldn't be near them. We put them in the bathroom with the fan on and a blanket at the bottom of the door, so they spray wouldn't leak in, then moved them back to their area a few hours later.
This seemed to take care of the problem until the mother and kittens were old enough to be treated. We however did treat the other cats in the house for the fleas. This was a bit of work, but we were quite surprised that it actually worked quite well. And I am happy to say that it is 2 years later and our home has been flea free, since we took these steps. The mother and the babies seemed to enjoy the extra attention they got from their nightly combings. Actually it got to the point when they saw any comb they would come running for a combing.
I hope this works as well for you as it did for us. Dina (09/25/2006)
By Dina
RE: Fleas on My Cat and Her Kittens
I have worked for a Veterinarian for over 27 years. This is what our Doctors recommend: Yes, you can give the kittens a bath...this will kill most of the fleas, please use a non-tearing shampoo. You can treat the Mother with Advantage (you can purchase this at your vet's office). The fleas can actually suck most of the blood out of the kittens, so they are at risk. Make sure the bedding is clean. If you see salt/pepper like droppings in their area then the fleas are still there. Good Luck! (09/26/2006)
By Sherri
RE: Fleas on My Cat and Her Kittens
My 1 year old cat had to have an emergency C section. Since she had been pregnant, she had been in the house with no signs of flea problems. When she came home from the emergency vet, her and her 6 babies were infested with fleas. I didn't know what to do. I remembered from when I was a kid, my mom taking fleas off puppies with a cotton ball and alcohol. So, I did that for a little while and seemed to be not making much headway. The alcohol was also cold to the kittens. So, I tried my son's Johnson's Baby Shampoo with natural Lavender (the purple shampoo with lavender and chamomile for human babies). It worked great. I washed them one at a time. Soaping their bodies up, rubbing the flea areas really good and rinsing until I saw no more fleas. I did not put soap on their heads, I picked the fleas off their heads with my fingers. Some of the kittens are long haired, what few fleas I missed fell off dead when my son blew the kittens dry. The mother, I could only comb with a lice comb because of c section incision. I did not put them back in the same bed. The bed that they were in went outside and I treated the area with a kitten flea spray. They are happy little babies now. The Johnson's Lavender Baby Shampoo worked really well and they smell good too. Maybe that's why my kids never got any of the fleas on them. Good luck to anyone with the same problem. (b)(/b) (05/25/2007)
By Geek Chick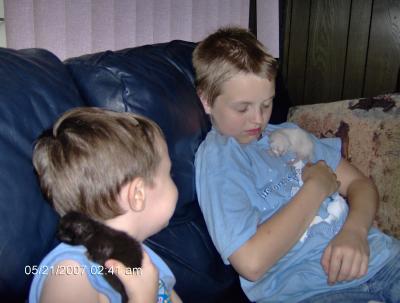 RE: Fleas on My Cat and Her Kittens
My cat and her kittens have fleas too. I called my vet. She said that you can not bathe a mother cat because she needs all her oil while nursing. You can not bathe newborn kittens at all, with anything. The only thing she said you can do is to put Revolution on the mama cat (and it has to be Revolution, not Advantage or Frontline, or anything like that), and then comb the fleas off the babies with a flea comb. (09/03/2007)
By Courtney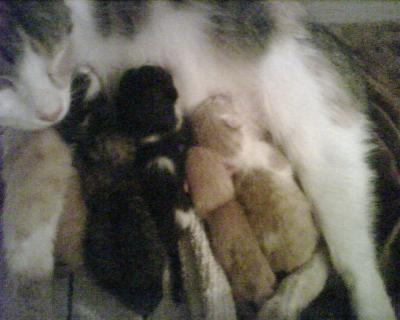 RE: Fleas on My Cat and Her Kittens
Take the kittens to the vet and the vet will apply a quick dose of front line flea killer. It works quickly in 24 hours. There is a small charge but well worth it. You should never bathe kittens or apply salt to the litter, because it can harm them. Jenny (11/12/2007)
By JENNY
RE: Fleas on My Cat and Her Kittens
I had the same problem and went home yesterday after reading all the posts. I tried the Palmolive Dish Soap and it worked like magic. The fleas fell of as well as the flea dander. I also used the flea comb for those that were closer to the skin and once pulled off, they were also dead. Thanks for all your help on this page. (05/21/2008)
By Jen
RE: Fleas on My Cat and Her Kittens
My cat just had babies 3 days ago. They are also infested with fleas, but we're in FL, so what do I expect. I'm treating my mother cat with a topical solution (Advantage), and the babies are getting a brisk 3 minute bath with Dawn dish washing soap, and then any remaining fleas will be removed with a flea comb, they they're blow dried since they're so small. Lastly, before putting them back in their box, the bedding is going to be treated, but since the spray is for kittens that are older, they're going to have a temporary box thus, giving their bed box time to air out. I called our local Animal Aide, and they said the steps I was taking were fine, the only thing they recommended I do differently, is perhaps use baby shampoo. Only because it's non tearing, just in case some of it got on their face, even though their eyes aren't open. Hope that helps someone! (06/04/2008)
By Lynn
RE: Fleas on My Cat and Her Kittens
I am so thankful that other people out there are having the same unfortunate problem as I am. My cat just gave birth to kitten a week and a half ago and the mother and the kitten are infested with fleas. Like you, I read on the bottle of all of the meds for fleas, and regrettably, there is nothing that can be used on kittens. I was stricken. I have my new babies and the poor little precious babies have icky bugs crawling all over them. I hated it. I also hated the fact that their was nothing I could use. I picked as many off and used a comb but when I go back there are more.
I clean their bedding daily, changing it and treating it with flea and tick powder. For the mother, I used a flea collar when she was not around the babies and also bathed her with dish soap and used flea spray on her. I dried it very well and washed her underbelly with warm water so that the flea solution would not be licked or accidentally ingested by the kittens. The best thing to do is to make sure their bedding is changed daily, and you keep the problem within one area so your whole house isn't covered. This can be a VERY expensive problem to deal with and it really is best to take care of it right away because they multiply like you wouldn't believe. Good Luck! Also, thanks to everyone who posted. You helped me too!
(07/16/2008)
By Amber
RE: Fleas on My Cat and Her Kittens
Good advice from all. I recently found a kitten at work and took him home since he was on his own at such an early age. He has a moderate amount of fleas on him so I called the local vet. She said that you can use a spray for the kittens (frontline) but you need to wet the kitten and then SPRAY A TOWEL and wrap the kitten in the towel except head for ten minutes. Another option is to use a Q-tip and go after them one by one with the spray on the tip. Hope this helps. So far I'm trying a little of both doing the body wrapping, I noticed a far greater concentration around his head. Tomorrow I will go after the remaining ones with the Q-tip. Good luck. (07/16/2008)
By Jeromy
RE: Fleas on My Cat and Her Kittens
I have kittens that are 2 weeks old. I called my vet and then went and picked up Revolution for them. I was surprised, but there is a small dose that can be used on them. I put the dose on and fleas are dead! So call your local vet, even if you don't have one, you can go buy it there. Good luck to ALL! (07/25/2008)
By tiffany
RE: Fleas on kitten
We got a kitten four days ago, he is only 8 weeks old. I realized that he has fleas because he had flea dirt all over him and my mum saw one crawling on him. My poor little kitten was biting himself and scratching, so we phoned the emergency vet and they said to get frontline spray and spray it on him.
So we went to the pet shop and asked for frontline, but they said that they're not allowed to sell it and that only vets can give it to us (the vet was closed because it was on a Sunday), so we got him flea shampoo and flea spray for the house. We bathed him and sprayed the house. The shampoo didn't do much, it only removed the flea dirt and only killed one of the fleas.
He was still suffering from the fleas because he still scratched and bit himself. So we took him to the vet two days after, they sprayed him with frontline and we saw all the fleas coming out. We thought he only had three or four fleas, but he had hundreds! Poor little kitty! I think he's ok now, so this is my advice to everyone with this problem. Thank you (10/14/2008)
By Nikoo
RE: Fleas on My Cat and Her Kittens
My cat had 4 kittens two weeks ago, after mom had babies we found out mom had fleas that she gave to her babies. I went to the local pet store and bought spray that was safe for mom. I sprayed my whole house, today my boyfriend noticed that the kittens had fleas. Mom got a bath and a combing, and I very carefully washed each kitten with dawn dish soap, and then we combed them with a flea comb. To make sure that they didn't get cold, I warmed towels in the dryer making sure that they were not too hot for each kitten. I also used my blow dryer on low to finish drying them. The only thing is to make sure that mom is locked away, because mine went crazy on me, biting and trying to take the kitten away. I don't think we got all the fleas, but they are definitely better than what they were. Tomorrow, I am going to vacuum and spray the house again, and I'll probably give them another bath. I am going to call the vet on Monday and see what else we can do for them. (10/24/2008)
By Ashley
---
Fleas on My Cat and Her Kittens
My 5 month old kittens have fleas. The mama was a stray that I adopted when I saw that she was pregnant. How can I rid my cat and kittens of fleas? I tried to give them a bath and they scratched me up and down. I'm sure it traumatized them as well, since it took them all day to come out from behind furniture. Please help. Thank you.
Roses from Oceanside, NY
---
RE: Fleas on My Cat and Her Kittens
At 5 months old, your kittens are old enough for the topical treatments such as Revolution. After you have treated and bathed them as some of the readers have suggested, use Revolution to keep the fleas away. (Also helps with earmites) I can buy a single dose at the Humane Society here. I have treated our 4 month old kittens this way and they are doing well. Be sure to vacuum, and wash all bedding and linens asap as well, to get rid of eggs and fleas. (10/29/2008)
By Toolgirl
RE: Fleas on My Cat and Her Kittens
I had the same situation with a mommy stray and her 3 newborn babies. I put 10% apple cider vinegar and the rest water, wet a washcloth with the mix and wiped all of them from back of ears (avoid face area) and the fleas were easy to pick off (if they didn't fall off first). No fleas would come near them for their skin tasted bitter. They stay outdoors all day and sleep in at night and no fleas since then, I put a few drops of AC vinegar in their wet food in the am also to work internally.
I also read that apple cider vinegar acts as a neutralizer for their urine so if they lick it off it won't hurt them. I will admit though my one girl has an itchy ear now and then. I think it might be an ear mite so I will try the AC vinegar at the tip of the ear and see if it "stinks" the mite out. Otherwise they are happy cats. Thank you everyone. You have all given me great advice and tips for the last few years. There is a lot of love on this website. Be blessed friends. (03/13/2009)
By SendRoses
RE: Fleas on My Cat and Her Kittens
A little late to be responding, but I was Googling ear mites and it went to this post. About a year and a half ago, I had a friendly stray show up pregnant. (My fault, as I always leave food out.) She had 1 kitten and when I picked him up, he was covered in fleas. I treated the mother with Advantage when he was about 3 weeks old. The medication also got on the kitten since he was always cuddled up next to her. I brought them both in after 24 hours to make sure the treatment had killed all of the fleas. The kitten who now is an adult, never had/has any weird complications from it. (03/20/2009)
By Danira
---
Fleas on My Cat and Her Kittens
How do I safely get rid of fleas from a mother cat and her 3 week old kittens? The mama cat is not going to let me bathe her. I tried it before and have the scars to prove it.
By cblack28 from Walton, KY
---
RE: Fleas on My Cat and Her Kittens
You can try using Avon Skin So Soft. I put it in a spray bottle with some water and then mist my kitties and dogs with it. (07/16/2009)
By IHEARTDOGS
RE: Fleas on My Cat and Her Kittens
I've used lavender oil, it seems a little pricey at first, but it goes a long way, I pay about $11.00/oz. Be sure to get pure essential oil, organic is best because you don't know what kind of unregulated pesticides other countries use in growing their herbs. Mix 2-3 drops with 4 cups of water, spray this on all the bedding, carpets, and even the cats 2-3 times a day, be sure to get the area around baseboards well. It won't make the kitties sick when they clean themselves, it makes the whole house smell great, and does a pretty good job of killing the fleas. You can also use ground up, dried citrus peels on carpet, sprinkle them on, let sit for 1-2 hours (remove the animals, citrus oil can bother their skin) and then vacuum up (also makes the house smell great).
Now for a tip about bathing a cat, first have plenty of towels, one for the bottom of the sink, so the cat doesn't slip, one for the top of the cat to hold her down, at least one for drying the cat and several for mopping up the blood. It's also a good idea to have peroxide and/or betadine handy for post bath clean-up. (I have lots of scars.) Kittens are easier to train for bathing, my daughter started bathing one of her kittens at about 5 weeks old and now 10 years later the cat still gets regular baths easily. Holding the cat by the scruff of the neck also helps keep claws further away from any vital organs. (07/17/2009)
By Thenicholas3
RE: Fleas on My Cat and Her Kittens
Don't forget that you can also sprinkle 12 Mule Team Borax around the carpet and vacuum it up. Also, wash the bedding in bleach if possible or at least the borax. It's great stuff. Good luck. (07/17/2009)
By JSRP
RE: Fleas on My Cat and Her Kittens
This is more information than you asked for, but for some reason I couldn't leave it just at flea baths. If you can get them to let you comb them with a flea comb, first dip it in rubbing alcohol, shake some of the excess off, keep a cup of it near at hand. Fleas picked up by the comb are instantly knocked semi-unconscious or are killed outright, and the little amount that gets on the cat evaporates and does no harm. Dip the comb into the cup of rubbing alcohol, shake gently in the liquid, most fleas will fall off dead or weak and die in the liquid. It's quick and simple, and kills the eggs to as they absorb it through the "shell" of the egg.
This is extremely useful in emergency situations, as you can get a lot of fleas quickly this way. For the rug, borax works fine, so does diatomaceous earth, which big pet outfits (Petsmart, etc.) carry in 5 gallon buckets. Borax is cheaper. Spread it, use a stiff broom or light rake and dust mask, "comb&" it into the rug and go out for several hours, if it's really bad, stay with a friend overnight. Come back and vacuum thoroughly.
You can also rent a rug cleaner and use it as well, they have pet stain soap that I think has tea tree oil in it, which kills lice and a number of other bugs. If not, it's worth getting some, think they are starting to carry it in the hair section of the grocery store. If not check with the aromatherapy type stuff. You don't have to shampoo or get the tea tree oil, but it will add to the long term removal of the fleas. It's worth it in the long run.
My cat, who was the curious type and often got herself into as much trouble as a dog, hated baths. What I had to do is strong arm her. First, make sure the water is quite warm, not really hot, but pretty warm. They have a higher body temperature than we do and need warmer water. After quickly picking her up and putting her in the tub and in the same move grabbing her just behind the shoulders, I gently but firmly pushed her down to where she was plastered to the tub bottom. Holding her just firm enough to keep her from getting away, I washed her quickly with the other hand, talking lovingly and comfortingly to her the whole time.
Now, we had quite a relationship, soul mates, but she hated the bath and would have bolted at any chance. Be quick, be firm, be strong and be compassionate. Get into Vet mode. I'm no Vet, but if you are calm and in control, and talk comfortingly to them, they realize they must go through this but it will be over shortly. They'll holler and try to get loose, but if you are holding them right, they can't. Rinse and dry them quickly. Of course, keep the door shut and let them escape the tub by themselves. Expect to get wet, it's a given. Don't use a hair dryer, unless they're brought up with them as a kitten (aka pure bred cat show Persian), they are terrified and stressed by it.
Just have a towel handy and drop it over them and rub them down a bit, they'll do the rest. Let them out quickly. They feel trapped by then and need to feel in control of their world again. Also, cats rarely need baths and shouldn't be bathed unless:
they love the water (a small percentage do)
they are badly infested with fleas, but are still healthy (never wash a sick cat, it may die from shock)
like my cat was they're curious and get into stuff that's none of their business (aka skunk).
Never bathe an injured cat, either, they could have worse injuries than you know of and you may do irreparable damage.
I had my cat until she was around 18 years old, and though she's been gone for 3 years, she's still a part of me. I hope yours will be soul mates to someone for a long time. (07/17/2009)
By nekocat
---
Fleas on My Cat and Her Kittens
My cat and her kittens have fleas. The kittens are only 3 weeks old. The kittens are crying on and off. Do you think that the fleas are harming them so much that they are crying or is it something else?
By Kita from Philadelphia, PA
---
RE: Fleas on My Cat and Her Kittens
Please read all of the archived posts below! Cats, and especially kittens because they are so little, can become anemic from the fleas biting them for their blood to eat and mama and babies can get tapeworms if they swallow any fleas :-( There are lots and lots of helpful tips in the archives! Good luck and let us know how your mama and baby kitties are doing! (10/15/2009)
By Deeli
RE: Fleas on My Cat and Her Kittens
Get you a lemon and peel it use the peel and white part and brew it into a tea when it is cool take a soft cloth and rub the tea on the kitty's mom to and do this about every 3 days. It will kill the fleas and not harm the wonderful little ones. Just enough to wet them not heavy coverage is needed. Debbie (10/16/2009)
By dcsprsmm
RE: Fleas on My Cat and Her Kittens
We had an outside mama cat and couldnt get her to come in when she had her litter. The kittens got fleas and they literally drained them of blood all but one died before we could get them to the vet. We had to give it a vitamin paste and hand feed it milk to keep it alive. It was years ago so I dont remember what we did to get the fleas off of it, but it was something from the vet. (10/16/2009)
By micksgirl
RE: Fleas on My Cat and Her Kittens
If your kitten's have fleas and the mom will let you hold them, then take them inside the house and bathe them with Dawn dish soap, as for the mom cat you may want to get some flea drops from the vet. There is something here where I live called Flea drops and you drop it on the neck of the cats or dogs, and 15 minutes later you will see the fleas jumping off the cat. It's also a good idea after you've gotten rid of their fleas to sprinkle sevensdust on the perimeter of the lawn, it kills fleas and snakes and other bugs so you won't have to keep doing this. Good Luck (12/07/2009)
By KissinQT
---
Fleas on My Cat and Her Kittens
My mother cat and kitten are infested with fleas and bleeding. If they sit anywhere there is blood! What do I do?
By Miggie from Flemington, NJ
---
RE: Fleas on My Cat and Her Kittens
Use plain Pert shampoo. It shocks the flea into a coma for a few minutes and you can brush or comb out, or you can take vinegar, 1 teaspoon to a spray bottle of water. That helps deter them. Cats don't like vinegar too much. (07/17/2010)
By gogalyboo
RE: Fleas on My Cat and Her Kittens
A few drops pf Tea Tree Oil in water can be very helpful. Fleas do not like the oil, but it will not hurt the kittens. You must only use a little in the water then you can apply it with cotton balls on the kittens and maybe something bigger like a small cloth with the mother. Wet the cloth or the cotton and make sure you get it down to the skin. The oil will also relieve the itch. (07/17/2010)
By dvsbeauty
RE: Fleas on My Cat and Her Kittens
The blood loss is going to be particularly bad for the kitten. The fact that blood is left behind wherever they've been sitting is very concerning. I suggest you get them to the vet ASAP.
Last year I rescued a kitten and he had fleas. I took him to the vet the day after we found him. He was just under one pound, and was too little to medicate for the fleas. He was very lethargic and probably would have died in a day or two if we hadn't taken him in. I had to wash him with dishwashing liquid and comb him with a flea comb. Once he was big enough, we gave him meds to get rid of the fleas. The vet should be able to give you good advice for treating your cats.
Please take them to the vet, especially the kitten! I hope it goes well for all of you. Best of luck. (07/17/2010)
By mrs.story
RE: Fleas on My Cat and Her Kittens
You need to get rid of the fleas on the animals, house, and property, ASAP. The solution that I would follow is put Frontline or Advantage on the cats. Read on what age/product can be used on a young kitten. You can get those products from any local vet or PetCo. It's to be used monthly on the back of their necks. The cats almost certainly have tape worms from chewing the fleas.
They need to be wormed with Droncit or whatever the vet recommends. The new dewormers take care of all of them at the same time. Don't go getting holistic here. Do it right and have the vet give you what is needed. The next thing is to deflea your house and all other areas that your cats go. Go to PetSmart for the right products. Clean all throw rugs and sleeping areas. Another tip, the product, Revolution, kills ear mites.
From personal experience:
The tapes cause the cats to get the runs that end up outside the litterbox and splashes the sides of the box. Very stinky and messy; also dehydrates the cat. Also, the cats might not use the box if it's a bad experience for kitty using the box, like getting stomach cramps or pain while pooping.
Advantage is my favorite to use on a cat. Frontline has something in it that us more poisonous in the ingredients or toxic to the environment. (07/21/2010)