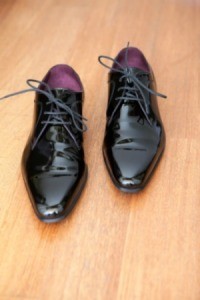 Scuffs are very noticeable on bright and shiny patent leather shoes, purses, and other items. This is a guide about removing scuffs on patent leather.
Ad
---
Solutions: Removing Scuffs on Patent Leather
Read and rate the best solutions below by giving them a "thumbs up".
To clean scuff marks off white patent leather shoes, rub a small amount of mineral oil onto a test area. If the oil doesn't alter the color of the shoe, take a clean, soft cloth and apply a small amount of mineral oil to the surface of the show. Gently rub the scuff mark with light pressure until it completely disappears. Take a fresh cloth and buff your shoes.
If you don't have mineral oil, you can try some petroleum jelly, acetone free nail polish remover, or vegetable oil. Other options that may work to clean some types of patent leather are toothpaste and shaving cream. There are so many types of patent leather that what may work for one type of leather may not work for another. You may need to try a few different options.
Note: Always test a small sport near the heel of the shoe first
Source: Kristie Long, M.D.
By fossil1955 from Cortez, CO
Give a "thumbs up" to the solution that worked the best! Do you have a better solution? Click here to share it!
Questions
Here are questions related to Removing Scuffs on Patent Leather.
I have a pair of patent leather shoes, that of course now have a very noticeable scuff mark on them. (It seems like the first time you wear a pair, the same thing happens)! I've heard that there's something that will "erase" these awful scuffs and bring the patent leather back to new again. Of course, I can't remember what the item or product is called.
Does anyone have any idea what works, or what I could be referring to?
By Gail
AnswerWas this interesting? Yes No
Ad
---
---
Best Answers
By Joan [13] 05/03/20110 people found this helpful
When I was a kid, everybody used Vaseline (petroleum jelly) on their black patent leather shoes, and I did the same on my girls when they were little.
---
By Sirrush [1] 05/04/20110 people found this helpful
Use a cotton ball or Q-tip and non-acetone polish remover. Saturate your cotton and rub until the scuff disappears. Note: Don't let the polish remover sit on the surface for too long as it may compromise the leather. Then wipe the shoe with a damp cloth and dry. If you want, you can then use a small amount of Vaseline to polish and shine the shoe. Hope this helps.
---
I have Patent leather Pradas and the leather is scraped off; is there a way I can get them fixed?
By Tinker from Brooklyn
AnswerWas this interesting? Yes No
Ad
---
---
Most Recent Answer
By kathleen williams [76] 03/09/20100 people found this helpful
Scuff marks steal the luster from leather shoes. An errant step, a clumsy dance partner or contact with a sharp or abrasive object is all it takes to leave your shoes looking scraped and blemished. But scuffed leather shoes are not necessarily lost. Minor scuffs and even some major ones can be buffed out and covered up. Knowing how to remove scuffs can save you the cost of new shoes and the trouble of finding a comparable pair.
ModerateInstructionsThings You'll Need:
Refinishing spray
Shoe-cleaning cloth
Leather repairer
Masking tape
Gum eraser, microfiber cloth or terry cloth (for patent leather shoes)
Cotton swab and rubbing alcohol (for patent leather shoes)
Dull Leather Shoes
Step 1Bring your shoes when you buy the refinishing spray; you'll need them to ensure the spray matches the color of the leather.

Step 2Wash the spot you wish to refinish. In a well-ventilated area, use a light shoe-cleaning cloth and leather preparer. Allow the shoes to dry, and repeat until the shoe's finish is dull and even.

Step 3Cover the shoe in masking tape, except for the scuffed areas.

Step 4Spray the shoe evenly across the leather. Allow it to dry and repeat until the spot has a consistent color.

Step 5Remove the masking tape and polish the shoes.

Patent Leather
Step 1Rub the scuff with a microfiber cloth, terry cloth or gum eraser. These can remove mild scuffs.

Step 2Use alcohol for more stubborn scuffs. Dip a cotton swab in rubbing alcohol and dab the scuff.

Step 3Wipe the shoe with an absorbent cloth.
good luck.
I have a tip for white patent scuffed sandals. Firstly I cleaned the scuffed area with nail polish remover, then toothpaste and finished this off, with fast drying liquid paper.

By dunbarj from Queensland
AnswerWas this interesting? Yes No
---
Most Recent Answer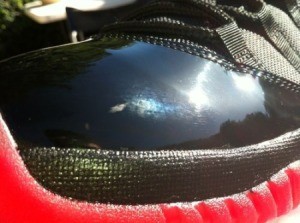 I don't think this one is a scuff mark, but I'm not sure. I accidentally rubbed my other shoe with this one and it caused a streak looking mark. When I touch it, it doesn't feel or look shiny.
I know it's not that big of a deal, but I'd still like to know if there's a way to give it back that gloss in case it were to happen again. :(
Btw, this is synthetic patent leather. I hope someone can shed some light on this! I'd appreciate it!
By Sara D.