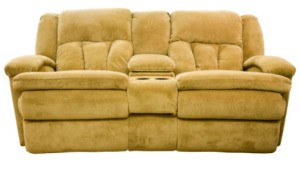 Finding slipcovers for your reclining couch may be difficult. This is a guide about slipcovers for reclining couches.
Ad
---
Questions
Here are questions related to Slipcovers for Reclining Couches.
Does anyone know where I can purchase a slipcover for a dual reclining loveseat with a center console? I have looked everywhere and can't find anything remotely close. Sewing one is "not" an option, as I have no talent for that at all.
If all else fails, has anyone tried covering a loveseat like mine with a normal loveseat cover? Does/would it look stupid with the console poking up through the fabric?
Any input would be so appreciated. Our dogs tore up the side of our loveseat and we can't afford to have it reupholstered right now, but we are so tired of looking at their handy work!
By Jennifer
Ad
---
---
Most Recent Answer

By BriClark12/06/2013
You could try getting a sofa cover that will fit the length/width of your loveseat and then cutting a slit or two (just enough) for the console to fit through.
I have an old and very comfortable dual recliner. I'm having an awful time finding a slip cover for it. Can anyone help me?
By Dianna
Ad
---
---
Most Recent Answer

By Sherri [6]09/07/2011
Call SureFit. They have just what you need. Good luck
I desperately need to find covers for sofa recliners. Any thoughts?
By Moena from fayetteville, TN
---
Most Recent Answer

By Kayla B.12/31/2012
La-z-boy.com suggests surefit.com

That's where I'll be getting mine for my La-z-boy reclining sofa. What you want is a one piece slipcover. We bought the Jenna for our informal living room.
I can't find a sofa cover for a dual reclining sofa without a center console. The hardest part is the footrests, the bottom needs to be split for practical use.
By Donna
---
Most Recent Answer

By chm04/04/2015
I don't know how old you are, but, you might consider trying to learn to sew and make your own. The learning process will give you good skills in your future life. If you don't have a sewing machine, there are lots of ways you could consider. Borrowing one, buying a used one, ads, freecycle, craigs list, ask about one to friends.

I have a dual reclining full sized reclining sofa. I am looking for slipcovers. I see no one who sells such a product, any ideas?
By Jack F. from Sevierville, TN
---
Most Recent Answer

By Frugal Sunnie [11]04/16/2012
Make your own?

http://interiordec.about.com/od/sewingslipcovers/Sewing_Slipcovers.htm

The satisfaction of knowing you made the slip covers yourself is incredible! You can also save a huge amount of money. Sewing your own slipcovers is not complicated or difficult-if you can read and follow directions, and can sew a straight line on a sewing machine (also an easy skill to learn:), the creative possibilities are almost endless.
I have a microfiber dual reclining loveseat and I am looking for a slipcover. Can any one help? Surefit did not offer anything. Everyone one else has single reclining chairs.
By Teresa from Philadelphia, PA
---
Most Recent Answer

By hi2u06/29/2015
Take a look at http://voila.ecrater.com/
They have quite a few slipcovers for reclining sofas, loveseats and armchairs. The direct link for reclining slipcovers is
http://voila.ecrater.com/filter.php ... mp;keywords=reclining&perpage=80

Hope it helps!

Solutions: Slipcovers for Reclining Couches
Do you have knowledge about this guide topic? Feel free to share a solution!
Archives
Thrifty Fun has been around so long that many of our pages have been reset several times. Archives are older versions of the page and the feedback that was provided then.
Does anyone know where I could find a slipcover for a reclining sofa and love seat? They both have a recliner at the end of the couch and I can't find anything to fit them. They are very comfortable, but in pretty bad shape so they look ugly. Thank you for any help.
Galia
---
RE: Slipcovers for Reclining Couches
Try surefit.com. They have covers for reclining furniture. (11/15/2008)
RE: Slipcovers for Reclining Couches
I'm sorry that I can't remember exactly, but I think it was Miles Kimball or Walter Drake where I saw them. Both companies have websites. If I find out exactly where I saw them, I'll send another response. Did you try searching the internet? (11/15/2008)
By metroplex
I just bought a new sofa and I am having a really hard time trying to find a slip cover for it.