Keeping Rugs From Slipping
Roaming area or throw rugs can be annoying. Keeping them from slipping can be tricky depending on the surface they are on. This is a guide about keeping rugs from slipping.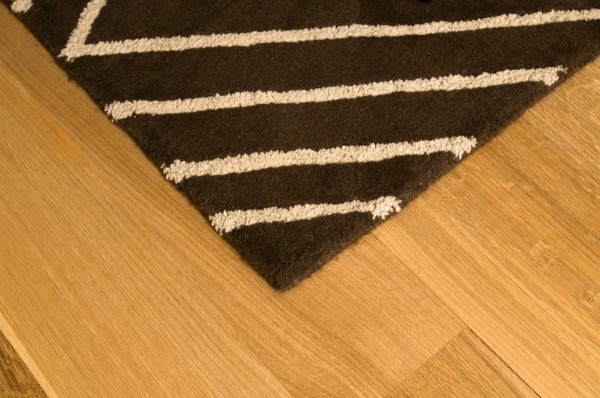 Filter

: All Articles
Sort

: Relevance
My husband scored several new oriental style rugs. The problem is that the smaller area rugs slipped on our linoleum flooring. I solved that problem by buying an inexpensive roll of brown foam shelving liner and cutting it up into rectangles to put two under each rug at each end to anchor them. One cheap roll ($1.50) was enough for four area rugs.
Pamela M. from Hollywood, CA
What can I use to stop rugs slipping and curling on a carpet?
June 19, 2016
0

found this helpful
we have runners on a carpet which is on a concrete floor, cannot keep runners still.
I can guarantee that this works. Rugs on hard floors stop slipping if you roll masking tape (the kind that vehicle painters use, which can be bought at any hardware store) at least 5 times around your hand and apply to each corner of the rug. The tape will not damage any tiles or even wooden flooring
What can I use to cheaply keep rugs from slipping on a carpet?
March 14, 2016
1

found this helpful
Dollar tree has a Non-Slip Rug Underlay. It works well on wood and tile or linoleum floors. It may work on carpet as well.
To keep rugs from sliding: Instead of buying those expensive mats, you can use a roll of the rubber shelf liner you can buy at the dollar store.
By Carmen from Daytona Beach, FL
I have 15 rugs on my hardwood floors. I am trying to secure them from moving around especially with my four dogs. I tried almost everything I find in the stores, but nothing has worked.
By Cassidy
August 20, 2014
0

found this helpful
I have wood laminate and use the carpet pads you put under the rugs. Works for me.
August 20, 2014
1

found this helpful
Take each rug and put it on a table upside down. With a hot glue gun, make a "lazy S" around the edges and then crisscross several times in the center. Once dried, it will make a good non-slide backing. However, if for some reason the fabric doesn't like the glue I would try it with one rug first. Hope that helps.
August 4, 2016
0

found this helpful
This is the best idea!
I've tried everything, trust me, I'm 56.
I was using industrial spray adhesive, it worked, but like everything else, not for long.
Hot glue strip like on the bottom of slippers! It will stick to the rug, I'm going to go do it right now to my favorite rug that the rubber backing came off of!
Thanks!!
I bought some rubber shelf padding to put under the rug, it works good, but it is such a pain when I have to lift the rug to set my dishwasher in place. Is there a spray to put on the back of none slip rugs?
By D M J
February 25, 2015
0

found this helpful
There are products that attach to the corners of rugs to reduce rug movement. Check online or at carpeting and big box stores like Home Depot and Lowes.
March 1, 2016
0

found this helpful
I tried this but they stuck to the floor and came off of the rug.
What is a cheap or free way to get small rugs to stay in place on the floor? How about rugs? I appreciate any ideas, as my rugs are sliding and wrinkling and I don't have the money yet to get what I need. Thanks.
By Hilary from Boston, MA
September 27, 2011
0

found this helpful
I was going to suggest the rubber shelf/drawer liners that Omanana mentioned. I even used a wide one of those cut to fit to keep from slipping in my shower.
November 29, 2015
0

found this helpful
An earlier post said the shelf liner discoloured the floor.
January 21, 2016
0

found this helpful
after many trials and errors, here is what worked for me. first, lay down several strips of rug tape. I got some rolls of 2.5" from Walmart and made sure to go in both directions. Then I got double-sided Duck Tape and laid that ON TOP of the rug tape. the rug tape will protect the carpet from the very sticky/grippy Duck Tape. now lay down the runner rug. hasn't moved in three days.
Read More Answers...
We have a runner leading into our living room. We bought the non-slip tape that you can get that attaches itself to the rug and then grips to the carpet, but that does not work for us. Our dog loves to run in that area (hence the rug), so we need something that will really keep it down. I'm doubtful about the shelf liner because the anti-slip tape has that kind of look and feel to it.
By Nikki A.
April 19, 2015
0

found this helpful
There is a product that is sticky like carpet tape, but comes in a sheet so you can cover the whole bottom of the rug with it. I have used it and it works pretty well. Nothing seems to last forever. This worked for about a year and then I replaced it. It had picked up enough dirt and fibers that it didn't stick well any more.
I have a large braided rug in front of my door, on the hard wood flooring. It keeps sliding around everywhere except where I want it to stay?
We have carpet in our kitchen (I know, crazy!). We have throw rugs in front of the range and sink. How can we keep them from creeping on the carpet?
Related
© 1997-2016 by Cumuli, Inc. All Rights Reserved. Published by
ThriftyFun
.
Page
generated on August 29, 2016 at 11:07:52 AM on 10.0.0.66 in 5 seconds. Use of this web site constitutes acceptance of ThriftyFun's
Disclaimer
and
Privacy Policy
. If you have any problems or suggestions feel free to
Contact Us
.