I found some bugs in my son's bedding today. I was afraid they were bed bugs, but after looking at some pics I am pretty sure they are not. I would still like to know what they are.
They are about 4mm long, elongated, dark brown on the ends and light brown or cream in the middle, but they are not segmented. They have a lot of legs. They kind of remind me of a pill bug, but much smaller and a different color, or maybe a weevil, but I did not find them around food. Please help.
By DJ
September 21, 2010
0

found this helpful
Thanks. They do look like the carpet beetle larvae pictures I found. I put the three I found in a jar and am going to try to feed them until they mature to make sure that is what they are. In the meantime, I will be cleaning and cleaning and cleaning. :)
September 22, 2010
0

found this helpful
If they have more than 6 legs, they are not insects but another sort of critter. Spiders and mites have 8 legs, but I am pretty sure they all have a spidery look to them. If it has more than 8 legs, it is a millipede or centipede of some sort. If they have legs, they are not a larva, but are an adult critter of some sort.
September 22, 2010
0

found this helpful
Hello again, I just looked up carpet beetles, and saw the pictures of the larva. I can see why, if this is what you had, you would call the "hairs" legs, as they look like that although they are not really legs. Here is the link to the site that I found that gives some good info about them. We do not have them here in Saskatchewan, thank goodness.
September 22, 2010
0

found this helpful
Still feeding the little buggers. I live in Arkansas, and we have Crepe Myrtles, there are a lot in this area. I found some info on Carpet Beetles and it seems they like Crepe Myrtles, so I guess it is inevitable that we would have a few.
Read More Answers...
Does anyone know what these are? They are little brown bugs that look kind of like beetles. They have wings and I think they come in through the back door. They tend to stay in the kitchen and have never been spotted upstairs.
By Megan from OH
November 22, 2010
0

found this helpful
Probably either cigarette beetles or drugstore beetles coming from pantry food; crackers, biscuit mix, even dry dog food. Usually something that is old and been around awhile.
November 24, 2010
0

found this helpful
Pantry bugs. I had a horrible infestation years ago in our apartment. You'll need to throw out all flour and pasta items you may have in there. Once your pantry is empty, you can spray insecticide (roach spray will do) to kill them. Scrub the pantry thoroughly with soap and water. It's a good idea to store your pasta items and flour in plastic containers to prevent them to from getting into your food again.
January 17, 2011
0

found this helpful
I think this what we call stink bugs. I am infested with them this past summer and this winter . If you squash them, they stink real bad. I don't know how to get rid of them. Help from anyone.
November 20, 2011
0

found this helpful
l tried Cedarcide on some ants last summer and was happy to get rid of that problem. It was really annoying the way they crawled onto the windowsill and onto my computer. I just sprayed the windowsill and window and they stopped coming and some died as I sprayed them.
It's supposed to be good for all insects. Haven't had a chance to use it on any other bugs. It is completely non-toxic to people. I ordered it over the internet because I heard an ad on the radio. It's good for use on everything except plants.
What is this bug? It is small, brown, smooth backed, with a small crack down the center. It dies easily when upsidedown.
By Becky from Bryan, OH
March 2, 2013
0

found this helpful
They sound like flour weevils. Go thru your shelves for products containing flour (old cake mix, cereal etc.) Get rid of all of them and store your flour in plastic containers with a tight lid. The weevils come in flour products. If products are left sitting on the shelf long enough they hatch and reproduce. I cleaned out my pantry and never saw them again.
I have quite a few tiny little "spiders", orangey brown in colour, in my toilet bowl. When I flush, they come back and seem to be trying to get out. What are they and are they dangerous/do they bite?
Thanks.
By Janet S.
July 11, 2013
0

found this helpful
I don't know what they could be but I would spray right now! Yikes, never heard of such a thing!
I found two dead, small light brown, oval shaped bugs in the crease of my mattress and one alive. There is no sign of any other bugs. What could they be?
By Ty from San Diego, CA
September 20, 2010
0

found this helpful
Since I have been seeing on TV there is an epidemic of bedbugs, you might want to take a look at this picture. This is a bedbug. If your bugs look like this you may want to check out the site, as there is lots of info on what to do if you discover them in your home, and how to prevent an infestation in your home. They are easily carried in from motels, movie theaters, etc.
Copy this in your browser to see more information.
http://www.medicinenet.com/bed_bugs/article.htm
Hope this helps,
Harlean from Arkansas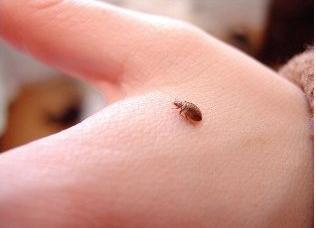 September 21, 2010
0

found this helpful
They are probably bed bugs. Check along the baseboards behind the bed too, at the top of the baseboard. Lift up your mattresses and box springs and check around the bed frame too.
Brenda
I have little brown bugs around my toilet. They move very slowly and look like ticks.
By Jim
March 30, 2011
0

found this helpful
If you can post a picture of one it will be easier. If you dont have that ability capture one in a bottle and take it to your local agricultural office,home improvement place or find someone big into bugs (I talked to a guy at a University once about praying mantis).