What do I feed a six week old Lab/German Shepherd puppy?

Sandy
---
Feeding a Six Week Old Puppy
Most vets recommend leaving with mother until about 8 weeks, but lots of mothers wean younger so you can feed a high quality dry food which has been soaking in warm water for awhile, maybe a couple of hours. Let it get really soupy, put in in something like a pie plate and let them slop around in it. Gradually decrease the amount of water so that the pup is eventually eating dry food. This is better for the teeth and easier to manage, but that part wasn't your question. A good quality dog food is the answer. Not table scraps.(04/16/2009)

By Glenn'sMom
Feeding a Six Week Old Puppy
I would say soft food with puppy milk replacer mixed in or the mommy's food which has been soaked in puppy replacer milk.
Robyn (04/17/2009)

By Robyn Fed
Feeding a Six Week Old Puppy
I hope you will find the following link helpful: veterinarypetcare.com.
If you have a question about anything, I truly believe you couldn't ask for better advice than from this vet. (04/17/2009)

By learning2
Feeding a Six Week Old Puppy
The pup can eat regular soft or watered down puppy food; high quality not a grocery store brand. (04/20/2009)

By knewton37
Feeding a Six Week Old Puppy
I mix baby food with puppy food from the first time they eat dry food til they are about 8 weeks old. Remember they need a puppy food for the first year and should be fed a food that is formulated for large dogs so they don't grow too fast which can cause health problems later on down the line. (05/06/2009)

By lostinthe
Comment
Was this helpful?
Helpful?
Yes
What can I feed a six week old Pit Bull?

Nick
---
Feeding a Six Week Old Puppy
Tips from the ASPCA web site (link below):

Feeding:
Puppies 8 to 12 weeks old need four meals a day.
Feed puppies three to six months old three meals a day.
Feed puppies six months to one year two meals a day.
When your dog reaches his first birthday, one to two meals a day is usually enough.
For some dogs, including larger canines or those prone to bloat, it's better to feed two smaller meals.

Premium-quality dry food provides a well-balanced diet for adult dogs and may be mixed with water, broth or canned food. Your dog may enjoy cottage cheese, cooked egg, fruits and vegetables, but these additions should not total more than ten percent of his daily food intake.

Puppies should be fed a high-quality, brand-name puppy food. Please limit "people food," however, because it can result in vitamin and mineral imbalances, bone and teeth problems, and may cause very picky eating habits and obesity. Clean, fresh water should be available at all times, and be sure to wash food and water dishes frequently.

Do not feed: generic dog food, table scraps, cat food, real bones, table scraps, or milk (which can cause diarrhea).

Helpful web sites on puppy/dog care:
http://www.aspca.org/site/PageServer?pagename=pets_dogcare
http://www.anticruelty.org/site/epage/36959_576.htm
http://www.pawschicago.org/PetCare/puplove101.htm (11/05/2007)

By Victoria
Feeding a Six Week Old Puppy
I'm presuming you haven't taken the puppy to the vet yet. You can ask at that time (or call and ask before the appointment). (11/06/2007)

By Maryeileen
Feeding a Six Week Old Puppy
Wow. Six weeks is really kind of young to be away from the mother, but things do happen. There is a special milk replacement food for puppies that you can find from the vet or any place that sells pet products. We bought ours from a drugstore that specializes in a line of pet stuff. It's specially formulated for the puppies and contains everything they need to stay healthy. It's kind of expensive, but well worth it, even if you only use it for a couple of weeks or a few meals a day. (11/06/2007)

By susanmajp
Feeding a Six Week Old Puppy
If you have trouble with his tolerating puppy milk formula, look in the health food stores for goat milk, or ask at a feed store to see who has a milk goat. I had milking goats for years, and was in an active goat club, and everyone I ever met was happy to help someone with a baby animal who needed milk. Follow your vet's instructions of course, but keep goat milk in mind. Good luck! And by the way, read Cesar Millan ASAP to save the life of your dog, he knows pit bulls! (11/06/2007)

By kimhis
Feeding a Six Week Old Puppy
I got a 6 week old puppy June 22. Her mom didn't have enough milk to feed her. She was weak. Now she is doing a lot better. (06/29/2008)

By dana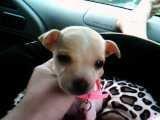 Feeding a Six Week Old Puppy
I am in school to be a vet technician. Six weeks is young, but to compensate I suggest feeding soft food as well as bottle feeding goat milk. I did this to my American bulldog and he is huge and healthy, and I'm doing it now to my brand new 6 week old American bulldog:) Good luck! Go half and half with the goat milk and luke warm water.
(02/03/2009)

By courtney
Comment
Was this helpful?
Helpful?
Yes