Removing Gum from the Dryer
A wash day mess can happen if gum is left in a clothes pocket. This guide is about removing gum from the dryer.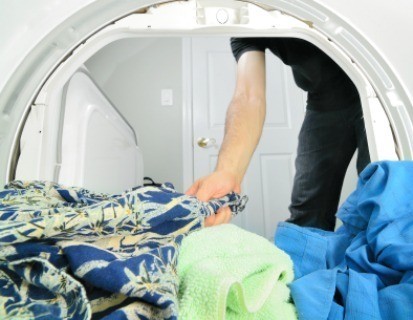 By Monica 296 58
To remove chewing gum from the inside of the dryer, take a dryer sheet and wet with water. Stick the wet dryer sheet on top of the gummy mess and leave there for 15 minutes, then wipe the gum off. This is fast and easy.
Source: My brother gave us this tip.
By Monica from Cortez, CO
By Katrina 1
How do you remove melted chewing gum from a dryer?
By Katrina
---
Most Recent Answer
August 31, 2010
I tried the dryer sheets but difficult if whole drum is coated. This worked for me. Put a soaking wet large beach towel in dryer along with 6 wet fabric softener dryer sheets. Run dryer on low heat for 90 minutes. This removed almost all of the gum. I had only a couple of spots to work on after that.
---
When I found the gum, I didn't want to put a chemical in my dryer, nor did I want to scrape it with a knife and an ice cube. Here is how I got gum out of my dryer fast.

I had saved a couple of those plastic fishnet bottle or candle covers (open at both ends) in my junk drawer. I took a rubber band and sealed off one end of the plastic cover. I filled it with ice and sealed off the other end with another rubber band. I scrubbed using the ice bag as a sponge and followed with a dry rag. It made quick work of getting the gum out of the dryer.
To get gum out of the dryer, I just used a Mr. Clean Magic Eraser (50% stronger one). This worked better for me than the dryer sheet method which I tried first. First, wet the sponge, then scrub in circular motion. If too stubborn to come off go over again.
Directions:
How do I get gum out of my dryer? It was left in someones pocket and went though the washer and then the dryer. Needless to say, it's stuck on the dryer walls.
By Deena P.
---
Most Recent Answer
April 17, 2012
Depends if it's in a few places or spun all over the place. I would start with making that room as cold as possible then use a stiff, sharp, plastic ended spatula to scrap the gum off. If it's cold enough, it wiil even "pop" right off. If it's warm, of course, it will just smear it around all the worse.
If it's all over the drum, the acetone idea is pretty good too. Just make sure you put it on the rag and don't pour it in the drum (could dissolve plastic parts). The same would go if you used brake cleaner or carburetor spray. With any of these chemicals, open the windows and ventilate that room well. That is because of the explosion factor as well as fume damage to your lungs and light-headedness.
Best of luck
Mike
---
How do you get pink, sticky, caked gum out of your dryer?
By Pam
---
Most Recent Answer
July 20, 2011
Been there, done that! I was ready to wring my son's neck. Then I found a tip online saying to use a dryer fabric softener sheet. I couldn't believe how well it works. Use it dry and just rub. It also works great on the sticky soap gunk that builds up around the edge of the washing machine.
---
A pack of gum is stuck in my dryer. How do I take it off?
By Mary
---
Most Recent Answer
By javamom77 13 14 Flag
September 20, 2011
Have you tried using peanut butter or mayonnaise. Put a dab on a small scrubby sponge and in a circling motion scrub on sticky area until it loosens.
My son did his laundry and forgot to take out some strawberry flavored gum. The fabrics were varied, but all are light colored. He put it in the dryer and I now have pink stains on the clothes, and some gum stuck in the dryer. How do I fix this?
By Judy from NY
© 1997-2016 by Cumuli, Inc. All Rights Reserved. Published by
ThriftyFun
. Page generated on February 6, 2016 at 8:48:47 AM on 10.0.1.210 in 2 seconds. Use of this web site constitutes acceptance of ThriftyFun's
Disclaimer
and
Privacy Policy
. If you have any problems or suggestions feel free to
Contact Us
.