I have a 8 year old Pit Bull. She has never had a peepee problem before, but now she keeps wetting her own beds (3 of them in different parts of the house). She has a doggie door and can go out anytime she wants. She even does it while we're home. We had a 2 lb. Chihuahua that was the queen bee, who passed away 2 months ago. Could this be affecting Isabella, and why so long after Mia's passing? What can I do for her?
By Terryann
We are giving away $200 in Amazon gift cards for people who answer questions on ThriftyFun in February! Click here to find out more...
Add your voice! Click below to answer. ThriftyFun is powered by your wisdom!
Add your voice! Click below to answer. ThriftyFun is powered by your wisdom!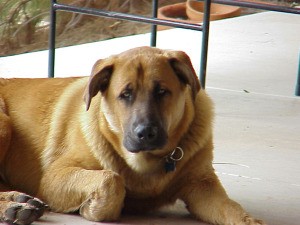 My dog "Hoss" has started peeing where he is sleeping in the house at night recently. He has never done this before. He is only 7 years old, a German Shepherd/Lab mix. He's a big boy, about 140 pounds and is having a little difficulty getting up in the mornings. Maybe he has a UTI or needs Proin? I can't even imagine him being "put down" or even sleeping outside; he's one of my best friends. He also really stinks, maybe it's from his peeing on himself?
By Ray M from Wrightwood, CA
July 18, 2011
0

found this helpful
Best Answer
Have your vet test his urine for a urinary tract infection, like you mentioned in your post. That is a likely source of the smelly urine. My senior doxie gets them occasionally and I can tell when it's time for a urine test by her smelly urine. Ick. Easy to treat with pills. Good luck with Hoss! He looks like a sweet boy.
July 18, 2011
0

found this helpful
Have your dog checked for diabetes. It is common at his age. Is he drinking more than usual? Excessive thirst and urination are often the 1st sign of diabetes. It is easy to treat. My terrier had it and the nighttime urination was the 1st sign. She did fine after she was diagnosed.
July 18, 2011
0

found this helpful
Syn.flex for joints. Wonderful. It will not cure but even dogs with dysplasia whose owners are ready to put to sleep get years of a near pain free pet. Takes few days to 2 weeks for relief. When it works, continue or stiff and sore joints comes back. Not very expensive. Order online. Shipping free. No, I do not sell it. I learned from a friend who had tried it on a young GS dog with dysplasia.
July 19, 2011
0

found this helpful
Thanks everyone. We (Hoss & I) appreciate it!
July 19, 2011
0

found this helpful
I just thought of something strange. Since Hoss is a bit overweight, I have been giving him a dry dog food that is specifically for older dogs and a can of Alpo premium (to make it taste good). This has been his meal for quite a while. A couple of weeks ago I thought he isn't losing any weight so I replaced the canned Alpo with some canned older, overweight dog specific stuff. That's when he started wetting his sleep spot. He also wasn't finishing his food, something he has rarely done, ever! I have since switched his food back to the canned Alpo and the dry kibble and he has not wet in the house since, weird.
Could the food change have triggered his peeing at night? I'll have to look at home tonight and report back on the brand names of the food.the new canned stuff even looked nasty to me.
September 23, 2016
0

found this helpful
Our 11 year old Cavvy has the same problem. She's just recently started to pee in her bed, at the back door mat even when the door is open and around the house when we're right there and she's able to get out. We moved house recently, so she has been stressed. We also changed her food as she was putting on extra weight. The peeing seems to coincide with this. We've just taken her to the vet to start tests to rule out a medical problem. Hearing your story though does make me think that our dog is most likely upset with us for moving house, having work done and disrupting her life.
October 25, 2016
0

found this helpful
Strange you say change in food habit because I too have just changed my dogs food intake for weight control and she is about 12-13 yrs old. She just started peeing on her own bed and sleeping in it too.
January 25, 2017
0

found this helpful
I also have same problem vet told me to use baby wipes or butt wipes to kill some of smell we also buy bed pads and news paper food lion cheapest on pads you will have to ask somebody where there at