Has anyone purchased a Handy Stitch Sewing Machine and had good results? I only do a little mending and I didn't want to spend the money on a regular sewing machine. I also don't have the space so I thought the handheld one would be better.

Caramel1 from NJ
By Caramel1
Ad
---
Recent Answers
Here are the recent answer to this question.

By kathleen williams [76]04/19/2009
I would not get one. It's a waste of money, mend with your fingers or get somebody else to do it for you, maybe the cleaners will do it or put an add in a news paper, good luck.

By Clarice (Guest Post)01/29/2009
Well, my problem has been that the stitch from below breaks. I have loosened the tension, but it doesn't help. Pain to thread when you get to be my age. Great idea and material it is made out of seems to be sturdy. Looks nice too, but someone must perfect it.

By Diann (Guest Post)11/07/2008
How do you get the battery pack open to change the batteries?

By W. Mooney (Guest Post)10/23/2008
For those of you that are looking for the Singer Handy Stitch manual, I hope the following helps. The Singer Handy Stitch - Model CEX300K instruction manual can be found free of charge at:

http://www.sewwhat.net/millie/Manuals/CEX300k.pdf

For those of you who can not seem to lock a stitch with any Handy Stitch Machine - this manual will help you too.

By Leah F. (Guest Post)10/18/2008
How do you lock the stitches?

By bubbles (Guest Post)10/15/2008
Can you tell me how to thread it please?

By Dustin (Guest Post)10/04/2008
I had problems threading mine, but the post above was very helpful. I have learned a some tricks to make this more useful.

1. Have a regular needle and thread handy as you work with it. Once you get the stitch started (a couple of inches or so) use the regular needle to lock the start of the stitch.

2. before you are done, leave the needle in the work and go back to your regular needle to tie off the end of the work.

3. Sew off the end of the work to get the machine free easily.

If someone knows how to use the machine to lock it's own stitches, I would love to know how.

By Susan Muller09/25/2008
Bought mine, came without instructions. Tried to figure it out, finally did and turned out to be a piece of wasted money.

By jenn (Guest Post)08/11/2008
This thing is such garbage, it skips and then the entire piece of whatever you are making falls apart. I am so frustrated I threw it in the garbage. Good idea for a hand held, if it actually worked!

By Susews (Guest Post)08/05/2008
I received a Handy Stitch as a gift and it had no instructions. After a couple false starts I did figure out how to thread it (bobbin>hole on stationary thread guide>tension control> metal ring just behind where needle base goes into machine>needle threaded (back to front). I have no way of knowing if this is absolutely correct but it worked and I did get a pretty, durable stitch. The stitch is a chain stitch and does pull out from the end of the stitching unless the thread is pulled to the back of the fabric. I intend to use this machine for repairs on materials that are too bulky to get into a regular machine.


By Darren (Guest Post)07/14/2008
Please HELP Me! I gave my Sister a "Handy Stitch Hand Sewing Machine" that I bought for her at a yard sale, although the machine did not come with any instruction manuals, or how to thread the machine. If anyone could please help me out, I would greatly appreciate your assistance. Please feel free to contact me at the following e-mail address: DarrenS569 AT hotmail.com Thanks again for your help!

By Capp (Guest Post)06/20/2008
After days of trying to get this thing to work I gave up! I did read the instructions over and over again and still no results. The illustrations in the instructions are not very clear and the instructions are horrible. I gave the thing to my girlfriend to take to work for some advice and she had no luck..... piece of garbage!

By coolio (Guest Post)05/11/2008
I have a handy stitch, but once I used it for the first time and cut the thread, I can't stitch anymore. Help?

By Sharyll (Guest Post)04/09/2008
I LOVE IT! it works great! easy to store!

By jb (Guest Post)02/26/2008
Does anyone know when the handy stitch was invented?

By Amanda [1]02/09/2008
I bought the singer hand held machine, an I have to say it was AWEFUL I got my money back fast!, The needles that were in the package for replacement didnt fit, A total waste of time an money, Look around in the hobby lobby, or walmart thay sometimes have mini machines, that are great, an not hand held :)

By Fran M (Guest Post)02/03/2008
Does anyone know where I can get the instructions? Someone gave me one but I haven't a clue as to how to thread it.

By Q. (Guest Post)12/24/2007
LucyJew, December 24, 2007
By Black Queen

A piece of junk. It come out stitch at the end and beginning. I try to tight the knot and it keep coming out. It did not let me tight the knot when I tight 4 knots to make bigger knot so it won't come out. But the stitch still come out, then you will not have any stitch which mean you are not sewing. It does not work. It can not sew. A piece of junk. I will return. Hopefully they refund my money $18.00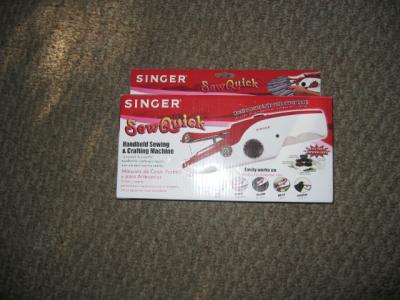 By Tom sloan11/16/2007
does anyone have a manual or maybe can tell me how to thread this thing cause every time i use it, the stitching pulls right out! I don't have a clue about sewing machines, never used one but I don't think the thread is supposed to pull out after the stitch is done! it looks good, but the end where i cut it from the handystitch just pulls the whole thing right out.

Now I bought this from a yard sale and stitched my pants on the top of my thigh (like two inches) and had to cut the stitches out! That was the end of the thread then when I tried to put more on or on the stitches pull right out,
PLEASE HELP

By (Guest Post)07/30/2007
It is a piece of junk. It does not work, and if you manage to get it to work for any length, the stitching unravels very easily. I would send you mine just to be happy to get rid of it, but it's not worth the postage to do so. I saw one on Ebay for $1.

By Christal Knight (Guest Post)05/02/2007
I bought one at a thrift store, boy did I waste mine $4 bucks. This machine is not worth 2 cent. I wanted it for my sail boat, thought it would be handy to have. The first time I used it was a bummer. I plan to throw this away so no other sucker with waste their money.

By Judy (Guest Post)04/22/2007
Hi: Got one cause my special needs kids I look after was interested, thought it would be a great idea, it was impossible for them to learn on, it was a piece of junk. I ended up teaching them on my big machine and they had no problems. Try to find a regular machine, you would be amazed at how many times you would use it.

By Jess [121]04/18/2007
I bought one near Christmastime one year. I was making scarves for my sisters and mom and was tired of hand stitching them. I was able to sew about a foot before it conked out for good (not thick fabric either!). I would recommend getting a regular sewing machine if you plan to sew more than VERY occasionally, say once a year or so. Who knows, maybe you will get inspired to sew more often if you have the right device. I'm not a sewer, but I am tempted . . .

Jess in Portland, OR

By Janice C. [18]04/17/2007
Read the directions? How fun is that? I'd go to Goodwill or a garage sale and get a used sewing machine for $10 or so. Portables usually come in sturdy boxes (like luggage), they're easy to use, the older ones are reliable, and they don't take up much space.

By Mary Lou [14]04/16/2007
I have had two so far, I find the one produced by Singer the better of the two. Be aware that this machine does only what is called a lockstitch, this is not like a regular sewing machine stitch. They usually do not have reverse or backup, so you may have to hand knot the ends to keep them from unravelling. It is good for basic stuff, but the Handy Stitch model I have uses bobbins for the thread which you might have to wind yourself from spools. Also found the battery positioning very wierd for the Handy Stitch I have. Singer model can be battery or plug in. Check Walmart, sure I saw a small sewing machine(half the size of regular or smaller) might be better.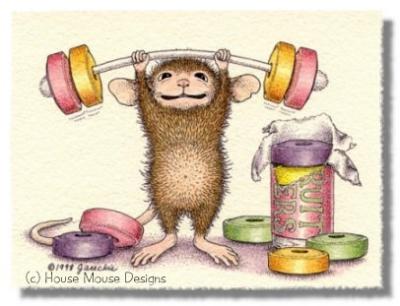 By patricia sudduth [12]04/16/2007
I purchased one about 3 years ago. I had to return it because the bobbin kept popping out. It wasn't at all what I thought. I decided not to replace it with another one.

By Hermgirl (Guest Post)04/15/2007
As a matter of fact, I did purchase a Handy Stitch machine recently, and I've used it to create a small drawstring bag already, and I have plans to make a matching tote bag.

My advice is, make sure you read the instructions thouroughly, because the locking mechanism while you're threading it can be tricky, but once you figure that out and practice with it a couple of times, it's a snap.

I was lucky enough to get mine at Goodwill for about three bucks--like new. I think the person must have gotten it and not read the instructions, and when they couldn't figure it out immediately gave up on it. I think that happens a lot because people don't like to read instructions.
Answer This Question
Add your voice to the conversation. Click here to answer this question.