Crafts Using Aluminum (Tin) Cans
Aluminum (tin) cans can be recycled into fun and useful craft projects. This is a guide about crafts using aluminum (tin) cans.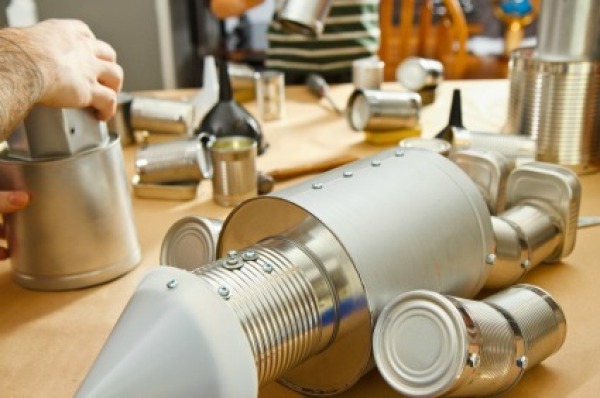 Filter

: All Articles
Sort

: Relevance
These are wall pockets made from tin cans. These are the large sized cans that schools and such use.

Tops and bottoms are cut from the can, then I step on one end to flatten it together. The I drill 5 holes across the the bottom, through both layers and "sew" with light weight wire. Once that's done, it's time for the fun part. These I decoupaged with fabric and added some odd dangle pieces that I had in my craft room. Drilled 2 small holes on the top back for wire to hang them up by :0)
By Maggie from Bloomington, MN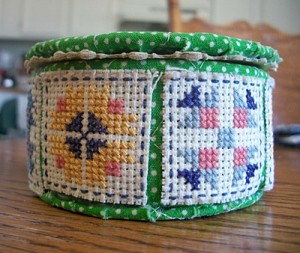 This is a tuna can covered with a quilted fabric remnant and some left over cross-stitch mini squares, and a cardboard cloth covered lid.
Approximate Time: 60 minutes
Supplies:
clean tuna can
scissors
tacky glue
quilted fabric remnants
plain cardboard
wooden bead
gold foil paper
small cross-stitched designs
clothes pins
Instructions:
Trace around the bottom of the tuna can, making a pattern for the lid. You'll cut one piece of cardboard that size for the lid and two pieces of cardboard for the bottom. Each piece for the bottom will hide the glued fabric edges to finish the project.
Cover the three cardboard pieces with tacky glue covered pre-quilted fabric. Make sure to cut your fabric large enough so it will cover one side of the cardboard. Carefully clip edges and fold down, gluing as you go. Hold with clothespins and allow to dry. Repeat for the inside cover for the bottom and the lid.
For the inside of the can, cut a piece of the pre-quilted fabric 5 inches wide and 12 inches long. This will be glued on to the side of the can and clipped slightly so you can glue part of it to the bottom to partially cover it. Don't worry, the inside cardboard piece will cover the clipped part when it's dry. Use clothes pins to keep it from sliding off the can.
When dry, glue the inside bottom piece in, then add the outside bottom piece to cover the bottom of the can to cover the clipped edges.
When dry, use tacky glue to add the tiny cross-stitched embellishments on the outside of the quilted fabric. Glue the small wooden bead to the lid and add to the tuna can.
I made several of these one year as last minute gifts. Instead of cross-stitched embellishments, you can add anything you might like to embellish it with.
By Monica from Cortez, CO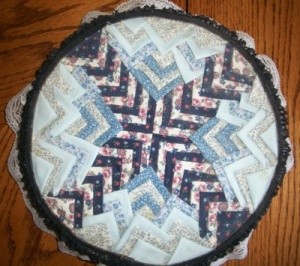 This is a "keeper" for miscellaneous items made from an old candy tin. A fruitcake tin or cookie tin can also be used.
Approximate Time: 2-3 hours.
Supplies:
small pieces of miscellaneous fabrics
scissors
tacky glue
hot glue gun
glue sticks for glue gun
something to weight the finished project down as it glues - I use a heavy skillet
clean cloth or foil to place between the skillet and the craft project
lace or edging to glue around the lid
embellishments of your choice
steam iron
Instructions:
Cut small scraps of fabric into two inch squares and fold into a triangle shape. Press the triangles and allow to cool.
Decide on a pattern in which to arrange your triangles. Carefully start in the center of the design and begin in a clockwise pattern to begin gluing the fabrics into place.
Overlap each layer of fabrics and finish the design with as many shades and patterns of fabric as necessary to completely cover the top of the tin. Use miscellaneous fabric of your choice to cover the bottom of the tin.
I find that tacky glue works better to glue the fabric to the tin, but the embellishments go on fairly well with a hot glue gun.
Weight the layers of glued fabric pieces as you go, as to ensure they don't slide off. As each layer dries, or is more stable, add another layer of scraps until the project is completed.
I have done many tins like this. They make nice storage containers for buttons, jewelry, etc.
By Monica from Cortez, CO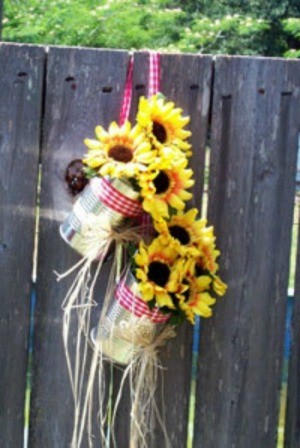 These cute and inexpensive tin can decorations are perfect for a country themed wedding. Just clean ordinary tin cans and hot glue a square of styrofoam into the bottom, adding whatever silk flowers you choose. Wrap a length of ribbon of choice around the outside and hot glue overlapping ends, tie raffia around the lower part of can and make a bow with long tales. Take a length of ribbon and hot glue end to the back of one can and the other end to the back of the other can for your hanger.
By Robin from Clyattville, GA
This big mouthed little frog is a great place to store your eyeglasses, iPod, or phone. It is a fun craft for kids to make or as a silly gift for a friend. He is sure to make you smile wherever he is.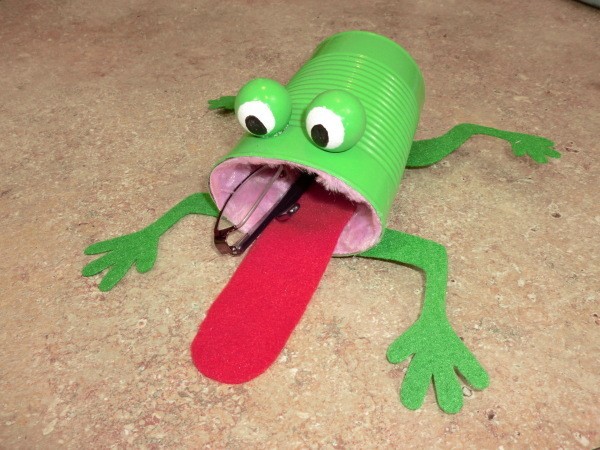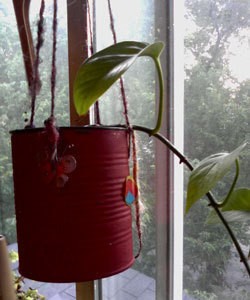 One day I was looking at a large empty can of tomatoes that I was ready to throw in the recycling bin then for one reason or another I decided to paint it. This led to me making a hanging planter for a friend who I was giving a plant to from cuttings. Here's how to do it!
You'll need:
1 large clean empty can (from tomatoes, beans, etc)
nail and hammer
acrylic paint and brush (from dollar store)
stickers
any kind of strong thick cord
Instructions:
Clean out the can and remove the label. Sometimes there can be some of that glue left that is tough to get out, I use something called "Goo Be Gone", but someone told me rubbing alcohol has done the trick too though I haven't tried it.
Dry the can and paint the outside, either just one colour or use one base colour and you can paint things like flowers, rainbows, and anything else you can think of on there. Make sure the base coat is about 3-4 coats if possible and dry can between each coat. It won't look perfect, but that's OK because it will be original! If you have varnish you can coat the can too.
With a hammer and nail, poke three holes around the top ridge of the can, with each hole being the same distance apart as other holes or else the plant won't hang right.
Cut three pieces of cord, all the same size (whatever length you choose).
Tie one cord to each hole with a few knots so it's well secured.
Bring the loose cords together and tie them together with a big knot. Then a bit higher close to the top, make another knot. Now you have a secured hole to hang the plant.
Decorate with stickers, glitter, or anything else you have on hand.
Put a nice small plant in there (make sure it is already in it's own container, the hanging planter is just for decoration.
This would be a great craft for kids/parents to do together!
By Lisa from Halifax, NS
This is what I do with old cans. They make great gift "buckets".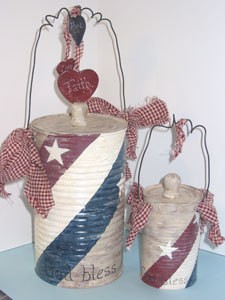 Don't throw out those soup, vegetable, and fruit tin cans. You can use them to recycle into wonderful crafts.
You can make pencil holders. Just cover with fabric and ribbon with a hot glue gun.
Fill a clean can with water, and put it in freezer until it is frozen solid. Remove from freezer, and use a hammer and nail to tap holes through can to make patterns such as a heart, cross, etc. Make a hole on each side at top and thread a thin wire through to use as a handle. Melt ice, throw in a votive candle, and you have a instant illuminated candle holder. Great for porches or walk ways.
You can use the larger cans for the base of a wind sock. Just cover the can with ribbon using a hot glue gun. Make a handle by gluing a piece of ribbon on both sides. Next cut strips of ribbon off at same lengths. Glue these on the inside of can so they flow down. Hang from porch, and let the breeze do the rest!
By SinnerSavedByGrace from Shelbyville, IN
August 26, 2010
0

found this helpful
Love your profile name and your ideas!
Use extra large vegetable cans.Take the top and bottom off of all but one. Keep the can with the bottom on it on the bottom.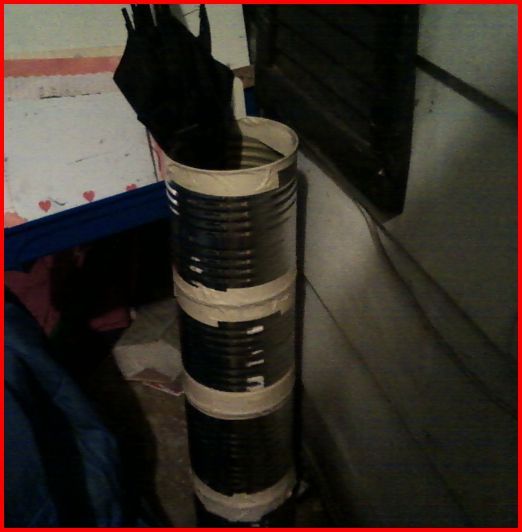 I am just about to start making some tin robots from assorted cans. But I am wondering how to remove the logo from the tin coffee cans.
By Bonnie H
December 10, 2013
0

found this helpful
I soak them in warm water and most of the label comes right off. After taking the label off, we sometimes run them through the dish washer.
This is a handy item to use for spare change, car keys, misc. items.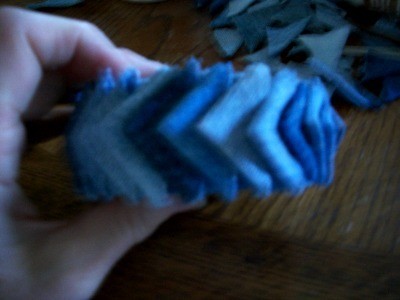 We use lots of extra large sized tin cans of cheese and green beans. We put them in the refrigerator, and cover them with a margarine lid. I used them for many things around the house. I gave my daughter one to make a project, since she crafts with duct tape a lot.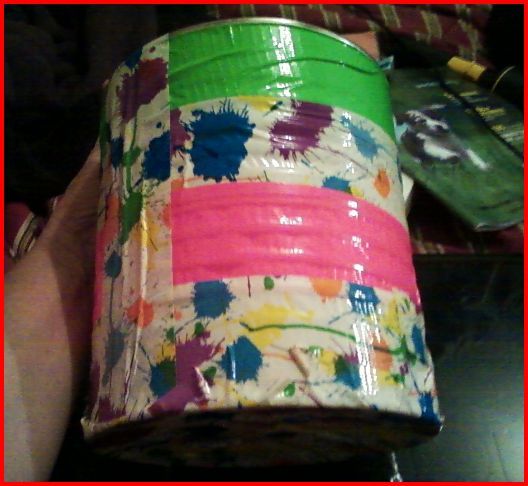 Looking for directions on how to make animals about drinking cans.

Editor's Note: I am not sure if this poster is referring to aluminum cans or tin cans. Feel free to elaborate on this if this is your request.
October 30, 2004
0

found this helpful
I found some sites about tin can crafts, I am not sure if this is what you are looking for but it is interesting, nonetheless!
Related