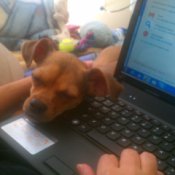 Thor is a 10 month old mixed Chihuahua. I work in construction and he was left on the job site, so I adopted him without my husband's knowledge. When I got home that evening, my husband got a huge surprise. Thor was very thin and scared, but with lots of love and attention, he is the perfect pet for myself and my husband.
He loves play ball, whether you are throwing it or just kicking it. He is always pushing the ball to my feet when I am in the kitchen cooking. My husband recently bought me a laptop. I believe the picture speaks for itself, Thor is a bit jealous.
By dannie46 from Antioch, CA
Ad
---
Feedback Forum
Feedback about this article is posted here. Want to contribute? Click above to post feedback.

By glo [6]10/04/2011
This picture really made me give the thumbs up. I am still smiling.

By attosa [121]10/04/2011
What a cutie - love his name! :)

By Pixiedust7 [7]10/03/2011
That's so cute! Thor is a lucky little fellow to have found a home with you! Looks like he thinks your lap is meant for him alone. Best wishes to you & Thor. Thanks for sharing his picture & story.
Post Feedback
Add your voice to the conversation. Click here to share feedback.