Use an old recycled chair from the junk to make into a planter for flowers to set in the garden.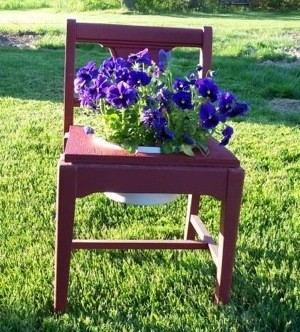 Approximate Time: 1 1/2 hours.
Supplies:
chair
4 screws
saw
paint
screwdriver
pot with flowers
Instructions:
Get an old chair to use. Take the seat off and use as a pattern to cut one out of hard wood to withstand the weather.
Before planting flowers in the pot, turn it upside down and center in the middle of the new cut out seat. Draw around the pot. Now draw another line about 1/2 inches inside that hole. This will be your cutting line. If you use the first one your pot will fall through. It needs to be a bit smaller then the top of the pot. A roto zip tool or jig saw works nice.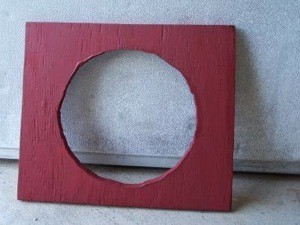 Paint the chair and seat. You may want to paint or spray it with polyurethane to protect it. You may want to keep your chair old and rustic and not paint it at all. Screw the seat on after it dries.
Plant the flowers in the pot and place the pot in the hole. I used a hanging flower pot I got for Mother's Day but removed the hangers.
All ready to set in the garden and look at when you are out there working hard. It'll make your work seem more worthwhile.
By Little Suzy from Millbury, Oh
June 17, 2009
0

found this helpful
I sell at a Farmers Market every weekend. Several years back there was a gal selling chairs suck as this along with a bunch of other unusual things to use a planters. She did really well$$! One of the coolest was this old scraggly pair of scuffed up leather high top work boots. With bright colored flowers in them they looked wonderful! I could go on & on & on with the crazy things she used as planters & sold. Besides the boots, another favorite of mine was an old beat up birdcage. You can use hanging ones or the big standing cages are great for outside on the porch planters. She even used bird houses, old rusty buckets with holes in them, the pockets of blue jeans & old broken depression glass. It's strange how with the flowers added, the chips in old china made it look even better! Her secret was to use many different textures & color of flowers & foliage together. Just drill some drainage holes & use your imagination. It's recycling at it's very best!
December 2, 2009
0

found this helpful
By Colleen Moulding
From junk shop chair to garden feature!

First you need an old dining chair with a push out seat as this is where the flowers will be growing. If you haven't got one lying around in a garage or shed, ask around friends and family or offer a couple of dollars/pounds for one in a junk shop, charity shop or thrift store.

If you want to paint the chair this is best done first, although a chair showing signs of age looks very good for this project too.

You can get a very nice effect by painting your chair
with one colour, leaving it to dry completely, and then applying another different colour all over. When this second coat is completely dry, lightly sand off the second coat in the places that would naturally have received the most wear and the first colour will show through giving a very pretty distressed look.

When you have your chair frame looking the way you like it, fix a double layer of chicken wire where the seat used to be, in a bowl shape. A heavy duty staple gun is ideal for this job.

Next line the chicken wire with a good layer of pre soaked sphagnum moss as this will be needed to stop the soil falling through the wire.

When you have a good layer of moss in place, sit a plant pot saucer or small shallow dish on top of it, just to retain a little of the water and stop it dripping through quite so much. Then fill your moss lined chicken wire with soil or compost and add your plants.

Pansies look very good in these chairs, as does a cushion of busy lizzies. Climbing plants such as sweet peas will wrap their tendrils around the chair back giving another dimension to the display and a couple of variegated ivies or other trailing plants would look splendid curling down the legs.

About The Author: Colleen Moulding is a
freelance writer from England where she has
had many features on parenting, childcare, travel,
the Internet and many more subjects published in national
magazines and newspapers.
http://www.allthatwomenwant.com
Answers:
Make a Pretty Chair Planter
You did an excellent job of giving directions on how to make a garden chair. Although I have seen them before I didn't have a clue how they were put together. A big round of applause to you! This is a project I just may try in the near future! Thanx! (05/02/2009)

Make a Pretty Chair Planter
You explained how to do this so clearly. It is a perfect project for me. I know I have 2 chairs for the job and plenty of peat moss, and marigold seeds, and many colors of paint.
Thanks! (05/02/2009)

By nancyboston