Remedies for Stinky Dogs
There are some home remedies you can use to help eliminate doggie odor. This is a guide containing remedies for stinky dogs.
Filter

: All Articles
Sort

: Relevance
Every time I bring my long-haired female Dachshund in from her potty, I use baby wipes for sensitive skin (fragrance and alcohol free) on her bottom and the bottoms of her feet. If she smells a little "doggy", I will wipe her down with one. I rarely bathe my dog, as it dries out their skin, but regularly brush her. She has no odor.
By Luann D.
I wrote asking for tips and have now cured the 'smelly' dog. I got a second vet's opinion regarding the awful smell my chocolate brown Lab had. The vet diagnosed a yeast infection and prescribed an anti fungal and anti bacterial shampoo. Shampoo twice a week for a month. After one shampoo the awful pervading smell vanished. I will continue and finish the treatment.
By Sylvia
For Labrador Retrievers, mix one part Listerine with one part water and spray on after bathing to cut down on the Lab smell.

By Susan
I have a 12 week old Husky that wets herself while laying, sleeping, and playing. Her coat is drenched with urine and smells bad. I took her to the vet, but they said it's normal. I've never seen a dog wet itself like that. What can I do to clean her coat, because I don't want to wash her everyday. Please help.
By Natasha W.
June 30, 2013
0

found this helpful
That is not normal! Go to a different vet!
July 8, 2013
0

found this helpful
This is definitely not normal, please go to a different vet. Also ask the new vet for a sanitary cut. They will shave the area around the animal's privates, this will help with some of the issue, but not the root cause. There is something seriously wrong please see a different vet
July 28, 2013
0

found this helpful
This is not normal. She probably has a bladder infection. Make sure she see's a new vet and gets on some antibiotics. I have raised huskies for years and never had this problem. The urine can even burn her skin if it goes on. U can wash her with Dawn dish soap which is great for stinky odors.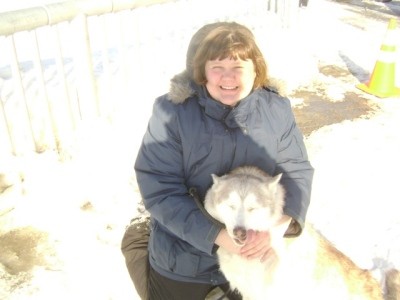 My Lab rolls in rotting animals that he finds, while exploring the area. My sense of smell is killing me. How to rid him of this disgusting odor?
February 17, 2016
0

found this helpful
Well, it's not so much the smell I would be worried about, but rather the possible vermin, disease, or chemical (if the animal was poisoned) your dog could pick up on its fur and possibly later lick off. Unfortunately unless you are going to figure out a way to keep your pup away from things like that, I'm thinking a bath each time may be the safest bet. Also, call the vet to see if there is something they can recommend to stop the pup from doing it.
May 13, 2016
0

found this helpful
Give your dog a bath by wetting the hair lather with lots of Dawn dish washing liquid. Then use baking soda to coat the hair completely. Next pour vinegar all over the hair. This neutralizes odors. Let sit for 5 min while massaging it in, and rinse. Follow with shampoo. This also works great on skunk spray! Your dog will b odor free!!
I have two dogs that have been outside dogs for a year. Next week we are moving to our new home and they will be inside dogs once again : ) My two dogs stink, oh so bad! I need help, please!
By Tina A.
March 16, 2013
0

found this helpful
We always wash our 2 outside dogs in Dawn liquid dishwashing soap! It's safe & effective & they smell great afterwards... at least until they find a mud pile! My bestfriend washes her 5 dogs in Dawn as well & they are all inside dogs! It also helps kill fleas & anything else that your dogs may "pick up" outside!
March 17, 2013
0

found this helpful
If this is the stink that comes back day after bath? The kind your hand smells putrid by a few pats of their had and back? Very specific instructions and cannot use on any collie type or sheepdog let me know and I will send you my phone or you can send me yours. A cure is possible. I did my own under supervision from my old fashioned vet.
June 18, 2016
0

found this helpful
That is my dog.. I have a Blue Nose Pitbull and she is 11 months. When I give her a bath she is okay but the next day the smell is back.. I don't know what to do...She also scratches a lot.. And she is a in house dog.. I need help please...
I have tried several products and none of them do the job. I want sound advice as I have spent enough money and none of the products work. I only get temporary results.
By GD from Lynn, MA
February 22, 2012
0

found this helpful
After washing your dog, rinse with a 3:1 solution of water [3] and vinegar[1]. The vinegar smell will only be temporary [depending on the size of your dog] but it's coat will be beautifully soft and squeaky clean. Vinegar is antiseptic and antibiotic, your dog's skin will benefit as well. Zinc is also a remedy for doggie's bad breath.
February 23, 2012
0

found this helpful
Maybe the anal glands need to be emptied. It is common for them to still smell after a bath when this is needed. If you don't know how, you can look it up on the computer or have a dog groomer or the vet do it.
February 25, 2012
0

found this helpful
Either you're overly sensitive about odors or you need to take your dog to a vet for evaluation. Dogs like humans have their own smell but if your animal is healthy and you clean the house every week it shouldn't be a problem. Does your dog have any sores on it's body, bad teeth & gums, etc.? Take it up with your vet.
I have just gotten a long rough haired Collie who has been outside and I need to have him in the house. I have bathed him in medicated dog shampoo, but he still smells! His white fur has turned a bit, let's say, not white. Can anyone help?

By Julie R
May 6, 2013
0

found this helpful
You could always take him to a groomer just this one time to get him professionally cleaned, then bathe him at home after that. Don't be afraid to ask for tips to keep him smelling fresh and keep his fur pretty.
May 8, 2013
0

found this helpful
Our lab got skunked and we tried every old trick in the book. Out of desperation, I finally told my husband I wanted to try our tea tree shampoo. IT WORKED! I bought ours from Cost Cutters (Walmart) but there are tons of brands. I think they may be one of the cheaper ones though. After one wash with the tea tree shampoo, the smell was gone completely!
March 7, 2016
0

found this helpful
I used to have a Westie and I used a tear free shampoo for black dogs. The shampoo is a deep blue and removes the yellow gray and leaves your dog white , white , white. I used to be a hair stylist and we always used blue shampoo on white hair.
Related
© 1997-2016 by Cumuli, Inc. All Rights Reserved. Published by
ThriftyFun
.
Page
generated on September 26, 2016 at 5:33:04 AM on 10.0.0.252 in 5 seconds. Use of this web site constitutes acceptance of ThriftyFun's
Disclaimer
and
Privacy Policy
. If you have any problems or suggestions feel free to
Contact Us
.