Ariela
Bronze Feedback Medal for All Time! 107 Feedbacks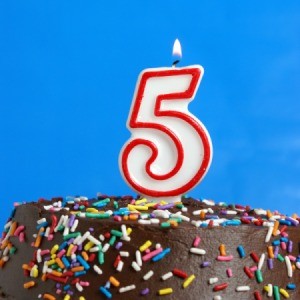 Our grandchildren live out of state and we couldn't be there for our Grandson's 5th birthday, so we sent all the party favors and money for food and presents. They set up their web-cam and we set up ours and we watched the whole thing! LOL! It was just like being there, two thousand miles away! We could hear all the goings on and talk with them too! It's the neatest thing ever.
The nicest thing of all was singing Happy Birthday to him, and seeing him and our children and our only granddaughter too! I would tell anyone to try this, it's the best!! And free, other then the cost of the web cam
(under $50) and the internet of course! :) Oh and, they could see us too on their computer screen! So fun when they walked up and kissed the camera and said "Thank You Gramma and Grampa!". :)
By Ariela from Jax, FL
Read More

Comments

For our son's 5th birthday party we asked two high school football players to come to the party dressed in their uniforms including their shoulder pads, knee pads, and other protective gear. They ran the children through some drills and then demonstrated some maneuvers (including defensive blocking)...
Read More...

I need ideas for my sons 5th birthday party. We live on 19 acres. I thought of doing a hayride, and having a weenie and marshmallow roast over a fire, but I need some more ideas! Thanks in advance.
Trisha W. from Minden, LA
Answers

Marty Dick
Bronze Post Medal for All Time! 169 Posts
January 14, 2008
0

found this helpful
How about bobbing for apples as one of the games?
You could also purchase some of those little balsa wood gliders as favors and let them spend the afternoon throwing them around. I did that once and it was the best party we ever had.
This sounds like a lot of fun for a little kid and since it's outside it shouldn't cost a lot of money. Send us some pics when it's over.

Myrna
Bronze Feedback Medal for All Time! 168 Feedbacks
January 14, 2008
0

found this helpful
You could have the kids look for hidden treasure. Some fun gift for boy and girl and if they find it, they keep it, or something that is to be shared with all the kids once found. A few clues and they're off on the hunt.
By Nancy (Guest Post)
January 15, 2008
0

found this helpful
That's alot of land! How about a big BBQ / pot luck with games for the kids? Even some games for the adults could be fun (and you have all those extra adults around if you need a hand :)

January 15, 2008
0

found this helpful
foot races were always fun when we were kids (back in the 60s). A big pinata hanging from a tree is a blast too. How about a baseball game?
let em run for sure - kids today never seem to have to run and stretch their legs - relay races, sack races, 3 legged races are a BLAST!

January 15, 2008
0

found this helpful
Oh i forgot wheelbarrow races!!!!!! SOOOOOOOOO much fun and the pictures would be hilarious!
By Linda (Guest Post)
January 16, 2008
0

found this helpful
Set some boundaries as to where the kids can wander-that's a BIG piece of property. Any sort of games and races, a scavenger hunt (use pics rather than words on the list as most of these kids won't be readers or assign an adult or older READER to each kid team.
List nature things like the biggest pinecone, empty birds nest, snail shell, etc
Answer

this Question
I am having my daughter's 5th birthday party outside. It is water oriented and I need some ideas for games that will be suitable for children ranging 2-6 yrs of age. I am mainly thinking of using water guns and water balloons. Any ideas?
By Samantha T.
Answers

May 9, 2011
0

found this helpful
Set up a couple of sprinklers and let the kids run through them. I still remember this from when I was little, a long time ago!

May 10, 2011
0

found this helpful
How about one of those slip and slide things that you could put on the ground, turn on the sprinklers, and let the kids (and maybe grownups, too) have fun? Water pistols and balloons sound fun, too. For littler kids, maybe a wading pool? But they would need some supervision.

Louise B.
Silver Feedback Medal for All Time! 337 Feedbacks
May 12, 2011
0

found this helpful
How about a relay race where they have to empty a bucket a cupful at a time and fill a small pail for their team? Tough to run with the cupful of water without spilling, and so lots of laughs.
And I think a slip and slide is a good suggestion too.

May 13, 2011
0

found this helpful
I was going to suggest the same things the others have, so I won't repeat them. I would like to warn you though, that water balloons make a huge mess-you have all those broken pieces laying around on the ground, which doesn't look very good & is bad for the birds.
Answer

this Question

Any ideas for a stay at home birthday party for a 5 year old boy?

Missy from OK

Answers
By KerBearRN (Guest Post)
January 27, 2006
0

found this helpful
How about a pirate party, complete with hats (or they can make their own) and eye patches, backyard treasure hunt using a home-made treasure map, with real treasure at the end (our "treasure" was a pinata filled with candy etc.), picnic table decorated (esp. with butcher paper) to become a "pirate ship", etc. We did this several years ago, and it was one of the most fun parties we've done--and I've done MANY.
Everyone, from the toddler "go alongs" to the pre-teen cousins had a great time! We bought a plain white-frosted Costco cake and decorated it with a few pirate toys and some "gold dubloons" (chocolate foil-wrapped coins). The possibilities are endless! Have fun!
By Linda (Guest Post)
January 27, 2006
0

found this helpful
2 hrs, 5 guests, a craft, a few games, goodie bags, cake and ice cream. KISS

May 11, 2009
0

found this helpful
We had a "knight party" for my son for his 5th. I bought the inexpensive plastic knight helmets for the boys party hats (and it was also their party favor). I got the girls the little fabric cone shaped damsel hats for the girls party hats (party favor). I went online and found a castle cake (basically 2 square cakes, get 2 soup cans and bake cake in them then cut them in half -these are the towers, sugar cones upside down on top of the towers and decorate with gumdrops). You can get really creative with the cake from there. It was a real hit. I called several friends and borrowed a bunch of stick horses and had a stick horse race. We did a dragon pinata.
We made a craft using cardboard wrapping paper tubes. I got ribbon, fake jewels, metallic and pastel paints, glitter. I cut sword handles out of construction paper and stapled it about 3/4 down the tube. We cut the opposite end of the tube to a point. The boys painted their sword silver and decorated the handle. The girls painted their tubes a pretty pastel & decorated long pieces of ribbon with glitter and jewels. Then we stapled multiple ribbons to the end of the tube to make a wand-sort-of-thing. :-) We did the craft first, played the other games then just let them loose to play with their new handmade toys. They had a blast. I know that was lengthy - sorry -but hope it inspires someone else. Have a great time!
Answer

this Question