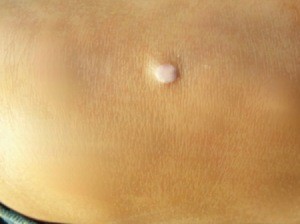 I just read an archived post on homemade wart remedies. A lot of suggestions were offered. Surgery, plant extracts, duct tape, even rubbing a penny on the wart. Rubbing a penny on the wart? Get outta here!
I'm sure most of the suggestions have worked for some of the people some of the time. Some warts 'run' deeper than others, so a topical treatment that works for one person might not work for another. There seems to be another reason why some remedies work for some people and not for others.
When I was a child, my playmates and I often had warts, especially on our fingers. We had a surefire method for getting rid of them. It worked every time. When a parent would see a child picking at a wart, the parent would say, "Stop that. You're going to get it infected. Go down and see Mr. Anderson. Ask him to rub the wart for you. It will go away."
Mister Anderson was a nice old man. Everybody liked him. He was not into witchcraft, did not claim to have any special powers, and he never attempted to cure anyone of anything other than warts. Maybe the nice old man knew something that many years later was discovered by scientists. Whatever the case, our warts always began to fall off in three or four days.
As an adult, I read articles on hypnotism and the power of suggestion, in general. A few of the articles were on the subject of warts and their removal. There had been clinical trials done at the time. The clinical trials found there was strong evidence to indicate the virus responsible for warts could be affected by one's thoughts.
The trials determined that no matter which method was used for wart removal, that method was far more successful if the person believed it would work. So that accounts for Mr Anderson's 100% success rate. We children saw warts of others go way after he rubbed them, of course we believed ours would go away, too. And they did.
So if you have a wart and try any of the methods found in the article, you might do well to believe the method you try WILL work. It could make all the difference in the world. Rub a penny on the wart? Sure... if you believe.
Oh, the innocence and trust of a child.
Those were the days.