February 13, 2019
0

found this helpful
Hi,
I found a similar one, to yours, that is dated 1870. Looking at your serial number, the last four numbers are the date, which is written backwards.
Since the last four numbers of your machine are 0581, then, read backwards, this would give you the year 1850. So I think your machine is from 1850.
Here is the link I found that has a similar machine and table:
www.etsy.com/.../1860-rare-vintage-sewing-machine...
Blessings,
Robyn
February 16, 2019
0

found this helpful
I was wrong about the serial number. The number is 778058D Upon further research this machine really resembles a STANDARD but I haven't found a STANDARD with that base.
But I'm getting closer. Here's some images after I cleaned it up...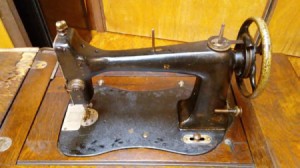 February 22, 2019
0

found this helpful
Neat item!! I love old sewing machines. Something I learned recently is that history centers and the Smithsonian often have catalogued old advertisements where you can learn about items.
I don't know if they have a lot on this machine, but when I put the phrase "Domestic sewing" into the Smithsonain search it came up with hits:
library.si.edu/.../domestic%20sewing
Do you have a history center in your town? Pittsburgh has an awesome one. I hope to get there soon to see what they have in their archives in relation to old advertisements for a project I want to do.
If I learn more, I will post back. Meanwhile,post back what you learn from this and the other sources out there.