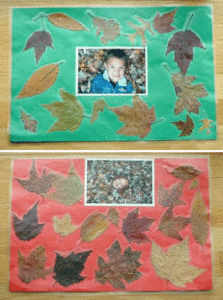 The leaves are changing colors on the trees! What a perfect time to make a personalized fall place mat for your little ones! We made these last year and the leaf colors aren't as vibrant as they had been when we first made them. We may have to sneak out and grab some new leaves and make another set this year.
Approximate Time: 20 minutes or less
Supplies:
leaves
clear contact paper
large construction paper
glue stick
scissors
photo of child
Instructions:
Collect leaves with your child. You may want to press the leaves in between the pages of a heavy book over night if they are curled on the edges.
Glue a photo of your child to the construction paper. I glued ours to a piece of solid white paper first, so that it was matted and stood out a bit.
Let your child arrange the leaves on the construction paper in any manner they wish to do.
When they are arranged to their liking, use a dab of glue to hold each in place.
Carefully cover the entire sheet of construction paper with a piece of clear contact paper, pressing out any air bubbles.
Cover the backside with contact paper as well.
Trim the edges of the place mat with a scissors and then enjoy using it daily!
By Michele from East Bethel, MN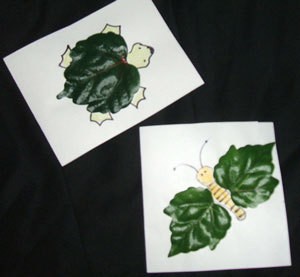 Use your imagination and some paper, glue, and a marker to turn ordinary backyard leaves into whimsical note cards.
Approximate Time: About 1 hour
Supplies:
autumn leaves
paper
glue
markers, pens and crayons
Instructions:
Collect various leaves from your yard and/or trees. Artificial leaves work well too.
When you've found leaves in your yard whose shapes you like, glue them to pieces of paper and use pencil, pen, or crayon to make your creatures complete.
To preserve your creations, press them between two books.
By Mom of 1 from Wilkesboro, NC
My toddler and I came up with this idea to help us get ready for fall. It serves as a beautiful suncatcher on a window.
The tissue paper glows with the natural light. It is so simple you can do this with any child over 2 years old.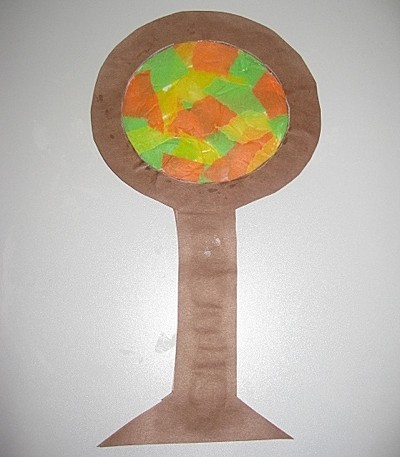 Read More...