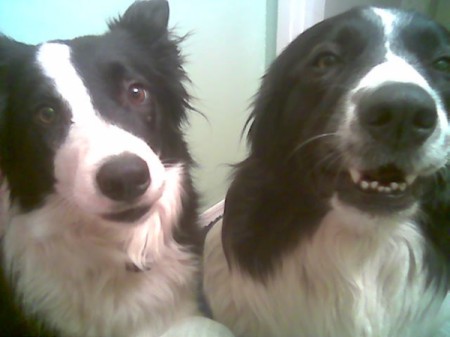 Your Pet's Age
Baa-boo is 4 yrs. and Dolly is 2 yrs. old
Your Pet's Breed
(Baa-boo) Border Collie/ Great Pyrenees ( Dolly) Border Collie
How and when did you get your pet?
We had just lost our beloved Border Collie, Petunia. Our house seemed so empty without her, we couldn't stand it any longer and drove all day to a goat farm to get Baa-boo. Dolly her buddy, came from a horse ranch and was the last puppy from the litter. We would have gotten many more puppies if they had had more. We did not mind the drive whatsoever!
What does your pet like to do for fun?
Baa-boo likes to scare people, likes to pretend she's the boss of the house, and likes to hear her own bark way too much! Little Dolly just loves to give you many, many kisses, and more than anything else, she loves to play "fly"! She tries to herd the flies that get into the house (1 or 2) and if there aren't any flies, I have to pretend there are or she sulks and mopes around trying to make you feel sorry for her.
Do you have anything else to share about your pet?
Yes! Last week end, Miss Baa-boo singled handedly caught a wanted gang member who was trying to avoid capture by the local police! Baa-boo scared that guy so badly that he practically jumped into the arms of the officers! Good girl Baa-boo!
Add your voice! Click below to comment. ThriftyFun is powered by your wisdom!