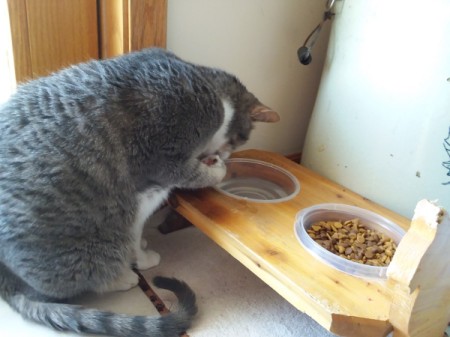 Your Pet's Age
11 years
Your Pet's Breed
Cornish Rex and Tabby
How and when did you get your pet?
My husband adopted our cat Baby a few years before we met. After his marriage ended he wanted someone to keep him company, but most of all he wanted to feel needed and loved again.
Just by chance he saw a free kitten sign on the grocery store bulletin board. He called the number and made arrangements to see the remaining kitties. It was a local farm with horses, cows, chickens, outbuildings, acres of corn, and a mama cat and three little kittens.
A little girl gathered them up for him to see, and he immediately fell in love with the gray and white kitty. The little girl told him, "You picked the wild one"! Little did he know what she meant at the time.
She had a beautiful striped tail, a white bib, and four white socks. Three were more like footies, and the other one looked like a knee sock. When I jokingly tell her to pull up her socks she stares, squints, and blinks as if to say, "Oh, please! That joke's getting old, mom."
What does your pet like to do for fun?
Baby has a feisty personality, but she's also very loving when she wants to be. She enjoys rolling around in her own little catnip patch, and she delights in chasing our other cat up and down the stairs in the middle of the night. If she's in the lead on the way up, he chases her on the way back down. Their games of chase and other antics can go on for hours!
Do you have anything else to share about your pet?
As you can see from the photo, Baby is a paw drinker. What's a paw drinker? Some cats prefer dipping their paw into the bowl and licking the water off rather than lapping it up. I've seen her drink from a bowl, but I've also watched her dip her nose in. Cats see much better at a distance, and that's why she prefers to use her paw. Unfortunately for our other cat, litter falls from between her toes and into the dish. Imagine having to drink water that someone dipped their foot in - after they stepped in the toilet!
Add your voice! Click below to comment. ThriftyFun is powered by your wisdom!